News > Nation/World
Mother Teresa of Calcutta to become Catholic saint on Sept. 4
Tue., March 15, 2016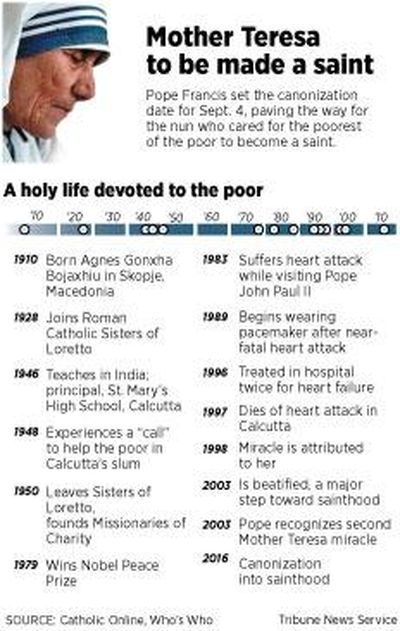 VATICAN CITY – Iconic missionary nun Mother Teresa of Calcutta will enter the ranks of Catholic Church saints on Sept. 4, the Vatican said Tuesday, after Pope Francis and cardinals held a consistory meeting on the issue.
Teresa's path to sainthood was cleared in December, when the pope approved a decision to attribute a second miracle to her; in both cases, she was credited for intervening to heal deadly illnesses. But the process still needs to be wrapped up with a Mass.
The Vatican said Pope Francis had picked a date for Teresa's so-called canonization, but did not say where the religious service attached to it would take place. There are suggestions that it would be in her adopted Indian city of Kolkata, previously known as Calcutta.
Sept. 4 falls on the eve of Teresa's feast day, marking the anniversary of her death, on Sept. 5, 1997, at the age of 87.
Born Agnes Gonxha Bojaxhiu in 1910, in Skopje, Macedonia, the ethnic Albanian Teresa took Indian citizenship. She founded the Missionaries of Charity in 1950 and gained worldwide recognition for her work, including a Nobel Peace Prize in 1979.
The pope also fixed canonization dates for four other saints: June 5 for Poland's Stanislaw of Jesus and Mary and Swedish Bridgetine nun Mary Elizabeth Hesselblad; Oct. 16 for Mexican Jose Sanchez del Rio and Argentinian "gaucho priest" Jose Gabriel del Rosario Brochero.
In the Catholic Church, saints are model Christians who, after death, live in paradise and can make miracles happen by summoning God's intervention when prayers are addressed to them. There are thousands of them, but no precise count exists.
Local journalism is essential.
Give directly to The Spokesman-Review's Northwest Passages community forums series -- which helps to offset the costs of several reporter and editor positions at the newspaper -- by using the easy options below. Gifts processed in this system are not tax deductible, but are predominately used to help meet the local financial requirements needed to receive national matching-grant funds.
Subscribe to the Coronavirus newsletter
Get the day's latest Coronavirus news delivered to your inbox by subscribing to our newsletter.
---