Sports
Pepperdine offers big challenge for Venky Jois, Jim Hayford
Tue., March 15, 2016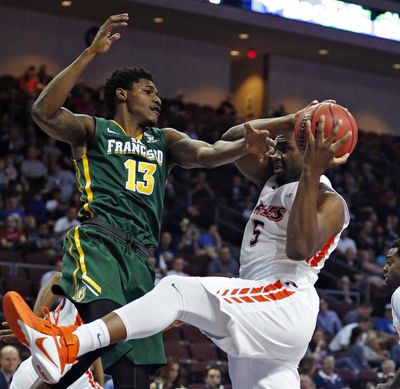 There's a lot to celebrate Wednesday tonight at Reese Court for the program-building fifth-year coach and his senior forward, who also happens to be the leading scorer in school history.
That would be Jim Hayford and Venky Jois of Eastern Washington. It's also coach Marty Wilson and Stacy Davis of Pepperdine, who've managed a remarkable turnaround going into their College Basketball Invitational game against the Eagles.
In Wilson, the Waves have an up-and-coming coach who's boosted their win total every year since he arrived on Malibu beach four years ago.
The hard work paid off this year, as Pepperdine went 18-13 overall and 10-8 in the West Coast Conference. Along the way the Waves posted two wins over co-champion Saint Mary's and lost a 3-pointer at home to Gonzaga.
"Coach (Marty) Wilson has rebuilt Pepperdine into a contending WCC program," Hayford said. "They're just a few points away from being at the top of a very good conference."
The Waves are just plain good. According to the Sagarin ratings system, Pepperdine is the top team in the CBI field at 121. In the Ratings Percentage Index, the Waves are 129 – more than 100 spots ahead of EWU, which is 233.
The catalyst has been Davis, an all-WCC first-team selection for three straight years. This year the 6-foot-6 power forward is averaging 15.2 points and nine rebounds, ranking 11th and second in the WCC, respectively. Davis has had six 20-point games this year, including 26 against GU.
Wing Lamond Murray, a 6-5 junior, is having a breakout season, averaging a team-high 16.3 points while presenting a potential mismatch with his quickness and versatility.
Along with Davis, Murray could make it an interesting evening for Jois, the Eagles' leading scorer and according to Hayford the main reason for bringing this game to Reese Court.
Along with graduates Tyler Harvey and Parker Kelly, Jois gets credit from Hayford as one of the reasons EWU (17-15) is celebrating back-to-back winning seasons for the first time in 12 years.
Beyond that, "What I'm really excited about it that we're going to get to play another game," said Hayford, who will be coaching his 500th collegiate game. The Eagles lost to Idaho last week in the Big Sky Conference tournament in Reno, Nev.
Notes: Jois enters the game with a school-record 1,797 points, and needs just 13 to move into 12th in Big Sky Conference history. His 1,012 rebounds are now fifth in league history, and his 239 blocks are just behind the league record of 247. … Senior graduate transfer Austin McBroom has 108 3-point shots to rank fourth in Big Sky history and third in school history. …Eastern has played Pepperdine only once in school history, a 46-42 Eastern loss in the NAIA Championships in 1946. … Eastern was 2-0 versus the WCC this season, beating USF and Pacific. Pepperdine was 4-1 versus those same teams… This is Pepperdine's first back-to-back postseason appearance since 2001 and 2002. … The winner will face Nevada or Montana in the quarterfinals. Other first-round CBI matchups are Idaho at Seattle, Western Carolina at Vermont, Morehead State at Siena, Omaha at Duquesne, Albany at Ohio and Houston Baptist at UNC Greensboro.
Local journalism is essential.
Give directly to The Spokesman-Review's Northwest Passages community forums series -- which helps to offset the costs of several reporter and editor positions at the newspaper -- by using the easy options below. Gifts processed in this system are not tax deductible, but are predominately used to help meet the local financial requirements needed to receive national matching-grant funds.
Subscribe to the sports newsletter
Get the day's top sports headlines and breaking news delivered to your inbox by subscribing here.
---