News > Spokane
Spokane police domestic violence unit means more victims being heard, getting help
Tue., March 15, 2016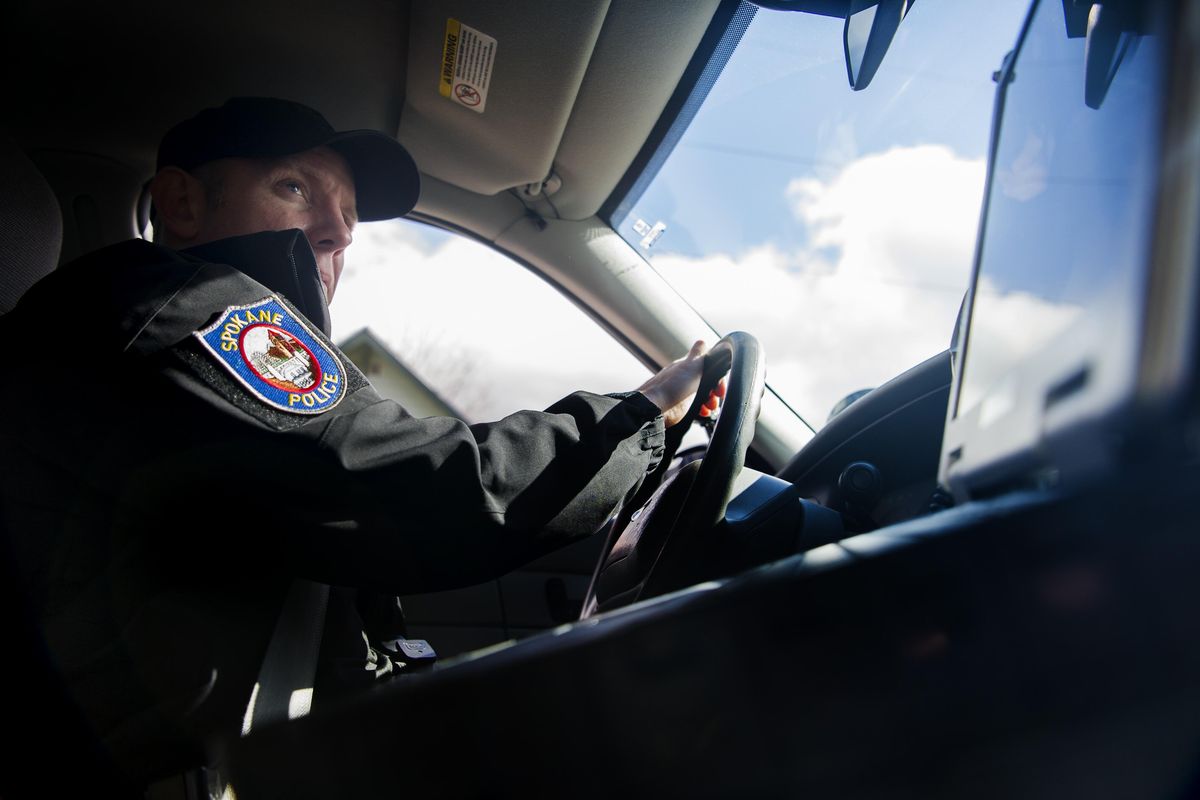 Senior police Officer Nick Geren with the Spokane Police Department's domestic violence unit heads to investigate a possible offender while on duty Thursday, March 3, 2016, in Spokane. (Tyler Tjomsland / The Spokesman-Review)
Spokane police Detective Michael Schneider and Officer Nick Geren spend much of their shift knocking on doors.
The pair work for the department's domestic violence unit, which tries to take a proactive approach to handling cases.
Patrol officers are usually the first to respond to domestic violence calls as they happen, writing a report and arresting suspects if they have probable cause. Schneider and Geren follow up the next day: checking on victims, tracking down suspects who weren't home the night before, and talking to neighbors who might be able to help.
"This is kind of like fishing," Schneider said.
Over the last year, that fishing has gotten results. In 2015, work by domestic violence unit officers and detectives resulted in 716 new arrests or charges for violating domestic violence protection orders; 548 new arrests on other domestic violence charges; and 437 visits to victims' homes, according to department statistics.
Schneider and Geren start their day at 7 a.m. in the Family Justice Center office, reading every domestic violence report filed by patrol officers from the night before. They're looking for cases that might need follow-up: a victim whose injuries might lead to more serious charges, repeat offenders whose names they recognize, cases where suspects weren't located.
By 8 a.m., they're on the street. Recently, their day started with a visit to a West Central home where patrol officers had taken a report from a woman the night before. Her on-again, off-again boyfriend hit her the night before, but by the time patrol officers arrived, he was gone. Schneider and Geren wanted to follow up to make sure the victim was OK and see if they could track down the suspect.
The woman said her boyfriend had left that morning, but invited the pair to come in and search the house. They talked with her for a while and encouraged her to reach out to an advocate at the YWCA – something the patrol officers also suggested, she said.
Stops like that might seem fruitless, but getting victims to trust officers is a big part of what they hope to do, Schneider said. Sometimes, he gets calls from victims days or weeks later who have kept his card and are willing to talk to him.
"I just try and let them know that I'm at least trying to understand them," he said. He's quick to say that he can never fully understand what victims go through, but he's spoken to enough to know the common patterns of control, where abusers isolate and terrify their victims.
People who tell victims they just need to leave the relationship often ignore the risks that carries, he said. Relationship violence tends to escalate during or after a breakup.
"That's not helpful. They know that. They know that they're in danger," he said.
Renewed police focus
Spokane County has had a regional domestic violence team since 1998, combining county and city detectives and prosecutors with victim advocates from the YWCA. When federal grant funding dried up in 2006, the team moved to the health district, but city prosecutors didn't come along, and victims still had to go to the YWCA office on North Monroe Street to get many needs met.
In early 2015, the city and county opened the Family Justice Center, located inside the YWCA's offices. The goal was to make the transition between police, advocates and prosecutors more seamless and to make it easier for victims to access services in one place.
The opening of the Family Justice Center coincided with a renewed push to focus on domestic violence at the police department. The department created the domestic violence unit about 18 months ago, doubling the number of dedicated detectives from two to four and adding two more officers.
Since then, one detective has been reassigned to the human trafficking unit. Another officer position has been temporarily vacant since January, said Sgt. Brad Hallock, who oversees the unit. But the remaining members of the unit are getting results.
Having more officers looking into domestic violence cases has led to more referrals for felony charges, Spokane County Deputy Prosecutor John Love said.
"We're probably charging a little bit more just because there's more to look at," he said.
More support likely equals more cases heard
All Spokane officers are now using a screening tool in domestic violence cases that's designed to identify victims most at risk of being killed by an intimate partner. Responding officers go through 11 questions with victims, asking things like whether the abuser has made threats to kill a partner, is employed, has access to a gun or tends to be jealous and controlling. Victims who meet the criteria will be encouraged to contact an advocate at the YWCA. The Spokane County Sheriff's Office has used the tool since 2012.
Summer Chitwood, the legal advocate officer manager at the YWCA, said that screening process has led to more than 2,100 referrals. Advocates help victims navigate both the criminal and civil legal system, including filing for protection orders and staying on top of charges against their abuser.
The victims the YWCA serves are overwhelmingly women – fewer than 1 percent are men, Chitwood said, and most abusers are men. But advocates do see abuse from women and abuse in same-sex couples, she said, and the YWCA will serve all victims regardless of gender.
At the city level, misdemeanor domestic violence assault charges stayed about the same from 2014 to 2015, city Prosecutor Justin Bingham said. But more cases resolved in guilty pleas in 2015.
"Domestic violence cases are very likely to have witnesses that are unwilling to testify," Bingham said. Victims are often reluctant because they could suffer financially if their abuser went to jail, he said.
In 2014, 44 percent of municipal court domestic violence assault cases were dismissed, most often because of problems with witnesses. In 2015, that number was down to 31 percent. Bingham said the change is because the Family Justice Center can better support victims through the court process.
'It's saving lives'
After talking to a victim, Geren and Schneider's next task was to check on a man who reportedly called his ex-girlfriend, threatening to slit her throat and kill her. The pair had been dating for 23 years before breaking up around Christmas, she told officers. She said she planned to seek a restraining order and get a concealed pistol license as a result.
When the domestic violence team showed up at his door, the 61-year-old suspect had just woken up. He met them on the front porch and said yes, he had recently broken up with his girlfriend. It had been a difficult few months, he said. He called her and left her messages, and he might have said something about killing her. "But she knows I don't mean it," he told them.
Schneider listened sympathetically, agreeing that a breakup must be hard after such a long relationship. He told the man they had probable cause to arrest him for felony harassment, then handcuffed him with Geren and led him to the car.
Arrests like that, especially for first-time offenders, rarely keep people in jail for long because of overcrowding. But getting someone in jail for just one night can make a big difference to the victim, especially when the two are living together, Schneider said.
"Some of these guys, they rain terror on their families," he said. "Everybody lives on eggshells." Sometimes, one night away is enough to prompt the victim to check in with friends, meet with an advocate or look into moving to a safe house.
It would be easy to get depressed doing nothing but domestic violence cases, but Schneider said he likes the job better than his last post as a patrol officer on the graveyard shift.
"This has more freedom. You can actually go beyond triaging and follow up," he said.
Chitwood said the victims her staff works with have a better impression of police and prosecutors since the center opened. Police are more aware of services the YWCA offers and can better help victims get their needs met.
Chitwood said she's heard from many victims who tell her, "I never would have called if law enforcement hadn't been so helpful at the scene."
"It's saving lives," she said.
Local journalism is essential.
Give directly to The Spokesman-Review's Northwest Passages community forums series -- which helps to offset the costs of several reporter and editor positions at the newspaper -- by using the easy options below. Gifts processed in this system are not tax deductible, but are predominately used to help meet the local financial requirements needed to receive national matching-grant funds.
Subscribe now to get breaking news alerts in your email inbox
Get breaking news delivered to your inbox as it happens.
---