News > Voices
Linwood Elementary robotics team headed to Legoland
Wed., March 16, 2016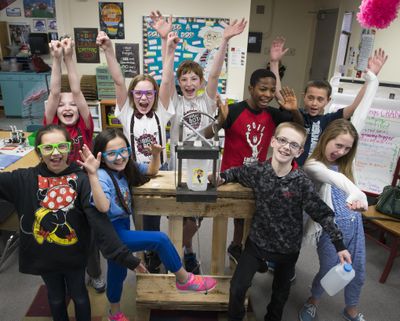 It started with four coffee cups on a desk and is ending with a trip to Legoland.
A team of nine students from Linwood Elementary is one of 66 teams from across the nation headed to California in May to participate in the national First Lego League Team competition.
One of Linwood Elementary science and technology teacher Emily O'Halloran's students noticed she had four empty Dutch Bros. coffee cups on her desk. Fourth-grader Olivia Rodriguez, 9, asked O'Halloran why they were there.
"At first I said, 'because I forgot to throw them away,'" O'Halloran said.
The team of nine fourth- through seventh-graders was in the process of brainstorming machines that could help reduce trash as part of the First Lego League Team competition. The competition is broken into three parts – one of those parts is designing a project that will address an issue presented by the league in an innovative way.
O'Halloran's class latched on to the coffee cups and sketched a design for a foot-operated milk carton compactor. After they brainstormed a bit more, O'Halloran reached out to a friend, Sean Tansy, the owner of Tanz Mechanical Insulation. Tansy came into the class and helped them design a foot-powered trash compactor designed specifically for milk jugs and coffee stands, which the kids named the "Eco Compactor 9000."
"My role was to force them to express to me what they kind of wanted to do," Tansy said. "I played it as if I'm the contractor."
Tansy helped them work through the practical problems of designing the compactor and then fabricated the machine in his company's shop. He donated all his time and supplies.
"Really, I had a pretty small part," Tansy said. "These kids are so thirsty for knowledge."
The team, called the Big Bot Theory, won state in January with its innovation and was asked in February to represent Washington at the national competition in Legoland near San Diego. There were more than 600 teams at the state competition. In addition to the project portion of the competition, teams also have to build and control robotic Legos and show overall sportsmanship and presentation.
Last week, the school board approved the team's request to travel to the competition, although the team is still in the process of raising money.
"You might be thinking that a compactor really isn't that successful, but what the kids did was make something helpful to a small business," O'Halloran said. "The (Dutch Bros.) staff were amazed that kids invented this."
According to the children, their device will reduce the volume of trash produced at a typical Dutch Bros. stand by 70 percent, O'Halloran said. The stand next to Linwood Elementary, which is frequented by teachers, goes through on average of 150 milk cartons a day.
"There is a lot more gallon waste than you think," said sixth-grader Jonah Nicholas, 12.
Although Dutch Bros. isn't currently using the compactor, O'Halloran said she's emailed Rep. Kevin Parker, R-Spokane, a co-owner of Spokane-area Dutch Bros. locations. He told her when the legislative session ends, he would like to visit her class and talk about implementing the device in some stands.
The students received guidance and mentorship from both O'Halloran and Tansy; however, the idea and drive behind the project were student-initiated.
"I know nothing about robotics," O'Halloran said. "The kids have learned robotics. They have taught me robotics. They are pretty driven."
O'Halloran's position as a science and technology teacher is part of a new, nearly districtwide focus on technology and science made possible by an extended school day. The Big Bot Theory meets twice a week after school for an hour and half. Districtwide, there are 50 teams.
"I had a girl that said last year she wanted to be a fashion designer, and this year she wants to be an engineer," O'Halloran said.
Local journalism is essential.
Give directly to The Spokesman-Review's Northwest Passages community forums series -- which helps to offset the costs of several reporter and editor positions at the newspaper -- by using the easy options below. Gifts processed in this system are not tax deductible, but are predominately used to help meet the local financial requirements needed to receive national matching-grant funds.
Subscribe to the Coronavirus newsletter
Get the day's latest Coronavirus news delivered to your inbox by subscribing to our newsletter.
---