Breeding season monitors see 50 shades of gray wolf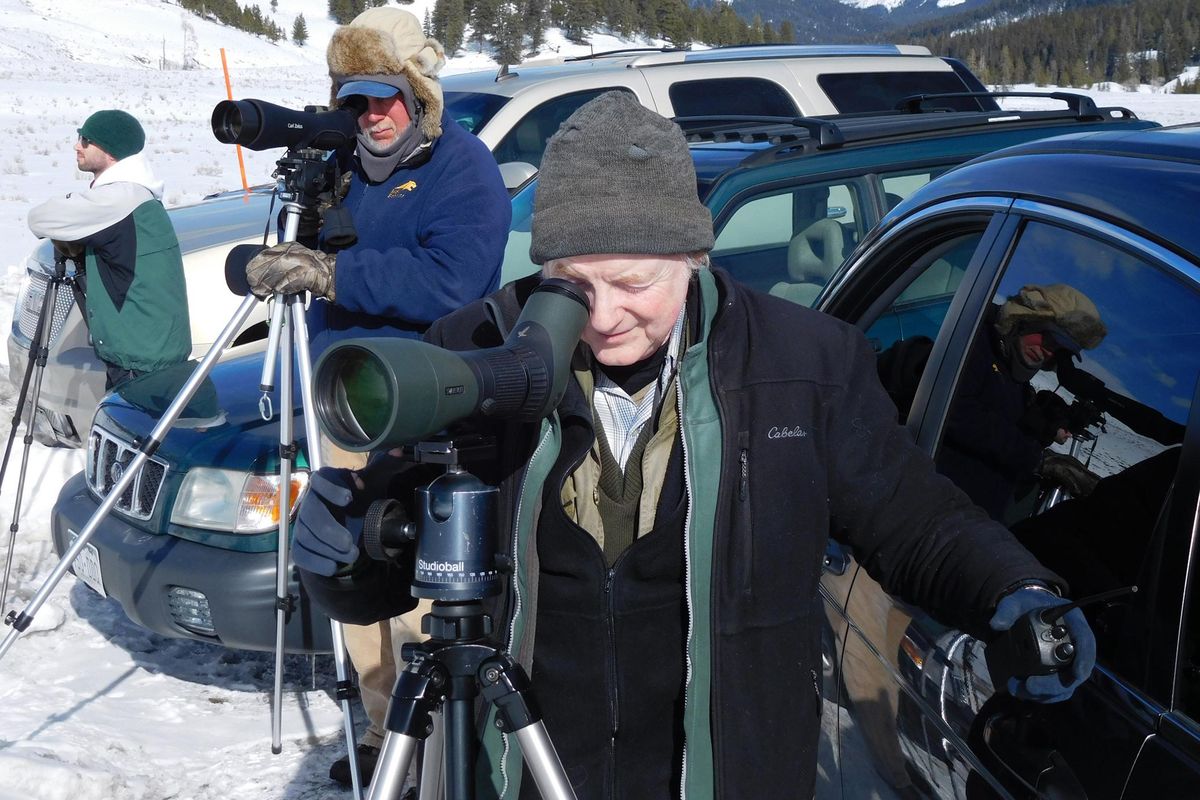 "The alpha female has averted her tail."
"Looks like it's not the right moment."
"Nope, the alpha male isn't showing much interest. He's wandered off."
Chronicling the sex lives of gray wolves in February in Yellowstone National Park combines a strange mix of clinical jargon, voyeurism and hypothermia along the side of Highway 212.
Hours of toe-numbing patience watching the Lamar Canyon Pack lounge under a grove of pine trees turns into a paparazzi stampede when the wolves suddenly rise and lope across a brushy hillside near Soda Butte.
A dozen human observers collapse their tripods and stuff their spotting scopes and cameras into cars before scooting around a corner to keep the pack in view. As the wolves file toward the ridgeline, someone calls out that a subordinate male is making his move on the alpha female.
"For me, February is the most intense time of the year," said Rick McIntyre, Yellowstone Park's longtime wolf biologist. "But it's always worth it. You just have to put in the hours and catch up on your sleep after it's over."
For 17 years, McIntyre has been getting up before dawn and enduring the cold past dusk to learn what he can about Yellowstone's wolves. This February, he and an informal band of colleagues witnessed 202 "ties," or breeding incidents, among the several packs that hunt along the highway corridor.
The Lamar Canyon Pack's alpha female descends from Yellowstone wolf royalty. She claims two of the original Rose Creek Pack members – one of the first transplanted wolf packs in Yellowstone back in 1994 – as fifth-generation ancestors.
Wolf 21, widely considered the most famous and storied character in Yellowstone wolf history, was her great-grandfather. She's the daughter of the '06 Female, who was famously killed by a hunter in Wyoming's first wolf hunt in 2012. She's probably using a den originally occupied by her great-grandmother, a member of the well-chronicled Druid Pack.
Wolf researchers know all this because of Highway 212 – the road between Gardiner and Silver Gate across Yellowstone's northern tier that's plowed year-round. It's the only route accessible by automobile in winter, giving observers unparalleled opportunities to monitor daily life in the wild.
"It's especially difficult to see mating behavior," McIntyre said. "Most of what we know comes from wolves in captivity, which is not representative."
For example, researchers long assumed a pack's alpha male was responsible for all the fathering. It appears that holds true only half the time in the wild, where subordinate males often get their genes in the mix.
Alpha females, in turn, breed only about 43 percent of the time each year. Subordinate females also get bred, resulting in a few males and females breaking off to form new packs.
"I've tried to specialize in breeding behavior," McIntyre said. "Over 17 winters, I've seen a lot of variation in what can happen during breeding season. This year has the least snow and the warmest temperatures I've seen. One morning in February, it was 52 degrees at Soda Butte."
A little farther down the road shoulder, Steve Maras was sharing his telescope eyepiece with a new wolf-watcher.
"I try to come up here about six times a year," said Maras, a distinctively tall man in a Montana State University Bobcat jacket and furry hat. "This is my 15th year coming up from Colorado. It's my hobby – one of those things you just can't stop doing once you start."
"It's really memorable to see the Mollie pack," said Doug McLaughlin, a Gardiner resident who's been watching winter wolves for nine years. "It's the largest pack in the park, with 16 members. It's great to see the pups play endlessly. They're 10 months old and about the size of adults now.
"In 60 days, that will all change when the new pups arrive. Then last year's pups will have responsibilities. They'll have to bring meat back to the den area to regurgitate for the alpha female."
Researchers suspect wolves avoid inbreeding by some ability to detect family relations – probably smell. That theory got some confirmation last week when they saw the alpha male of the Junction Pack, Wolf 911, get frisky around his daughter, Wolf 907.
"She rejected the alpha male – her father – and wouldn't have anything to do with him," McIntyre said. "But she did want to breed with the No. 2 guy, who was not related. She'd go to him repeatedly, and they did breed. It was a clear example where females normally control everything, and that was the case here."
Some days, it's the lupine version of "Entourage." The Lamar Canyon Pack has three males and two females. The alpha male and female bred together twice this year, and a subordinate male known as "Mottled Black" bred with a yearling female. But one day, things got complicated.
"Mottled Black did manage to breed once with the alpha female," McIntyre said. "The alpha male was tied with the yearling female at the time when he saw them. He did his best to prevent the breeding with the No. 2 male, but he wasn't successful.
"Meanwhile, the third male, No. 993, was totally rejected by the alpha female. She was more than happy to breed with the alpha male and No. 2, but not No. 3. She'd snap at him, and at times bite him."
Female wolves can be impregnated by more than one male at a time. So the genetics of future pups in the Lamar Canyon Pack may be quite tangled if both females end up producing mixed litters sired by both males.
"In the wild, it's very hard to have situation where you can test every pup," McIntyre said. "Over the life of the pups, we may radio-collar one or two, and do genetic testing based on that. That's why we need to have these detailed observations of who bred whom."
It's not all "Sex in the City" on the observation circuit. Take this incident from the now-defunct Silver Pack. A young wolf, No. 147, tried to join the pack but was chased off repeatedly by the alpha male.
"Then one morning we came out and the situation was reversed," McIntyre said. "The young guy was clearly the alpha and the old guy was acting subordinate. But the young guy allowed the old guy to stay, and treated him very respectfully. He'd lick the old guy's injuries when he was wounded, and the old guy stayed with the pack for the rest of his life."
That turned out to be advantageous for all involved. The older male, as it happened, was a master in the difficult art of killing bison.
"One day after the change of position, everyone went hunting except 147, who was sleeping," McIntyre said. "They found a cow bison that was unable to run normally. And this old male had a long history with bison and knew what to do. He ran and grabbed her tail and acted as a drag, and that gave the other pack members the advantage because it limited her ability to charge.
"But eventually she broke away and found a boulder with a big crack she could squeeze into. It was the ideal defensive position, where she can have her horns sticking out of the crack. The old guy looked at the situation, ran around to the other side of the rock and attacked her hindquarters. She'd turn to defend, and he'd run around the rock again. With them all working together with his leadership, they killed her there.
"Then the younger male woke up and howled to find everyone. They howled back and he swam across the river to join them at 1,000 pounds of fresh meat. It was a good reason for allowing the older male to stay."
It's a different story among females. An alpha female may allow some subordinate female wolves to stay with the pack, but she will try to drive off other newcomers. At the same time, younger wolves will challenge older mothers for the alpha position, banishing any loser. Those exiled females can try to form a new pack of other dispersed wolves or join an existing one – at great risk.
---