Showstoppers: Gonzaga shuts down Utah to reach Sweet 16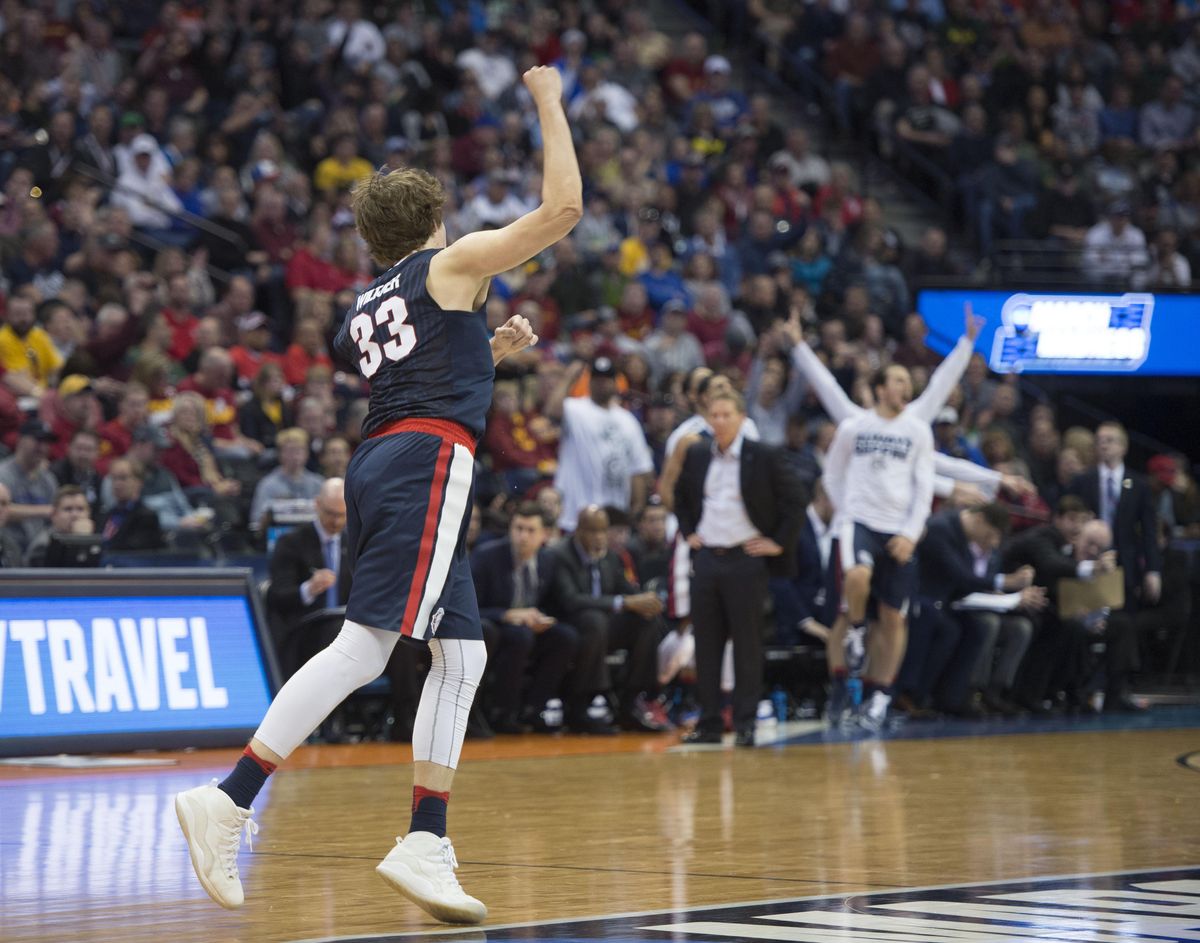 DENVER – HBO probably should have stuck around a little longer.
Their series, "Gonzaga: The March to Madness" ended after the Zags, needing to win the WCC tournament title to secure the program's 18th straight NCAA tournament trip, rolled to the championship in Las Vegas.
Seems the Zags were just getting warmed up. Two days after roughing up Big East Conference tourney champion Seton Hall, Gonzaga crushed Pac-12 runner-up Utah 82-59 in front of 19,551 Saturday at the Pepsi Center.
The 11th-seeded Zags (28-7) marched into the Sweet 16 and a Friday date in Chicago against the winner of Sunday's No. 15 Middle Tennessee-No. 10 Syracuse contest. This will be GU's second consecutive trip to the Sweet 16, which hasn't happened since it made three in a row from 1999-2001.
Gonzaga put on a clinic – inside, outside, passing, beyond the 3-point line, defensively – against the third-seeded Utes (27-9).
"Everyone is feeling very confident, everyone is believing in each other," said forward Domantas Sabonis, who put up another double-double with 19 points and 10 rebounds. "The most important thing is we're sticking together for 40 minutes."
Sabonis got the better of his highly anticipated matchup with Utah counterpart Jakob Poeltl, and he wasn't alone. The Zags got the better of pretty much every matchup on the floor. Poeltl, who was in early foul trouble, was a non-factor with five points and four boards in 24 minutes.
Eric McClellan had perhaps his best game in a GU uniform, delivering 22 points, five rebounds and three assists. Kyle Wiltjer struck for 17 points, including three first-half 3-pointers that set the tone.
"He's playing huge, the guy is shooting confidently, playing amazing defense," Wiltjer said of McClellan. "He's doing it all for us."
As is Wiltjer, who made 7 of 10 shots, handed out three assists and was solid at the defensive end, where the Zags used a variety of schemes to slow Poeltl.
"We damn near played a perfect game defensively," McClellan said, "on such a short prep."
Added assistant coach Brian Michaelson, who assembled the scouting report: "We were struggling on how we were going to guard personnel, their sets and how we were going to attack those guys. We hit every single coverage. It was truly remarkable."
Josh Perkins added 10 points, Kyle Dranginis had seven points and seven rebounds and Silas Melson chipped in five points.
Utah coach Larry Krystkowiak used a baseball analogy in Friday's press conference about not relying on the same pitch, referring to the ability to switch defenses. No matter what pitch the Utes tried, the Zags belted a lot of doubles (25 for 42 two-pointers) and triples (9 for 19 3-pointers, 8 for 12 in the first half).
"They got some stops and they were able to put the ball in the basket," Utah point guard Brandon Taylor said, "something we weren't able to do."
Wiltjer heated up early, draining consecutive 3s and then Sabonis went to work inside. With Poeltl on the bench, Sabonis maneuvered for a putback and Wiltjer's jumper and 3-pointer extended Gonzaga's lead to 24-15.
Poeltl returned, and responded with his first bucket and then added a three-point play as the Utes closed within 24-22. Wiltjer found Melson cutting to the basket for an easy layup and Sabonis canned a 3 trailing the break as the Zags regained the momentum.
GU led 31-25 when Poeltl departed with his second foul. McClellan took over, scoring 10 of Gonzaga's last 13 points. He hit two 3s, one when the defender went under the screen and another when Taylor doubled inside after an entry pass to Sabonis. McClellan's jumper just before the buzzer gave Gonzaga a 44-29 halftime advantage.
Gonzaga led by as many as 30 points in the second half. The Zags ruled the boards, 34-24, and had a 20-6 edge in points off turnovers.
"For sure," said Wiltjer, when asked if it was GU's best 40-minute effort. "We finished the game out this time. We did a great job of just having fun. There was a lot on this moment, you can look at the pressure but we're just playing basketball and having fun with it."
Gonzaga 82, Utah 59
Gonzaga (28-7)—Dranginis 3-9 0-0 7, Sabonis 8-12 2-2 19, Perkins 4-9 1-2 10, McClellan 9-12 2-2 22, Wiltjer 7-10 0-0 17, Melson 2-5 0-0 5, Beach 1-2 0-0 2, Alberts 0-1 0-0 0, Bakamus 0-1 0-0 0, Edwards 0-0 0-0 0, Triano 0-0 0-0 0. Totals 34-61 5-6 82.
Utah (27-9)—Taylor 3-10 0-0 7, Bonam 6-12 0-0 12, Loveridge 0-3 0-0 0, Kuzma 5-8 2-2 15, Poeltl 2-5 1-1 5, Chapman 1-3 2-2 4, Wright 1-2 0-0 3, Eastman 0-0 0-0 0, Tucker 2-6 3-3 8, Reyes 0-1 0-0 0, Bealer 2-2 0-0 5. Totals 22-52 8-8 59.
Halftime—Gonzaga 44-29. 3-Point Goals—Gonzaga 9-19 (Wiltjer 3-4, McClellan 2-2, Sabonis 1-1, Melson 1-2, Perkins 1-4, Dranginis 1-6), Utah 7-15 (Kuzma 3-4, Wright 1-1, Bealer 1-1, Tucker 1-2, Taylor 1-6, Loveridge 0-1). Fouled Out—None. Rebounds—Gonzaga 34 (Sabonis 10), Utah 24 (Bonam, Poeltl, Tucker 4). Assists—Gonzaga 14 (Dranginis, McClellan, Sabonis, Wiltjer 3), Utah 9 (Taylor 4). Total Fouls—Gonzaga 13, Utah 14. A—19,551.
---