Indiana tops Kentucky for Sweet 16 berth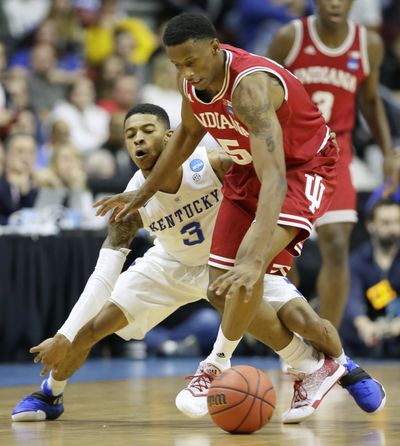 DES MOINES, Iowa – Kentucky had the stars. But Indiana had more toughness – and that's why the Hoosiers are headed back to the Sweet 16.
Freshman Thomas Bryant scored 15 of his 19 points in the final eight minutes, Yogi Ferrell had 18 and fifth-seeded Indiana beat Kentucky 73-67 on Saturday to earn a spot in the regional semifinals in Philadelphia.
The Hoosiers (27-7) are back in the Sweet 16 for the first time since 2013 despite losing starting guard Robert Johnson to an apparent left ankle injury late in the first half.
"When you get into an environment like this, with everything on the line that's on it and the time of year, it's obviously a great feeling when you walk out with a win knowing that they put everything into it under adverse situations," Indiana coach Tom Crean said.
Indiana took control with a 17-4 run to go up 10 with four minutes left. Tyler Ulis and Alex Poythress pulled Kentucky within two at 69-67 on free throws, but Bryant hit two from the line with 10 seconds to go to seal the win.
Ulis scored 27 points for Kentucky (27-9), which suffered its earliest NCAA Tournament exit since 2008 – when it lost to a Marquette team then led by Crean.
Jamal Murray added 16 for the Wildcats, but he was just 1 of 9 on 3s.
"These kids aren't machines. They're no computers. Stuff happens and you try to figure it out," Kentucky coach John Calipari said. "What I don't want to do is take away from what Indiana did. Indiana played every kid on that court, gave everything they had and they deserved to win this game."
Indiana went on a 9-2 run with Ferrell on the bench after he picked up his third foul. Ferrell quickly went back in, and the Hoosiers pushed their lead to 62-52 on a Bryant dunk.
"I had to just stay on the attack. Coach (Crean) told me he wanted me to attack more and get a quick bucket down on the block when I can. He believed in me. I just went with the coach's plan," Bryant said.
It had been four years since these once-longtime rivals had faced each other; a Sweet 16 game that Kentucky won 102-90 on its way to a national title.
This one had the feel of an Elite Eight-type matchup from the opening basket.
Still, Indiana was lucky to go into halftime ahead 33-32.
Johnson went to the locker room with five minutes left after hitting a pair of early 3s, and Ferrell took 12 minutes to knock down a bucket. But the Wildcats went nearly five minutes without a basket to close the first, allowing the Hoosiers to inch out in front.
Indiana pushed it to six before Murray and Ulis 3s pulled Kentucky even at 38. But that would prove to be Murray's last made 3, and an O.G. Anunoby 3-pointer with 6:53 left put the Hoosiers back on top, 56-50.
Williams had 13 for Indiana.
"I know that sounds corny, but I just love coaching them," Crean said.
---