Kelsey Plum, Washington deny Penn's Ivy League try in first round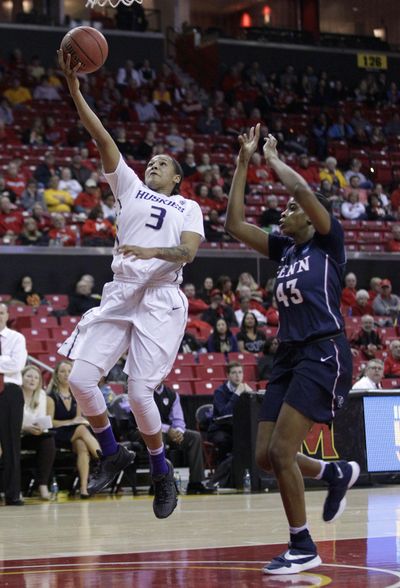 COLLEGE PARK, Md. – Kelsey Plum did not worry one bit.
So what if Washington shot 3 for 18 and scored a paltry seven points in the first quarter against Penn during the opening round of the women's NCAA tournament?
So what if the Huskies were trailing at halftime and in the closing seconds of the third quarter, too, in danger of a rare loss to an Ivy League team in the Big Dance?
"They came out and played and kind of gave us that first punch in the mouth," Plum said. "So we knew as the game went on: We're going to take those punches and then we're going to give 'em back. I don't think there was anyone on our team that (had) any panic."
Confident as ever, unafraid to keep shooting no matter how many misses piled up, Plum finally got going on offense, producing 24 points and seven assists Saturday in Washington's 65-53 comeback victory over Penn.
The nation's third-leading scorer at 26.2 points per game, Plum did not shoot all that well – 9 for 25, including 1 for 8 on 3s – but she took over when it mattered most, scoring or assisting on Washington's first 14 points of the fourth quarter, breaking open a tight game.
"I just tried to run and run and run and make the best decision," Plum said. "As my job, I'm trying to control the pace and push. And we knew that we've been playing at a pace like that kind of all year, and so we knew that we could try to wear `em down throughout the game. The fourth quarter is the time to put your foot on the gas, so that was what I was trying to do."
Talia Walton added 18 points for No. 7 seed Washington (23-10), which faces host Maryland on Monday in the second round of the Lexington Regional.
Penn (24-5), seeded 10th, was ahead 13-7 after one quarter and 25-24 after two – thanks to Kasey Chambers' buzzer-beating 3 – in its bid to become only the third Ivy League school to win a game in the history of the women's tourney.
It actually happened a year ago at this site, with Princeton making it to the second round. And there were moments the Quakers appeared capable of another such upset.
Michelle Nwokedi, a 6-foot-3 sophomore forward for Penn, blocked four shots in the first quarter alone and finished the game with six, along with 10 points and seven rebounds. Sydney Stipanovich led the Quakers with 16 points and 13 rebounds.
"We had segments of the game that (were) right where we wanted to be," Penn coach Mike McLaughlin said.
But Washington coach Mike Neighbors made two key adjustments.
First, in the early going, he ditched his game plan on offense and let Plum run the show.
"They had us a little bit discombobulated, so we got off the script pretty fast," Neighbors said. "About three plays in, it was: OK, let Kelsey get going in transition. Let's stop calling plays. I don't want her looking over there at me. I want her getting it and going."
And later, in the second half, he switched from zone defense to man-to-man, figuring that his team's unique practice plan – which places an emphasis on keeping players fresh late in the season – would allow the Huskies to be better down the stretch Saturday.
"Some of my friends in the stands who aren't coaches were yelling to get out of the zone," Neighbors joked, "so I thought it was about time."
---