NCAA women's roundup: Weisner, Oregon State rout St. Bonaventure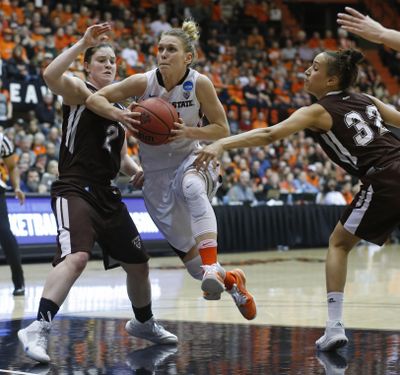 Clarkston graduate Jamie Weisner broke out of a slump and scored 23 points as Oregon State took control after halftime to beat St. Bonaventure 69-40 in the second round of the NCAA Tournament on Sunday night in Corvallis, Oregon.
Sydney Wiese added eight points, six rebounds and six assists, Ruth Hamblin had 16 rebounds and Deven Hunter scored 11 points for the Beavers (29-4), the No. 2 seed in the Dallas Regional.
Miranda Drummond scored 12 points and Katie Healy had eight points and six rebounds for the 10th-seeded Bonnies (23-8).
DePaul 73, Louisville 72: Jessica January scored 18 of her 25 points in the first half and the No. 6 seed Blue Demons (27-8) held off the third-seeded Cardinals in Louisville, Kentucky.
The junior guard's final point was the decisive margin as she made the second of two free throws with 14.5 seconds left. She also had a team-high eight rebounds and five assists.
Briahanna Jackson led the Cardinals (26-8) with 20 points, 16 in the second half.
Syracuse 76, Albany 59: Brittney Sykes scored nine of her 24 points during a third-quarter surge in leading the Orange (27-7) to a win over the Great Danes (28-5) in Syracuse, New York.
Shereesha Richards scored 23 points to close her record-breaking career at Albany.
Ohio St. 88, West Virginia 81: Kelsey Mitchell scored 45 points to help the third-seed Buckeyes beat the No. 6 Mountaineers 88-81 in Columbus, Ohio.
Mitchell, constantly battered by West Virginia, made five 3-pointers and also was 18 for 22 from the foul line. The 45 points was the fourth highest total in NCAA play.
Bria Holmes led West Virginia with 21 points.
Mississippi St. 74, Michigan St. 72: Victoria Vivians scored 24 points and Breanna Richardson hit a crucial 3-pointer with 34 seconds remaining to lead the fifth-seeded Bulldogs over the No. 4 seed Spartans in Starkville, Mississippi.
Richardson's 3-pointer gave Mississippi State (28-7) a 72-69 lead. Michigan State's Branndais Agee was fouled while shooting a 3-pointer on the ensuing possession, but could only convert one of the free throws.
The Spartans (25-9) were led by Agee's 21 points.
Baylor 84, Auburn 52: Nina Davis scored 30 points as the Lady Bears advanced to the NCAA Sweet 16 for the eighth year in a row with a win over Auburn in Waco, Texas.
Baylor (35-1) never trailed after Alexis Jones hit a 3-pointer on her first shot. Jones and Kalani Brown both had 16 points, while senior point guard Niya Johnson had 10 assists in her last home game.
Brandy Montgomery had 14 points for ninth-seeded Auburn (20-13).
South Carolina 73, Kansas St. 47: Tiffany Mitchell scored 16 of her 20 points in the first two quarters as the top-seeded Gamecocks (33-1) opened a big lead and breezed past the Wildcats in Columbia, South Carolina.
Breanna Lewis had 19 points to lead the Wildcats (19-13).
---