Obituary: Boozer, Claire Adelle
Age 89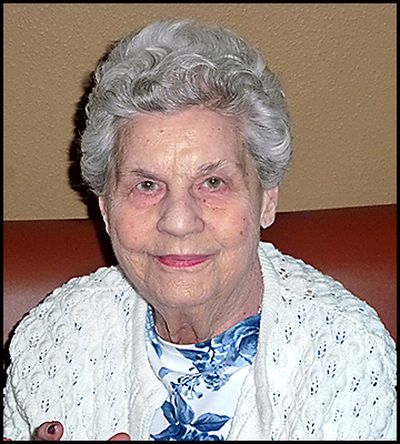 BOOZER, Claire Adelle

(Age 89)

Claire Boozer passed away peacefully on March 11, 2016.
She was born Claire Adelle Catlett on September 4, 1926 in Chico, California.
While in high school, she worked in her stepfather's movie theater behind the candy counter and it was there she met the love of her life, an Army Air pilot named Rex.
After his return from assignment at Attu, Alaska, they were married on December 20, 1945.
They finished his service time traveling from Illinois to Texas to California and when he was honorably discharged, they returned to his father's farm near Valleyford.
She became a skilled homemaker, cook, seamstress and gardener.
Together they raised hay, grains, cattle and chickens.
They enjoyed many trips back to Chico to see family, as well as camping, fishing, water skiing and clam digging on the coast.
After retiring from farming, they extended their travels to Hawaii, Canada, Washington D.C. and Florida.
Well into their 80's they moved from the farm to Evergreen Fountains, a tough adjustment from country life to city life; however, the staff and residents at Evergreen Fountains helped ease them into their new life style and became such a blessing as time passed.
Our gratitude goes to all of the staff for their compassion and support.
Claire was preceded in death by her husband, Rex, on February 24, 2015 and is survived by her two children, son Gary (wife Tonya, Kennewick) and daughter Kay (husband Danny, Valleyford) as well as her sister, Betty Brown in Lincoln, California, four grandchildren, and six great- grandchildren.
A family service will be held at a later date.
Donations in her name may be made to Hospice of Spokane, an organization that held us close as we said our good byes.
---