Obituary: Mueller, Thora G. (Omlid)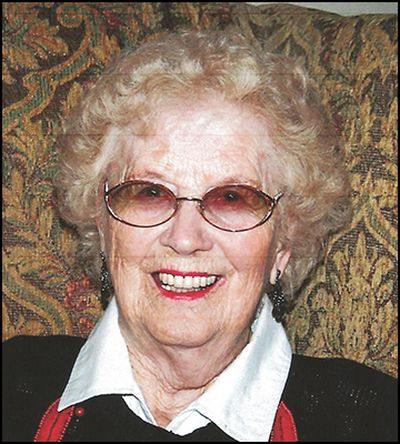 MUELLER,

Thora G.
(Omlid)
(Age 98)

Passed away peacefully in her sleep March 14, 2016 at the age of 98.
She had a wonderful and full life.
Thora was born in Banks, North Dakota where she lived until graduating from Watford City High School.
She decided that farm life was not for her so she came west to Spokane, WA.
There she met George Mueller in 1937 and they were married in 1941.
They had one child, Herbert Mueller.
Thora was preceded in death by her parents, her four brothers, her sister and her husband.
She is survived by her son: Herbert (daughter-in-law, Pamela); niece, Nancy Givens; nephew, Richard Hoering; and two sisters-in-law: Marion Scott and Lori Omlid.
In 1945, she went to work for Pacific Northwest Bell and retired from there in 1976 after 31 years of service.
Many women of her generation did not work outside the home.
She enjoyed the independence that a job afforded her.
After retirement she traveled extensively.
She was an avid bowler and golfer, golfing in the senior ladies' league.
She was awarded numerous trophies for the highest score.
(Note - in golf, a low score is the objective but a trophy is a trophy!
)
No services will be held per her request.
---