News > Idaho
Boundary County gives Sanders his strongest showing in Idaho's Democratic Caucus
Wed., March 23, 2016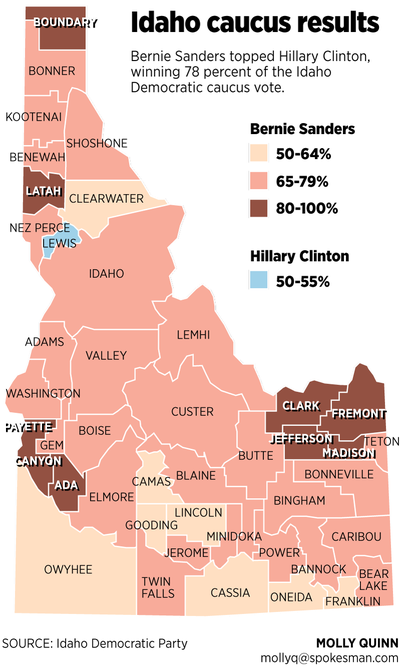 The hotbed of support for Bernie Sanders among Idaho Democrats may be North Idaho's Boundary County.
Among Idaho counties with more than four voters (yes, Clark County only had four caucus participants, all of whom backed Sanders), Boundary County registered the highest margin of victory for Sanders in Tuesday's caucuses. He took 84 percent of the tally in Boundary, 158-27.
Boundary County's percentage support for Sanders even beat out Latah County (barely), home of the University of Idaho and impassioned college students who argued in support of Sanders in caucus speeches, in part because of his belief in free tuition.
Sanders' percentage win in Boundary – Idaho's northern-most county – also topped Sun Valley's Blaine County, one of two Idaho counties that voted for Barack Obama in the 2012 general election, and Ada County, home to Boise State University and a Democratic mayor.
Folding chairs at the caucus at the Boundary County Fairgrounds were set up with equal numbers for Sanders and former Secretary of State Hillary Clinton in anticipation of a close vote.
"We were all pretty frankly shocked when people kept bringing chairs to the Bernie side," said Debbie Flory, a Sanders supporter who was elected a delegate.
Sanders trounced Clinton statewide, capturing 78 percent of the vote. She took just one county, Lewis County in north-central Idaho.
Mike Wasko, a state Democratic Party committeeman representing Lewis County, said the caucus held at the Nezperce library was civil despite divided opinion. In some other counties, including Kootenai County, it was a more raucous affair.
"It wasn't antagonistic at all," said Wasko, a former county prosecutor who backs Clinton but would support Sanders if he's nominated.
In both Lewis County tallies, Clinton won 20-19.
"Basically it was a toss-up," Wasko said. "Everybody likes both people."
Latah County came second to Boundary in support for Sanders.
Former Latah County Democratic Party Chairman David Nelson said more than twice the number of participants showed up than the party had planned for, overwhelming the elementary school where the caucus was held. But despite long waits, that caucus, too, remained civil.
He's not surprised the most liberal candidate would win in a landslide in a Democratic caucus in one of the most conservative states. He said many moderates don't like being in the minority, leaving the party more liberal than it might be in a more politically balanced state. Democrats in Idaho, he believes, "root for the underdog."
"The Democratic Party in Idaho, as the minority party, gets somewhat purified in their beliefs," he said.
Flory said there was a diverse group supporting Sanders in Boundary County.
His most vocal supporters were a 17-year-old high school student and a 90-year-old, she said.
"They were so happy. People came out of the cracks," Flory said. "They didn't know there were other Democrats in Boundary County."
Local journalism is essential.
Give directly to The Spokesman-Review's Northwest Passages community forums series -- which helps to offset the costs of several reporter and editor positions at the newspaper -- by using the easy options below. Gifts processed in this system are not tax deductible, but are predominately used to help meet the local financial requirements needed to receive national matching-grant funds.
Subscribe to the Coronavirus newsletter
Get the day's latest Coronavirus news delivered to your inbox by subscribing to our newsletter.
---
Subscribe and log in to the Spokesman-Review to read and comment on this story