News > Voices
Giant Nerd Books is a book hunter's passion project
Wed., March 23, 2016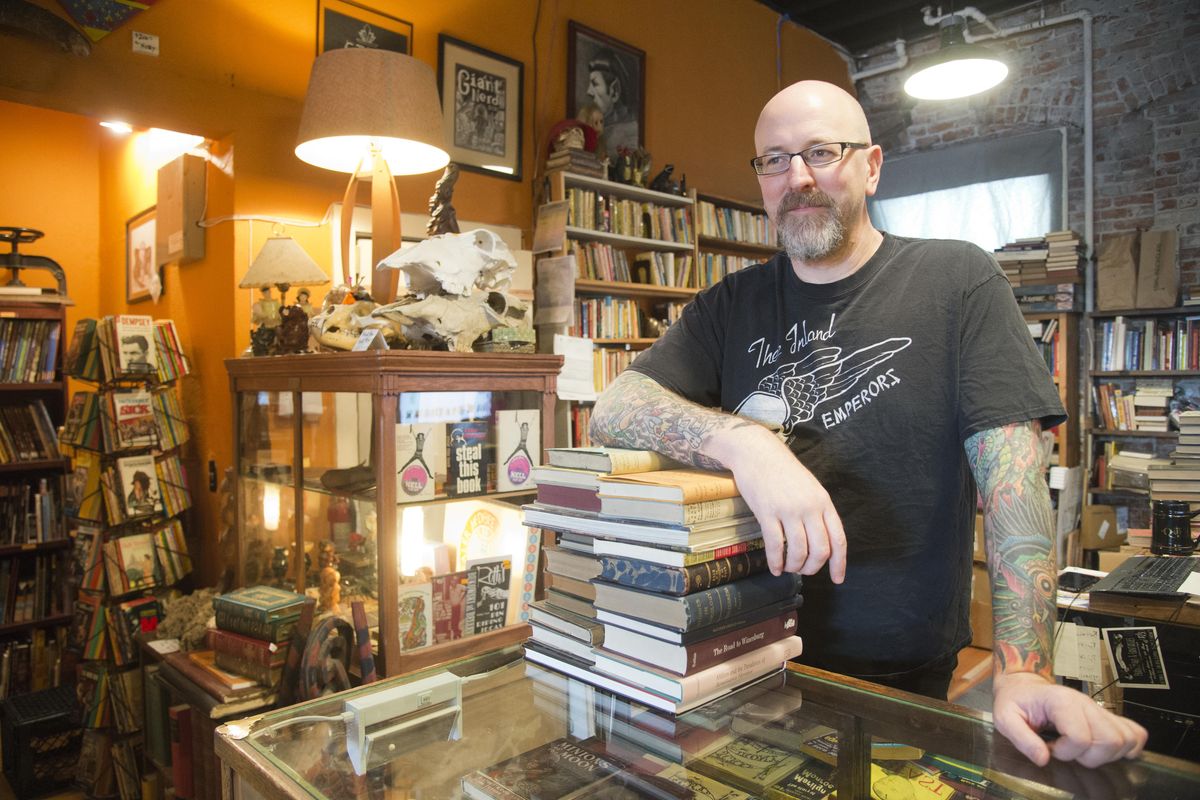 Owner Nathan Huston stands March 17 in his eclectic bookstore, Giant Nerd Books, at 709 N. Monroe St. in Spokane. (Jesse Tinsley / The Spokesman-Review)
Books are in Nathan Huston's blood.
His dad was a used-book junkie who made the garage sale rounds with his son in tow. While still a student at Shadle Park High School, Huston took his first job at the now defunct Chalmers Books, organizing its comic book collection.
Two and a half years ago, he opened his own shop – Giant Nerd Books on North Monroe.
"I named it after myself," he said, grinning.
Sandwiched between Time Bomb Collectibles and Krunch Skate Shop, the store features tomes from the macabre to the mysterious and everything else in between.
"My shop has been described as obsessively curated," Huston said. "I pick everything on the shelves. If I don't like it, it's not here."
He also picks the art on the walls. Huston's proud to feature local artists including Mikal Vollmer and Jesse Acosta.
An unusual crucifix featuring a metal skeleton affixed to a cross grabs attention.
"Most of the artists I display in here are not what you'd call reverential," he said.
Happy, the alligator, keeps an eye on customers from atop his bookshelf perch.
"He's named for his winning smile," Huston said.
Happy isn't the only unusual denizen of the shop. A collection of skulls are tucked inside a glass display case. Genuine jackrabbit, skunk, mink and raccoon skulls are for sale. However, the human skulls are replicas.
While Giant Nerd Books is his first brick-and-mortar space, Huston has worked in the book industry for most of his adult life.
"I learned a lot about what I don't want to do in my shop," he said. "I don't like the time clock mentality."
Ten years ago, he left his day job and launched into the book business full time.
"I got my start selling hot rod books at car shows," he said. "Hot rods and pinup girls – everybody likes those."
Indeed, his shop features an abundant selection of both genres. Tongue firmly in cheek, he said, "I'm promoting literacy in the Lilac City one dirty picture book at a time."
Huston's eclectic collection also includes a selection of automotive history books.
"Those are primarily new because people don't want to give them up."
Many of the books came from a collection of 60,000 Huston purchased at an estate sale. He said his two-car garage was filled with books, his kitchen island was made of books and he had to walk sideways through his hall. That's when he knew he needed to open a bookstore.
Hidden within that massive collection were a couple treasures that Huston is saving to fund his retirement – a first edition, first printing of "Call of the Wild," and a book from Theodore Roosevelt's private library. The book's inscription reads, "To Ted, From Henry Cabot Lodge, Merry Christmas, 1904."
"Book hunting is kind of in your blood – it's like malaria," Huston said.
He also sells books online through Amazon.
"My online inventory finances the physical store," Huston said. "Ultimately, I'd like to never have to sell another book online again, but in this day and age, that's probably not possible."
In addition to his primary location, you can find Giant Nerd Books at Boo Radley's, Atticus and Vintage Rabbit in Spokane.
Huston still buys books through his front door and, unlike most booksellers, he pays cash instead of offering in-store credit.
"Kurt Vonnegut is my best-selling author of all time," he said. "I buy any Vonnegut I can get my hands on."
He said his store is for the dedicated browser who is tired of seeing the same old things. His favorite moment is when someone comes hesitantly through the door – and then their eyes light up and they spend hours browsing.
Looking at Giant Nerd's well-stocked bookcases, Huston said, "This is the passion project. I'm still picky about what goes on my shelves."
Then he grinned. "It's the flagship of my empire."
Local journalism is essential.
Give directly to The Spokesman-Review's Northwest Passages community forums series -- which helps to offset the costs of several reporter and editor positions at the newspaper -- by using the easy options below. Gifts processed in this system are not tax deductible, but are predominately used to help meet the local financial requirements needed to receive national matching-grant funds.
Subscribe now to get breaking news alerts in your email inbox
Get breaking news delivered to your inbox as it happens.
---