Chi-Town meltdown: Syracuse outscores Gonzaga 15-3 down stretch to secure Elite Eight spot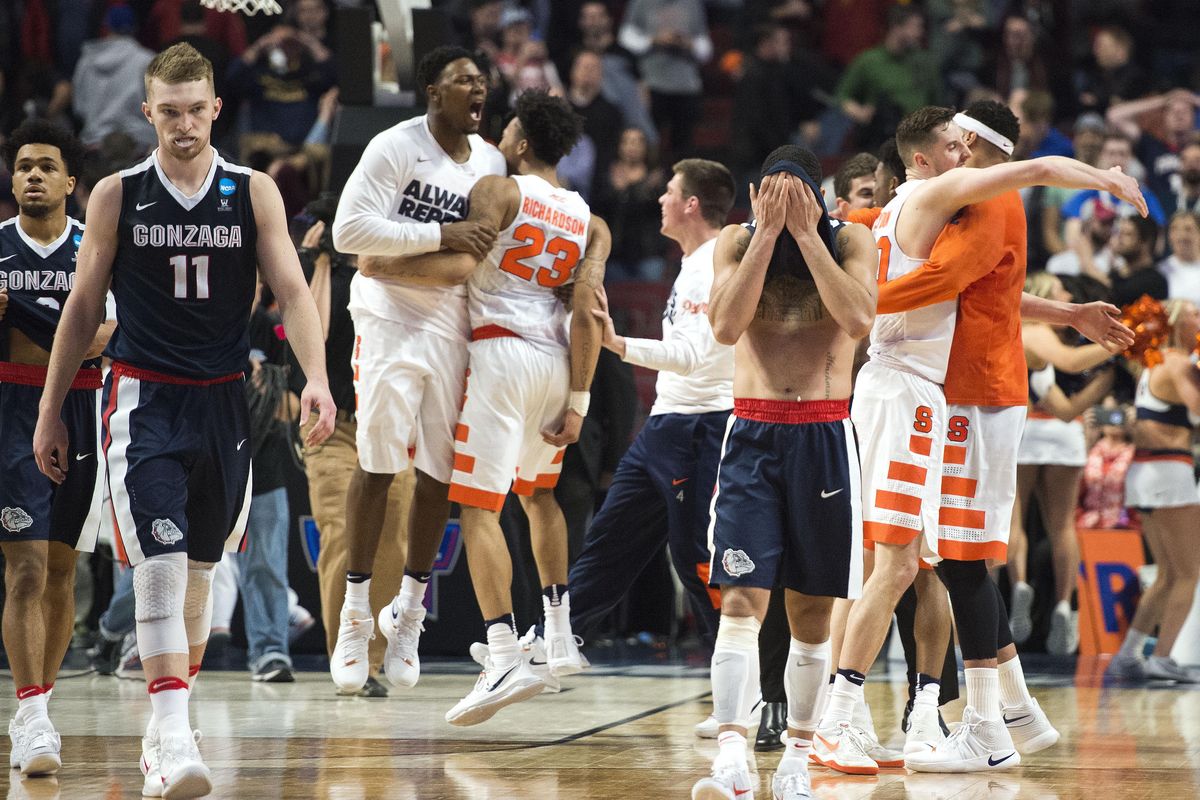 CHICAGO – The loss was still way too fresh in Kyle Wiltjer's mind. Several minutes later, he would praise his teammates and express his pride in Gonzaga's improbable run to the Sweet 16.
But in the moment, the thought of being denied a second consecutive trip to the Elite Eight was all he could think about.
"We let this one slip," Wiltjer said. "This was a winnable game and we lost. We should have won the game."
The Zags had ample opportunities to do just that, but they couldn't keep Syracuse off the boards (six offensive rebounds in the final 2:18), they gave up the ball (five turnovers in the final 5:18) and ultimately the game, 63-60, in front of 21,490 Friday at the United Center.
The 11th-seeded Zags let a 57-48 lead slip through their fingers in the final 6:20. No. 10 Syracuse closed the game on a 15-3 run to end GU's season.
Syracuse (22-13) advances to an Elite Eight matchup with top-seeded Virginia (29-7) on Sunday.
Inside a quiet locker room, coach Mark Few studied the play-by-play sheet and started counting Syracuse offensive rebounds.
"We gave up one there, up three," he said. "Gave up one here when we're up one."
The Zags (28-8) didn't have a field goal in the final 6:25. Domantas Sabonis, who teamed with Wiltjer to once again carry the offense, made two free throws for a 59-54 lead with 3:10 remaining. Trevor Cooney's layup and a tip-in by Tyler Lydon – his only basket of the game – cut Gonzaga's lead to one.
Michael Gbinije missed inside but he scooped up a loose ball and scored, giving the Orange the lead, 61-60, with 21.8 seconds left. Josh Perkins' runner in the lane was blocked by the 6-foot-9 Lydon, who made two free throws at the other end.
"I saw a lane and I shot it," Perkins said. "Taller guy with long arms blocked it, give him credit for making the play. But if the opportunity is there again, I'm shooting it again."
Sabonis' desperation heave from 65 feet was off line.
Few pointed out that Gonzaga's first-shot defense was "unbelievable." The Orange made just 36 percent from the field but they struck for 14 points off turnovers and another 16 on second-chance points.
"Too many turnovers and offensive rebounds," Few said. "Usually Domas cleans up all that stuff but he was locked in a battle with (Tyler) Roberson. That was a battle. They're so quick, they're so long and athletic, it's hard to deal with some of that."
Gonzaga led 21-10 midway through the first half after a Perkins' 3-pointer but Syracuse scored the last six points of the half to pull within 29-28. The Orange carried the momentum into the second half, scoring the first six points to take a 34-29 lead.
The Zags started to pick apart Syracuse's 2-3 zone for an extended stretch, led by Wiltjer and Sabonis. Wiltjer scored seven straight points and Sabonis took over in the paint as GU built a 57-48 lead.
"I just knew I didn't have a good first half, I didn't take many shots," said Sabonis, who scored Gonzaga's last nine points and finished with 19 points, 17 rebounds and five blocked shots. "I had to step up for my teammates."
But it was Syracuse that came up with the biggest plays down the stretch. Gbinije finished with 20 points on 8-of-23 shooting. Cooney chipped in 15 points and Roberson added nine points and 12 rebounds.
The Zags finished with 17 turnovers.
"Couldn't break their press, we turned the ball over and then we just didn't make any baskets," Wiltjer said.
Wiltjer made four 3-pointers – three in the first half – and finished with 23 points and four assists. Perkins added eight points and six assists.
"We're proud of what we did but we just lost like five minutes ago," Wiltjer said. "This is the tough side about sports. You have to win together and lose together. Just like last year, this is going to hurt for a while and it's going to be tough to get over it."
---