Stanford hires Jerod Haase as new men's basketball coach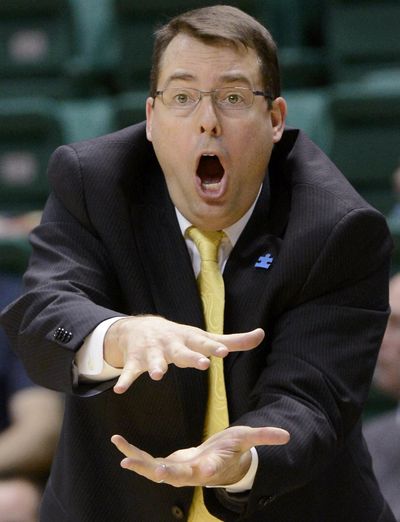 STANFORD, Calif. – Stanford hired University of Alabama at Birmingham coach Jerod Haase as its new basketball coach Friday, a week and a half after firing eighth-year coach Johnny Dawkins.
Athletic director Bernard Muir is determined to return the Cardinal to being a regular NCAA tournament contender as the program was under longtime coach Mike Montgomery over nearly two decades. Haase, who just completed his fourth season at UAB, will be formally introduced Monday on The Farm.
"Stanford University is a world-class institution which represents excellence across the board," Haase said in a statement. "We will compete for championships by doing it the right way and graduating young men who will go on to accomplish great things in the world. I am humbled by the opportunity afforded to me by Bernard, and my family and I are eager to get started."
The 41-year-old Haase is returning to his Northern California roots to coach Stanford. He was born and raised in South Lake Tahoe and even spent the 1992-93 season at rival California playing in the back court alongside Jason Kidd before transferring to Kansas, where he played for coach Roy Williams and later coached under him for 13 years with the Jayhawks and at North Carolina.
His UAB team reached the NCAA tournament last year for the first time since 2011 and as a No. 14 seed shocked third-seeded Iowa State, the program's first NCAA victory since 2005. The Blazers lost in the first round of the NIT at BYU this season.
Haase was Conference USA Coach of the Year this season as his team finished 26-5 and 16-2 in conference play for the program's first regular-season title since 2011. UAB had school records for wins, conference victories, road wins (10) and a program-best winning streak of 14.
"Jerod has not only demonstrated his excellent coaching and teaching abilities over the years, but he also shares the values that make Stanford special," Muir said. "I have no doubt that Jerod will soon lead our program to Pac-12 championships and that we will be a regular participant in the NCAA tournament. He will win with integrity, class and sportsmanship while ensuring our student-athletes reach their full potential in their academic and social endeavors."
Muir acknowledged in the spring of 2013 that the program needed to reach the NCAA tournament the following season for Dawkins to stay. Stanford then reached the Sweet 16, but couldn't maintain that consistency.
The Cardinal won NIT championships after the 2012 and '15 seasons, but went 15-15 this season and finished ninth in the Pac-12 Conference at 8-10. Dawkins was 156-115 during his Stanford tenure.
---