Sports
Q & A with Idaho president Chuck Staben
Sat., March 26, 2016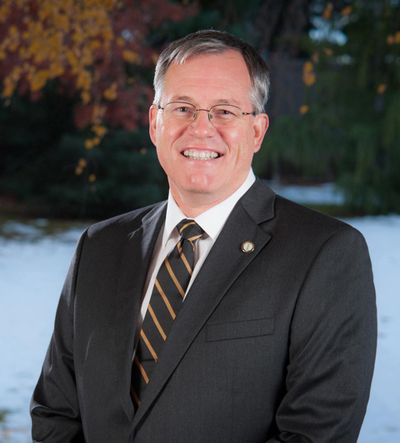 Idaho's football program faces an uncertain future following last month's decision by the Sun Belt conference to not grant membership to the Vandals beyond the 2017 season. Now the school must choose whether to drop down a level to FCS competition or to go it alone as an FBS independent. Neither prospect is ideal for the Vandals, but time is running out to make a decision.
UI president Chuck Staben sat down with The Spokesman-Review last week to discuss the options the school is considering. The following is a transcript of that interview.
Q: What role do you believe athletics plays for a university?
A: It is a front porch, but I think it can be more than that. Athletics is often a great opportunity for students who otherwise might not have been able to afford the education they get. A lot of our students, that scholarship makes the difference between whether or not they can go. Athletics also is a great program in terms of facilitating the success of those student-athletes academically.
Q: The largest block of student-athletes is the football team. What do you see as the best-case scenario for the UI football program after being told to leave the Sun Belt conference?
A: We were disappointed in the Sun Belt's decision, but what we're doing now is considering our options. We have an open invitation from the Big Sky, and then we're considering whether or not we should accept that or whether we should play as an independent team. We want to be sure that, whatever we do, it's looking to the future and ensuring we have a good athletic home for our programs.
Q: What does going independent look like?
A: Independency looks like a pretty tough road to hoe. You can look at schedules like the University of Massachusetts' schedule, and it's a pretty tough schedule for next year. You may have to leave behind traditional rivalries. You may have to travel extensively. So I think the demands on the student-athletes, interest for the fans would be less. We did experience a year of independence and it was not an easy road.
Q: Are there any options other than the Big Sky that come to mind?
A: The options are probably the obvious ones. There are basically the Group of Five conferences (Conference USA, Mid-American, Mountain West, American Athletic, Sun Belt), and the Sun Belt obviously is not an obvious option, so the other four conferences are possibilities. There may be more flux coming in the NCAA among the Group of Five and the other conferences. So, we're looking at that and trying to determine what's the best situation in the meantime.
Q: What's the worst-case scenario you'd be willing to accept?
A: I don't know that there's a worst case. We have a good option to go FCS and we have competed successfully as an independent for one year. So, either are good options and we really have to be careful to evaluate what's best for the team.
Q: Can you partner with New Mexico State to find a solution since they are in the same situation?
A: I would say the biggest difference is they do not have an invitation to join a logical FCS league, like the Big Sky, like we have. They're actually in some ways in a worse situation, in my opinion. We've had a lot of dialogue, but we're not exactly working directly. We don't feel like we're joined at the hip with New Mexico State.
Q: Would you be willing to make concessions such as subsidizing travel for conference opponents in order to find a conference?
A: Yes, possibly, but it really depends on what those concessions are.
Q: Do you feel in any way that the football program at Idaho is in jeopardy?
A: No, I think our football program has made great progress in the last few years under coach (Paul) Petrino, so I don't see the program as in jeopardy at all. Should we choose to go FCS, I believe we can have a nationally competitive FCS program. Should we choose to go independent, it will be because we're looking at a future where we feel we can be competitive. So I don't see the football program in jeopardy at all.
Q: What degree does on-field success affect the financial investment?
A: If you have a better performing team you then generate more revenue from tickets, from TV, from all those kinds of sources. At the moment, we do generate some revenue. We are one of the lower resourced teams in the FBS. I think we would be in the top third of FCS-type teams.
Q: Does the probability of more on-field success then push you toward going FCS?
A: One of the advantages that we would anticipate in going FCS would be being clearly a nationally competitive team. At FBS, especially as an independent, I think that is a much more difficult situation.
Q: Has there been much booster outreach to determine the more preferred option?
A: Boosters reach in. So, we have had some booster outreach, and yet we've also received a great deal of opinion and input from our boosters. And I would say it breaks down into basically two camps, one saying that it's critical the university remains FBS, and another saying FCS is an appropriate level for us to compete at, and would bring some of the benefits of traditional rivalries and opportunities to excel. So, there's a huge difference of opinion in our booster base.
Local journalism is essential.
Give directly to The Spokesman-Review's Northwest Passages community forums series -- which helps to offset the costs of several reporter and editor positions at the newspaper -- by using the easy options below. Gifts processed in this system are not tax deductible, but are predominately used to help meet the local financial requirements needed to receive national matching-grant funds.
Subscribe to the sports newsletter
Get the day's top sports headlines and breaking news delivered to your inbox by subscribing here.
---