News > Spokane
Painting stolen off wall from Spokane bar Jones Radiator
Mon., March 28, 2016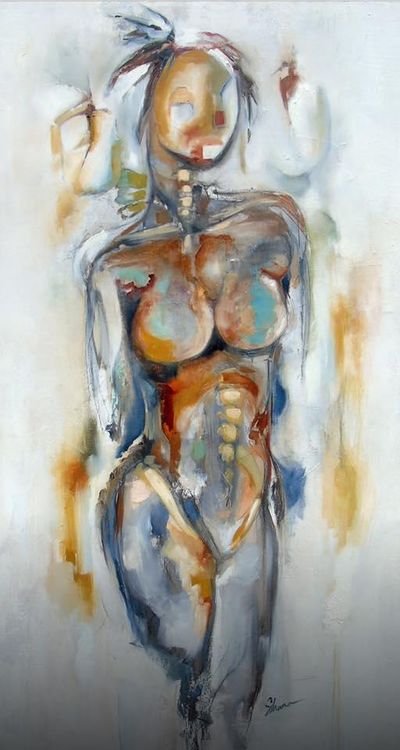 A Spokane artist's painting was stolen off the wall following a show at Jones Radiator, a bar just east of downtown.
Artist Shana Smith said her painting "Unveiled" had been on display for about two weeks before the March 20 theft. She said the painting, which she finished last summer, was a "powerful piece" for her.
"It's the first time in a long time I've been able to start painting things that aren't necessarily commissions or for other people but that are for me," she said.
The painting was on sale at Jones Radiator, 120 E. Sprague Ave., for $1,200.
The bar's co-owner, Lucas McIntyre, said he learned about the theft March 20 but didn't get a chance to view surveillance footage of the theft until last Tuesday. The video, posted on the bar's Facebook page, shows a woman removing the painting from the wall near the bar's entrance around 1:30 a.m. Another woman then grabs the painting and walks out the door.
McIntyre said he immediately recognized the woman grabbing the painting off the wall as the singer for a band that performed the evening of the theft. He spent most of last week talking to one of her band mates and trying to get the painting returned without making a big deal out of it, he said.
When that didn't work, McIntyre decided to share information about the theft on Facebook.
"It is shameful that someone in the Spokane arts & music community would do this to another artist and a venue that has worked hard to support for the arts & music scenes tirelessly," the post said.
McIntyre filed a report with Crime Check on Sunday. A Spokane Police Department spokeswoman said the department received the report and will send it to the downtown precinct for investigation.
Smith said she hopes with enough publicity, someone who knows the thief will learn about the painting. She said she's not interested in pressing charges if the thieves return the painting to her.
"It could all go away if they just return it," she said.
McIntyre said Jones Radiator has never had any issues with theft or other problems.
"I wish this hadn't happened and I really hope that Shana gets her art back and we can all … find something more important to focus on, like elections and the future of our country," he said.
Local journalism is essential.
Give directly to The Spokesman-Review's Northwest Passages community forums series -- which helps to offset the costs of several reporter and editor positions at the newspaper -- by using the easy options below. Gifts processed in this system are not tax deductible, but are predominately used to help meet the local financial requirements needed to receive national matching-grant funds.
Subscribe now to get breaking news alerts in your email inbox
Get breaking news delivered to your inbox as it happens.
---