News > Education
Spokane district fifth-graders using Sqord to track activity, make fitness fun
Wed., March 30, 2016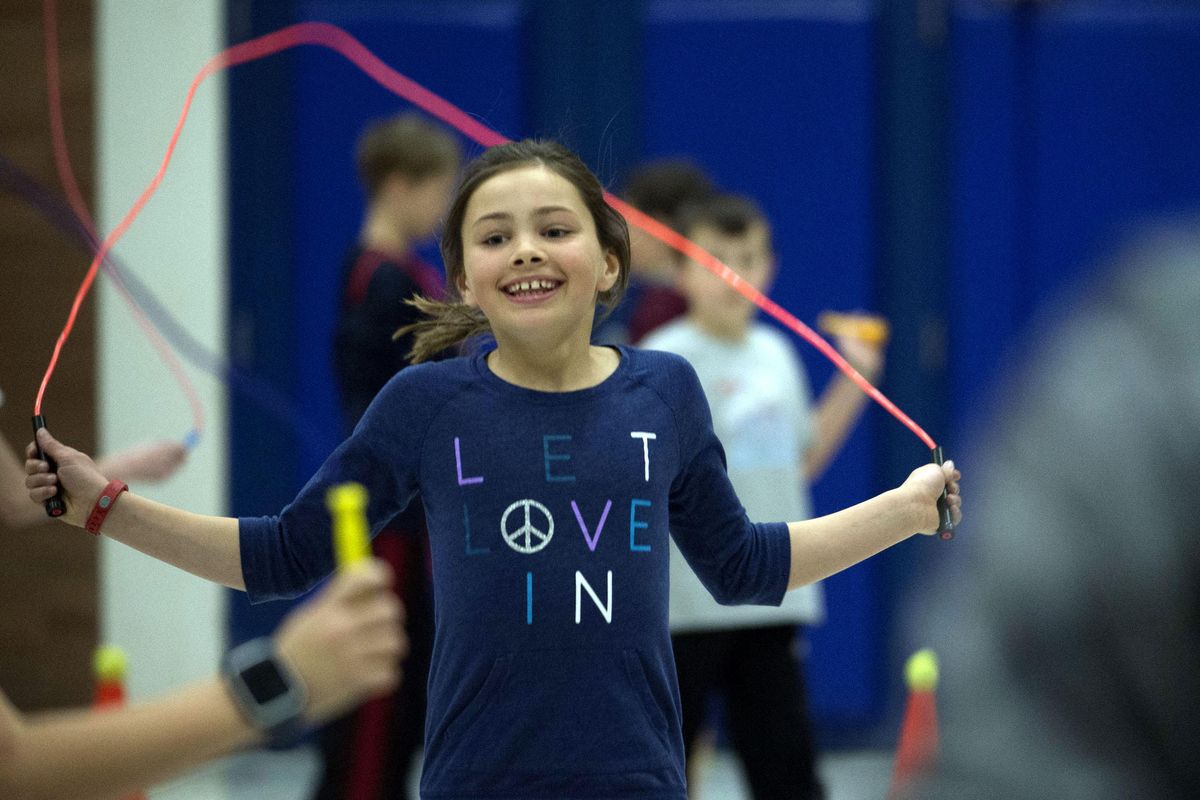 Wilson Elementary fourth-grader Evy Kimball jumps rope during gym class at the school in Spokane on Monday, March 28, 2016. Spokane Public Schools is using Sqord, an activity tracker. (Kathy Plonka / The Spokesman-Review)Buy a print of this photo
A lightweight and durable wristband could be one key to getting Spokane fifth-graders moving.
Providence Health is funding a program that provides all fifth-graders in Spokane Public Schools with a Sqord – an electronic device that tracks activity levels. The grant targets fifth-graders because activity levels tend to drop at that age, said Emily Fleury, director of Community Wellness at INHS. Fleury is leading the program on behalf of Providence Health.
"We are trying to stop that curve and just make it so they continue to be active," she said.
The device can be worn on the wrist or ankle and tracks movement of all types, not just steps, Fleury said. Students receive activity points that can then be "spent" online to outfit their Sqord avatars. Additionally, students can interact with each other virtually, although they are limited to a list of prewritten responses. Parents can also participate by logging on and encouraging their children. Each band retails for $30.
Fleury said the device intentionally makes exercise more of a game, which can be instrumental in getting kids moving.
Heidi Bresson, a physical education teacher at Wilson Elementary, said the device allows students and schools to compete against each other.
"It's an extra motivator for the kids to be moving their bodies," she said. "What's happening now is the kids are so excited about it that we have kids not in the grant using it."
Bresson said it has been helpful in the classroom and provides children with extra motivation. Additionally, Sqord tracks which activities burn more energy than others. This, she said, teaches kids more about healthy physical activity.
Another important aspect of the program, Bresson said, is the device rewards students regardless of their fitness or athletic ability by monitoring the students' progress instead of athletic results.
"It just gives kids one more opportunity to shine, maybe, if they didn't in other areas," she said. "It has been a really positive thing. You have to keep challenging the kids to keep them motivated."
Bresson said she's integrated the program into her classes by challenging her students to try and earn the most points in 30 minutes, as well as challenging other schools.
Providence Health just launched the Sqord program in Stevens County, in addition to Spokane Public Schools.
"Basically, Providence is trying to promote health in the kids in the regions that they are serving," Fleur said.
Since the company's founding in 2013, more than 60,000 elementary school children use the device in the United States, according to Sqord's website.
Local journalism is essential.
Give directly to The Spokesman-Review's Northwest Passages community forums series -- which helps to offset the costs of several reporter and editor positions at the newspaper -- by using the easy options below. Gifts processed in this system are not tax deductible, but are predominately used to help meet the local financial requirements needed to receive national matching-grant funds.
Subscribe now to get breaking news alerts in your email inbox
Get breaking news delivered to your inbox as it happens.
---