Coeur d'Alene pastor shot multiple times recounts the 'miracle' of his survival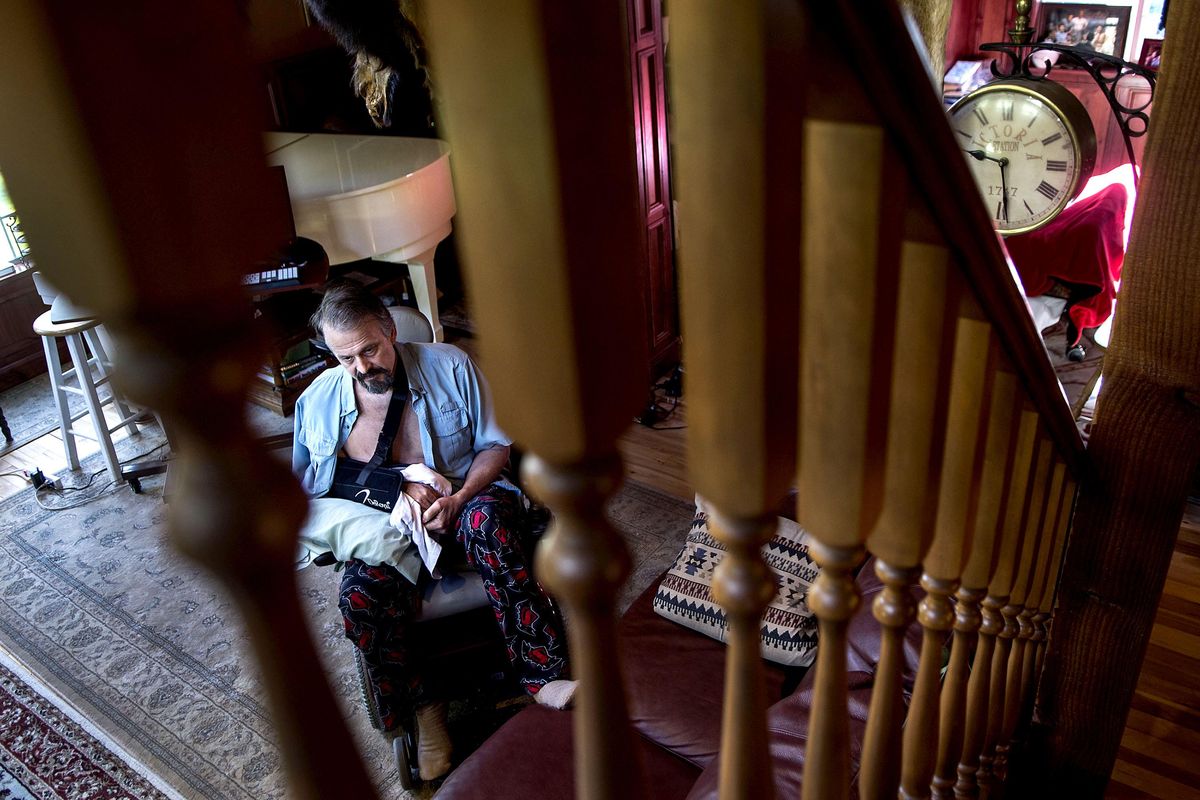 He forgives the man alleged to have shot him six times outside his Coeur d'Alene church – a gesture of grace that should surprise no one who knows Pastor Tim Remington.
But Remington, whose astonishing survival and recovery has touched many hearts, would like to do so much more for Kyle Odom, the former Marine accused of trying to murder him eight weeks ago.
"I will be in the courtroom all through the process trying to help Kyle Odom, absolutely. To really help him," said Remington, 55, at his country-style home in the hills east of Coeur d'Alene.
"We don't send a message that you can shoot somebody and not pay the price. But how he is rehabilitated, I would love to be a part of that process, speaking into his life at that point," he said.
The founder of the Altar Church and a faith-based addiction recovery program was gunned down March 6 in the church parking lot following Sunday services. As the shooter fled, Remington lay bleeding on the ground. He had been talking on the phone with his youngest son, who heard gunfire and screamed for his father to respond.
Remington remained awake and aware of his wounds until he went into surgery at Kootenai Health. Six hollow-point rounds from a .45-caliber handgun ripped into his back and shoulder. His right arm was shattered. A lung was collapsed. A round pierced his pelvis, and another skipped up to penetrate his skull, coming dangerously close to his brain.
"Just living was a challenge for four days," Remington recalled.
His wife, Cindy, echoed what many have hailed as a miracle of survival. "It truly is the Lord's hand protecting him, and there's just no way of getting around that," she said.
The 30-year-old Odom, who has a history of mental illness, was arrested two days after the shooting in Washington, D.C., as he tossed items over the White House fence. In a bizarre manifesto mailed to his family and the news media, he said he plotted to kill Remington because he believed the senior pastor was part of a vast alien conspiracy to enslave the human race.
The U.S. Marshals Service is escorting Odom back to Coeur d'Alene to be formally charged in the shooting.
Remington sees in Odom a young man suffering from paranoia and desperation. He is concerned about the path of Odom's recovery after he is prosecuted.
"He'll go to prison for a while, obviously. You don't go around shooting people," Remington said. But he added, "They want to put him on pills to help him, put him through mental institutes that will somehow make him lethargic, versus ministering to him, giving him Christ, to where he can have a life without all the paranoia.
"So he needs help, along with thousands of other people. And this only encourages me to work harder, search more diligently for the ones who really need it," he said.
Remington long has wanted to expand his Good Samaritan drug and alcohol treatment program to juveniles.
"I think it's time," he said. "We've got to affect these people before they go down that road and shoot someone."
'Where are you, Dad?'
On the brisk Sunday morning of March 6, Associate Pastor Kurt Neely gave the sermon at the Altar Church, a refuge for outcasts and misfits on Best Avenue. A bake sale was set up in the church foyer, and Remington perused the little desserts on display.
The previous evening Remington had led a prayer at a packed presidential campaign rally with Republican Sen. Ted Cruz at the Kootenai County Fairgrounds. He was in high spirits.
"It was just good. Everybody was in a happy mood, good sermon," he remembers. "It was just one of those days where you walk away feeling good."
Usually he's the last to leave the building, but on that Sunday a few others lingered when Remington walked outside shortly before 2 p.m. Church security video showed Odom apparently was waiting for him to come out.
"I was going out to my car, talking to my son on the phone, trying to figure out where to have lunch," he said.
Remington had his keys out to unlock his car. The shooter walked up behind him and squeezed the trigger 12 times.
"As I reached for the handle, I heard a loud noise," Remington said. "My hand turned around and hit the car. I thought I punched a hole through the door, and I fell to the ground."
The pastor crumpled to the asphalt. The rhythm of gunfire continued.
"I knew at that point I'd been hit, I'd been shot," he said. "I didn't know who, never met him, didn't know anything about him."
Days later, though, he recalled having seen Odom inside the church that morning. It's not unusual to encounter new faces at the church.
"We have a lot of odd people coming in and out at the Altar," Remington said.
But Outreach Pastor John Padula had noticed Odom's unusual attire, a type of Spandex, and suggested to Remington, "You should dress like that."
"So we laughed," Remington said. "That's how I know who the guy was."
The first shot, through his right shoulder, shattered his humerus, the bone between the shoulder and elbow.
"I really thought my hand was on fire," Remington said, pausing to collect himself as he recalled the trauma of the attack. "I took my hand to put it underneath me, because I thought it was on fire."
The suspect fled in his own car and headed west on Interstate 90. Within hours he was driving south through Eastern Oregon on his way to Boise, where he boarded a flight to the nation's capital, investigators said.
"I opened my eyes, realized I was wallowing in my own blood, spitting up blood," Remington said.
Within seconds, church member Jim Crabtree emerged from the building and called 911.
"He didn't care about his own life, he just went right over the top of me and made the call," Remington said. "I was very impressed with the love that Jim had there. He didn't even waste two seconds."
Across town, Jadon, 21, was still on the phone with his father, listening to the chaos. He called out, "Dad? Dad? DAD? Where are you, Dad?!" Then he heard Crabtree yell that someone had been shot.
Jadon raced to the church, where medics and police already were swarming. He couldn't get near his father.
"Tim remembers him calling to him, 'Dad, you're going to be OK!' " Cindy said.
Remington said he was amazed how quickly the first responders were on him.
"They started counting things out and ripping things off and cutting things, and talking to me," he said. "I was cognizant the whole time, feeling everything all the way to the hospital, all the way to surgery till they put me out."
He also remembers wondering who had shot him, but he's not sure he contemplated why someone had done it. In working with drug addicts, the homeless and people with criminal backgrounds, church leaders have handled their share of threats over the years.
"We've had guns held to us before; kind of comes with the nature of what I do," Remington said. "We've always been able to talk to them."
A pleasant miss
It was a short ride to the hospital, and every second counted.
"I lost nine units of blood. We hold 10," Remington said.
He went into surgery at Kootenai Health a little after 3 p.m. and emerged seven hours later. Cindy was briefed on his condition.
"The doctor said that they had done what they could and that it was amazing that he was alive," she said. "And now we just wait and see."
Remington spent the first nine days in intensive care, then nine more in recovery at the hospital. "For four days it was touch and go, I can tell you that," he said.
Cindy stayed by his side. "Those first three or four days, it was pretty scary," she said.
Thursday, resting in an electric wheelchair inside the house he built 25 years ago, Remington removed his shirt to reveal the scars on his back and shoulder. Bandages covered fresh incisions where surgeons recently removed two of the bullets, which flared open like flowers on impact, then migrated through the flesh of his shoulder over the past two months.
Another bullet in his chest and one that settled beneath his colon remain.
"They won't remove those. Those are so imbedded in the tissue that to remove them would be a lot worse," he said. "So those will be there for life."
The one in his chest missed his spinal column by less than an inch and lanced the lining of his right lung, collapsing it. Another round went through his pelvic bone, missed the hip joint by millimeters, and arced into his belly, dodging vital organs and arteries along the way.
One bullet ripped clean through his shoulder before it penetrated Remington's temple. It punched through the skull and settled at the membrane encasing the brain.
"When the doctor pulled that fragment out, he was amazed it had stopped at that place," Cindy said. "If it had gone any further he would have, well, either had brain damage or been dead."
A seventh round grazed the top of his head. "A graze to me was a pleasant miss," Remington said.
X-rays showed shrapnel throughout his body. "I've got 30, 40, 50 pieces of these shards that come from these bullets, and not one of those hit a vital organ," he said. "But they are literally embedded everywhere."
Divine intervention is an inescapable conclusion for Remington, his family and countless friends and supporters. What else explains how the bullets didn't take his life, they ask.
"It's like the Lord just took every one of them, moved them out of the way," he said.
The Altar Church believes "in the divine healing in the body of Christ and that Christ can and still heals today."
"The miracle is in the truth," Remington said. "What God has done is literally directed everything to keep me alive. I want everybody to know this isn't because he was a bad shot. It's not because I was just in the 'Matrix' and was able to dodge them."
A painful, tedious recovery
Remington said he hopes to return to his church in June. It's an optimistic goal, but his doctors and physical therapists also have remarked on how quickly he has recovered.
"I'm a go-getter. I don't like to lay down," he said.
But he has had some setbacks, too, including an infection from his perforated colon, a blood clot in his lungs, and another clot in his brain, which caused a minor stroke that impaired the function of his good arm.
"Now I can't pick up a glass like you would – I have to have my elbow on something and then I can do it," he said.
On Tuesday, Remington will be allowed to put weight on his right leg. He has balanced on both, but hasn't attempted yet to walk.
"That will take a little bit of time," he said. "I have to walk again."
The extensive injuries to his right arm are the biggest worry. He has little feeling there but sees signs he will regain at least some use of it. He points to his right hand, which he nicknamed Guido.
"This is the extent of my movement," he said, slightly moving his fingers. "But there is movement."
Whether he'll play piano again, though, he doesn't know.
"It's an amazing thing that he has an arm and that his nerves are beginning to respond," Cindy said. "That could so easily have been truly just gone."
The network of nerves that sends signals from the spine to the shoulder, arm and hand were heavily damaged.
"The neurological pain is what I have to get over," Remington said. "That is the biggie."
The pain is nearly constant and keeps him up at night. He lightly touches the tips of fingers. "It's like little glass shards, pins and needles, all through my hand, just by me touching something."
When the pain flares, the only thing that helps is to squeeze his hand to try to desensitize it. Medication doesn't help.
"The other day I had some chest pain in the hospital. I went through all these tests, and they gave me morphine, fentanyl – everything they could to calm down the chest pain," he said. "And it didn't even touch my arm."
'Bring it on'
As word spread of Remington's shooting, hundreds of people who know and love him packed the hospital lobby. When he was able to receive visitors, they began to stream in. Restaurants in town catered meals for his family and well-wishers for weeks.
"In the hospital, I felt so bad for so many people who have nobody, while my room was packed with people," he said.
On Sunday night, about 800 will attend a fundraising dinner and auction at the Coeur d'Alene Resort to help pay Remington's medical expenses not covered by insurance and workers' compensation. The event quickly sold out. Remington and his family plan to attend.
"Everybody just stepped up to make sure we were OK, that we had what was necessary – everything we need," he said. "This community did not waste time at all as far as coming to our needs."
Remington said he welcomes the positive impact of what has happened to him.
"I don't regret this," he said. "This is not a pity party at all. I wouldn't have it on anybody else, I can tell you that, but if this is my calling and this is for me, then so be it. I'm OK with it, as long as I know that people are affected by it. If this is for good, then bring it on.
"I'm not excited to go through the pain," he said. "I am excited to see the outcome of what God is doing."
---