Opinion > Syndicated columns
Jim Meehan column: Whitworth golfers after a perfect ending
Fri., May 6, 2016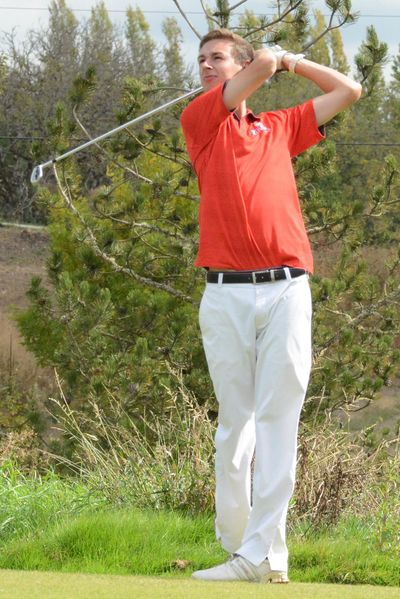 Starting to wonder if there's something in the water, or at least in the putting stroke or clutch gene, around here.
Area colleges have made a habit this spring of pulling off individual and/or team championships in their respective conference golf tournaments, many in see-it-to-believe-it fashion.
The most recent examples were authored by men's teams at Whitworth and Idaho. Whitworth was in third place with just six holes remaining in the Northwest Conference Tournament in Sunriver, Oregon, but four Pirates combined to play the closing stretch in five under. Whitworth beat Pacific Lutheran by one stroke, and coupled with the results of one spring and one fall tournament, secured another trip to the NCAA Division III championships.
Idaho hung up a 17-under 271 to erase Sacramento State's four-shot lead entering the Big Sky tournament final round at Nevada's Boulder Creek Golf Club – the same course that a week before the Vandal women, led by individual champ Sophie Hausmann, rallied past Sacramento State in the final holes for a one-stroke victory.
Meanwhile, Gonzaga's Ciera Min, tied for ninth after two rounds, closed with a 66 to win the WCC individual title in Danville, California.
Whitworth's recent comeback was similar to the conference's Fall Classic, also in Sunriver, where the Pirates surged past Willamette in the final round.
"It's probably one of the greatest feelings in sports," senior Austin Billeter said, "getting it done when it counts, especially when it means going to nationals."
It's tough to track movement up or down the leaderboard in Division III golf but the Pirates could sense something was happening in the finishing stretch.
"I just knew the guy I needed to beat in my group was four shots ahead of me with six to go," senior Tyler McQuilkin said. "My goal was to go two under, I went one under, which was still pretty good. I picked up six shots. I could see Oliver (Rudnicki) made a birdie because he was in front of me and I saw Andrew (Dodge) hit his shot close on another hole.
"It was a team effort. It was fun to hear, after the fact, what we had done to get there."
Made more enjoyable, no doubt, by the fact that all five Pirates are seniors and they knew this was their last shot at qualifying for nationals.
Dodge, a Lewiston High product, birdied 16 and 18 for a final-round 68 to earn medalist honors. Rudnicki (74), McQuilkin (75) and Lyle Rudnicki (76) all finished strong, fueling the late comeback.
Mt. Spokane graduates Billeter and McQuilkin started playing golf together in seventh grade.
"I'm not quite sick of him yet," McQuilkin joked. "It's been really fun just getting to grow up with him and pretty much spending all the time on the course together and at each other's houses."
College golf meshes individual and team dynamics.
"Personally if I didn't have the golf team I would have probably struggled a little bit at Whitworth," said Billeter, an accounting major who calculated that he's played $12,000 of free golf in his four years. "I do focus on school but golf gives me so much joy and the team gives me so much joy. Most athletes would say that. College sports are completely different than high school sports. It's a full-on commitment and golf is two seasons (spring and fall). You have to have a strong commitment."
Whitworth has been to nationals two straight seasons and three times in four years. When the Pirates tee it up Tuesday in Rochester, New York, it will be the third national tourney for Oliver Rudnicki and the second for his four teammates.
The players want to make a little history back East. Whitworth has only advanced once, in 2007, past the two-round cut in six previous trips. The program's best placing was 21st in 2013. Whitworth is paired with No. 2 St. Thomas and No. 13 Emory in the 41-team field.
"I've never been to New York," Billeter said. "My parents are going, a lot of the parents are going. National tournament, last tournament, my senior year with five seniors, it's the perfect ending for us."
Local journalism is essential.
Give directly to The Spokesman-Review's Northwest Passages community forums series -- which helps to offset the costs of several reporter and editor positions at the newspaper -- by using the easy options below. Gifts processed in this system are not tax deductible, but are predominately used to help meet the local financial requirements needed to receive national matching-grant funds.
Subscribe now to get breaking news alerts in your email inbox
Get breaking news delivered to your inbox as it happens.
---