News > Spokane
Council aide Rush fired following complaints
Mon., May 9, 2016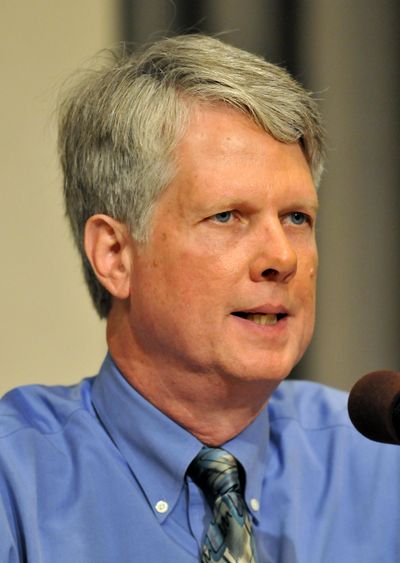 Former Spokane City Councilman Richard Rush was fired from his position as aide to Councilwoman Candace Mumm after two women complained that he made them feel uncomfortable.
A complaint made against Rush, who is recently divorced, in mid-March was investigated by the city's human resources department, said council President Ben Stuckart. The investigation determined that Rush did not sexually harass the woman, who does not work at City Hall. The woman said Rush kept asking her on a date even after she rebuffed him, Stuckart said.
"It was determined that there was no harassment, no sexual harassment, no violation of city policy because it was off-site and there was no criminal activity," Stuckart said.
Rush denies any wrongdoing, but suggested he was prepared to hire a lawyer.
"I have very limited information. You have more than I do," Rush said, noting that the accusations against him are "categorically false." He said he told Heather Lowe, the city's human resources director, in a letter that if the accusations were relayed to others he would "seek legal counsel."
On March 14, directly after a City Council meeting, the woman approached Stuckart with the complaint. Stuckart told Mumm and Lowe the next morning. On March 16, Lowe met with and interviewed the woman.
At the investigation's conclusion, a meeting was set up between Lowe, Rush, Mumm and Stuckart, but before it took place another woman, who is a city employee, relayed similar concerns about Rush to Lowe. The concerns "seemed similar in context" to the previous accusations against Rush, Stuckart said.
Mumm, who said she already was considering hiring a different aide, fired him after the second woman came forward and before the scheduled meeting took place.
"After hearing of the other concern, I had HR draft the letter," Mumm said of Rush's termination notice.
Mumm asserted that she knew no details of the allegations against Rush, but the two had agreed when he was hired to examine his employment annually.
"She moved in a different direction," Stuckart said of Mumm. "He was let go as an at-will employee, so there was no discussion of these issues."
The accusations against Rush come in the midst of an investigation into the actions of City Hall surrounding the allegations of sexual harassment against former police Chief Frank Straub. Stuckart said those events led him and Mumm to act quickly.
"Given what we've been dealing with over the past six months, we contacted HR right away and asked for an investigation," Stuckart said.
Rush expressed surprise at the accusations, and the information from Stuckart.
"Nobody told me anything. I don't know any of this background," Rush said. "I'm pretty much in the dark. I don't know what I'll do next because I don't know the circumstances of who said what when. I'm really at a loss here."
Former County Commissioner Todd Mielke, CEO of Greater Spokane Incorporated, said that a "similar type of activity" concerning Rush allegedly took place in 2008, when Rush and Mielke were board members of the Spokane Regional Transportation Council. A female staffer of SRTC reported that Rush was making unwanted advances, Mielke said.
"Basically, I was alerted by one of the board members that we had a female employee who was uncomfortable and didn't know how to interpret his actions and wanted him to stop," Mielke said, adding that it "wasn't a casual co-worker interaction."
Mielke said he took the concerns to then-council President Joe Shogan and asked him to look into the accusations against Rush.
Rush was on the City Council from 2008 through 2011, when he lost his re-election bid by 88 votes to Mike Allen.
Mumm hired Rush in 2013 as her full-time staff aide.
Rush was a sometimes divisive council member who wasn't afraid to float controversial ideas or buck the administration despite his overall support for Mayor Mary Verner, who was beaten by David Condon in the same election that Rush lost to Allen.
Rush once suggested, for example, that the city should get rid of its utility tax – one of the highest in the state – and replace it with a local income tax, which would be impossible without a change in the state constitution. He also complained during the Otto Zehm incident that it appeared the council was being given only "filtered" information from the city attorney's office about the case.
Before joining city government, Rush was a South Hill neighborhood activist who campaigned against the construction of a BNSF Railway fueling facility over the Rathdrum Prairie-Spokane Valley Aquifer near Hauser, Idaho, and pushed for more bike lanes heading downtown. As a member of the Cliff-Cannon Neighborhood Council, Rush fought against the removal of trees on South Bernard Street in 2006.
Local journalism is essential.
Give directly to The Spokesman-Review's Northwest Passages community forums series -- which helps to offset the costs of several reporter and editor positions at the newspaper -- by using the easy options below. Gifts processed in this system are not tax deductible, but are predominately used to help meet the local financial requirements needed to receive national matching-grant funds.
Subscribe now to get breaking news alerts in your email inbox
Get breaking news delivered to your inbox as it happens.
---