A&E > Food
Dinner Together: Vegan tacos don't have to be full of beans
Tue., May 10, 2016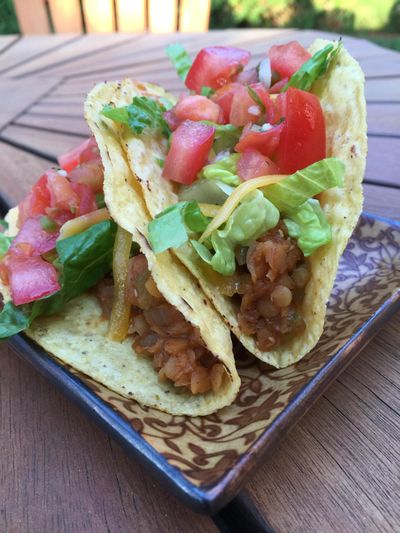 Taco night is a great way to feed the family or a crowd without too much fuss.
Here's another filling that will help take your vegan and vegetarian offerings beyond beans.
Red lentils are quick cooking and have an earthy flavor that can be spiced up with chili powder, cumin and oregano into a filling for Mexican staples. This filling tastes a lot like traditional ground beef for tacos. Or, use it in burritos and top tostadas, too.
If you're serious about finding local foods, look for lentils that were grown on the Palouse of Washington or Idaho. Many stores will mark the bulk bins if the legumes were grown in the area.
Lentils might not look like much, but they are packed with protein and fiber, along with folate, iron, phosphorus, magnesium, zinc and potassium, so they make a great meat substitute.
This recipe is easy and forgiving. It was given to us by a friend who learned it from her ex-boyfriend, so at her house and ours they're called "Ex-Boyfriend Lentil Tacos." We've served it on the taco bar alongside all the traditional meat fillings by keeping it warm in a slow cooker.
Red Lentil Tacos
1 cup minced onion
1/2 cup diced celery (optional)
2 cloves garlic
1 teaspoon olive oil
1 cup red lentils
1-2 tablespoons chili powder
2 teaspoons ground cumin
1 teaspoon dried oregano
2 1/2 cups veggie stock
1 cup salsa
Lettuce
Tomato
Taco shells or tortillas
Sauté onions, celery and garlic in olive oil for 5 minutes. Stir in lentils, chili powder, cumin and oregano and cook for 1 minute. Add vegetable stock. Cover and cook for 15-20 minutes (more water or stock might be needed) or lentils are tender. Remove lid and cook until thick, about 5 to 10 minutes. Stir in salsa and serve.
Yield: 8 servings
Local journalism is essential.
Give directly to The Spokesman-Review's Northwest Passages community forums series -- which helps to offset the costs of several reporter and editor positions at the newspaper -- by using the easy options below. Gifts processed in this system are not tax deductible, but are predominately used to help meet the local financial requirements needed to receive national matching-grant funds.
Subscribe to the Spokane7 email newsletter
Get the day's top entertainment headlines delivered to your inbox every morning.
---