Sports > High school sports
Rogers' Roberto Lopez hasn't let hardships derail him
Wed., May 11, 2016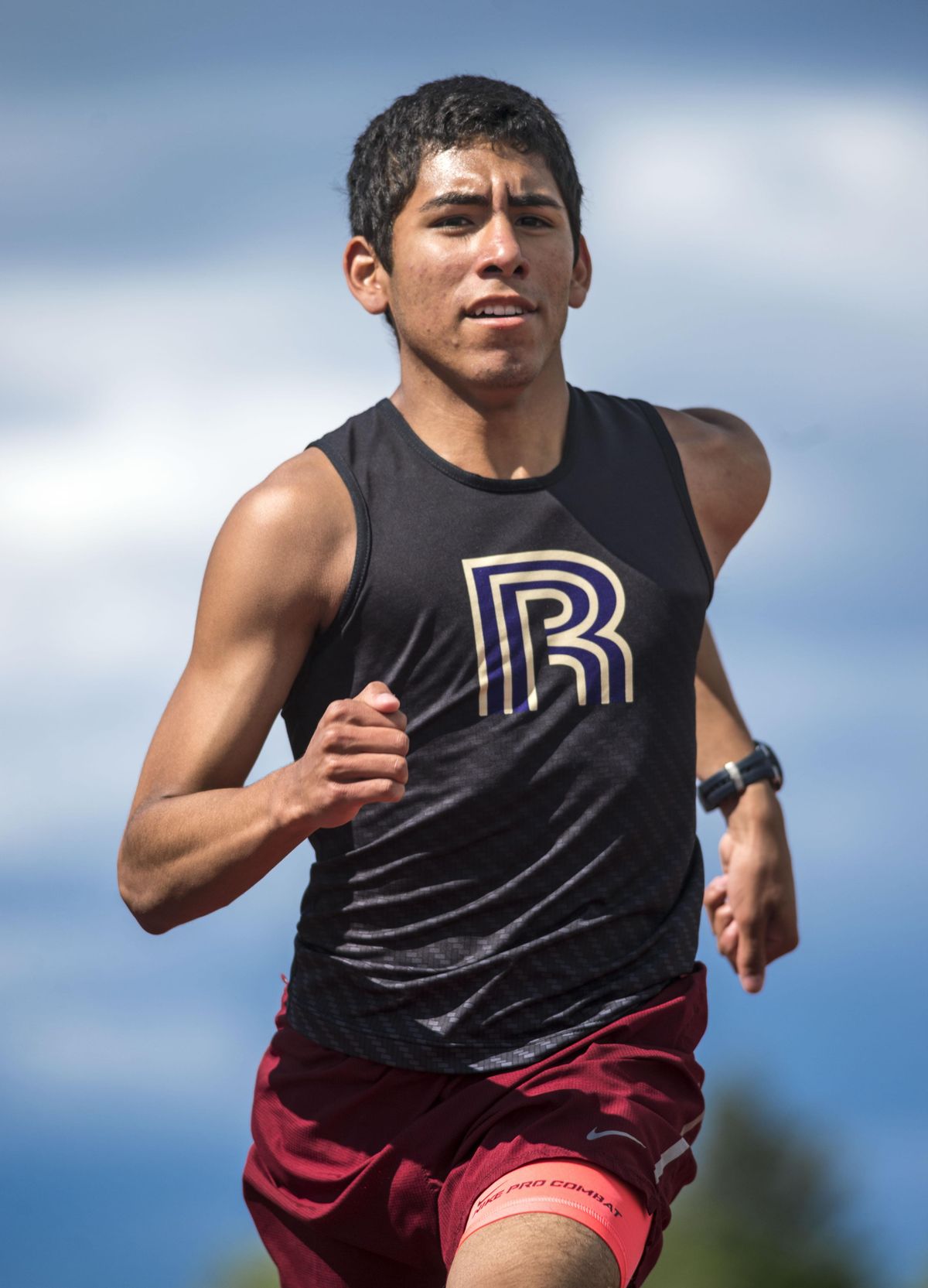 Rogers High School honor student and distance runner Roberto Lopez also works 30 hours a week at McDonald's to help with family finances. (Colin Mulvany / The Spokesman-Review)
Rogers senior Roberto Lopez has encountered multiple hardships.
He could have succumbed numerous times in his life to the various obstacles, but he's chosen to be an overcomer.
Pirates cross country and assistant track coach Ken Bell wonders how good Lopez would be if he hadn't sustained injuries. And, if life as the man of the house, as Lopez calls it – which began when he was 8 years old after an abusive stepfather left – hadn't limited his ability to train like most of his peers in the Greater Spokane League.
Despite all that life has thrown at him, he has no regrets. And, frankly, he's never taken time to dwell on what he's missed.
"Sometimes I've thought 'man I want to give up'," Lopez said.
Then he thinks about his mom, who has never given up on him and his siblings. She works two jobs a day to make ends meet. Her day begins at noon for an eight-hour shift at a grocery story. Then she moves on to a night shift at a 24-hour McDonald's on Division Street, beginning at 10:30 and going home at 6 a.m.
Since the start of his senior year, Roberto has been working an average of 30 hours a week to help the family budget while balancing five honors classes, running cross country and track and watching over a middle-school aged brother and sister.
When he's home at night he scrounges through the kitchen to prepare dinner.
"Dinner is a mystery most of the time," he said. "It can be PB&J, Top Ramen, scrambled eggs, oatmeal – whatever is around."
In the winter, Lopez got himself and his siblings up at 5 before heading off on a six-mile training run with a 40-pound backpack, loaded with textbooks, on his way to school.
"I think sometimes it weighs as much as me," quipped Lopez, who stands 5-foot-4 and 135 pounds.
He found out that his in-season training mileage is about half of most of his peers.
"If I could run more I believe I could be faster," he said.
"He has a lot of untapped potential and room for growth," track coach Chris Dunn said.
Dunn recalled finding out two years ago that Lopez was getting up at 2 a.m. for training runs. Lopez read somewhere that former Rogers standout Gerry Lindgren used to get up that early for runs.
He did it for a month before Dunn put a stop to it.
Lopez turned out for track his freshman year but didn't start to discover he had a knack for running until cross country the fall of his sophomore year.
It was his sophomore track season when it appeared he might qualify for his first state meet. He broke 2 minutes in the 800 meters (1:59.62) at district.
After the first lap in the race at regionals, disaster struck. He got tangled with another runner who was falling to the track.
"I tried to jump over him but he spiked me in the hamstring," Lopez said.
When Lopez's right leg planted on the track, he dislocated his right hip, ending his season.
Last spring, after Lopez ran a personal best 1:57.06 at district, his hip went out again, ending his season.
"He felt well the week before and had no issues," Dunn said. "That's been the hardest thing for me to watch. He deserves the success more than any other kid on a track on any day. He's battled so much."
This year, Lopez has seen a chiropractor every two weeks during cross country and track to get an adjustment on his hip. Bell, a retired teacher, pays a $20 fee for each appointment, Lopez said.
Last fall, he qualified for state for the first time, finishing 30th overall.
"He's truly one of the most incredible kids I've worked with in terms of things he's overcome and the sheer resiliency that he's shown academically and athletically," Dunn said.
Lopez heads into district this week hopeful of qualifying for state in the 800 and 1,600. He also runs a leg on the 1,600 relay.
He was named Rogers' male scholar athlete of the year and presented a ring at a luncheon put on by the GSL. He will graduate with a 3.6 grade-point average.
Lopez has been accepted into the University of Washington. It will cost about $25,000 per year for tuition, room and board. He has about $19,000 in scholarships and aid and hopes to get the balance covered through other scholarships he's applying for.
He wants to be a physical therapist.
"Since my hip injuries, Bob Paul has changed my life," said Lopez, who met Paul, a physical therapist, after his first hip injury and received treatment for free. "That's why I want to be a physical therapist."
He wants to walk on for cross country and track at UW.
Lopez applied for a Gates Millennium Scholarship but wasn't chosen. In the application process, he had to write seven essays.
"It was pretty emotional," Lopez said of writing about his life journey.
He doesn't know his father. He left when he was 3.
"I don't even know if he's alive," he said. "In a way it bothers me that he hasn't been part of my life, but there's a reason for everything."
Lopez's hero is his mother.
"Without my mom I wouldn't be here," he said. "What has kept me going is my mom. She works two back-breaking jobs. I barely see her with sports. But she's there in spirit for me, and she knows I love her."
Dunn and Bell applaud Lopez's work ethic, leadership and character.
"If my own kids turn out like him, I'd be thrilled beyond words," Dunn said. "My kids will be successes if they're half the kid Roberto is."
Local journalism is essential.
Give directly to The Spokesman-Review's Northwest Passages community forums series -- which helps to offset the costs of several reporter and editor positions at the newspaper -- by using the easy options below. Gifts processed in this system are not tax deductible, but are predominately used to help meet the local financial requirements needed to receive national matching-grant funds.
Subscribe to the sports newsletter
Get the day's top sports headlines and breaking news delivered to your inbox by subscribing here.
---