News > Spokane
Spokane-area housing for domestic violence victims to be reduced
Fri., May 27, 2016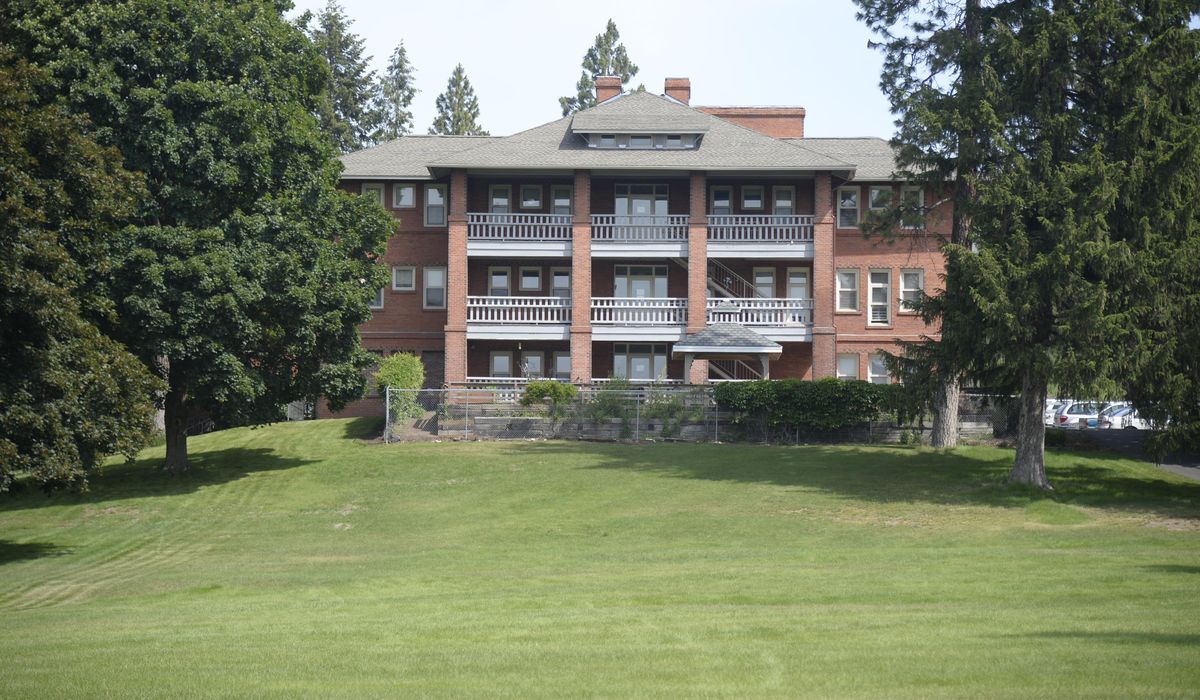 Transitions is housed inside a former orphanage in North Spokane. (Jesse Tinsley / The Spokesman-Review)
A prayer and a bit of chance led Trina and her three daughters to Spokane.
After years living in an abusive relationship in the Seattle area, Trina left her husband in 2012, taking her three daughters with her. But her ex-husband continued to stalk her, finding out where she was and showing up at the girls' schools, scaring them. He routinely violated a restraining order, and police, overwhelmed with calls for order violations, did little to stop him, she said.
Trina asked that her last name not be published to protect her privacy.
By the start of 2016, Trina had become desperate for a fresh start. She prayed, then picked up a book of domestic violence shelters, closed her eyes and pointed. Her finger fell on the YWCA in Spokane, so she packed her bags and took her daughters with her. In early February, she moved from the shelter into an apartment at the Transitional Living Center, which houses homeless women and their children who are fleeing domestic violence.
Trina remembers telling her daughters, "We're going to go somewhere where nobody knows us. It's going to be really hard, but we're going to be safe."
The Transitional Living Center currently has space for 15 families, and its parent organization, Transitions, houses another nine homeless single women at Miryam's House. But 16 of those apartments are likely to close soon because of a funding cut from the U.S. Department of Housing and Urban Development.
Transitions staff received word in early May that they were losing $184,000 in federal funding – money they've been receiving for 17 years, Transitions Executive Director Edie Rice-Sauer said. The YWCA of Spokane also is losing about $40,000 in funding for transitional housing for domestic violence survivors. They're expecting further cuts to the domestic violence shelter when another federal grant expires over the summer, YWCA CEO Regina Malveaux said.
The federal cuts reflect a pivot toward funding more permanent supportive housing projects, which often house chronically homeless people who may have severe mental illnesses and substance abuse issues. Federal money is also focusing on rapid rehousing, which typically means rental assistance for people or families who have recently lost housing or are in danger of losing it due to a sudden change in income. HUD has been moving toward those programs for several years as part of a push to eliminate chronic homelessness using evidence-based approaches.
"We're trying to make what we consider the best, most effective use of the limited resources we're able to provide," said Lee Jones, a spokesman for HUD. The total amount of money HUD gave out for 2016 increased in Washington, from about $48 million in 2015 to $59 million. But that money was shifted toward permanent solutions rather than services focused on domestic violence survivors.
Federal grants are managed through a program called Continuum of Care, which asks a local board to rank programs designed to end homelessness based on their effectiveness and the populations they serve. Spokane's board has representatives from the city, county, local school districts and social service organizations, including the YWCA and Transitions.
Last year, Spokane's Continuum of Care Advisory Board ranked the Transitions programs nearly last on their funding priorities list, though they scored higher on a city assessment of services than some programs that did receive funding.
The board's decisions are based on HUD funding priorities so Spokane can get as much federal money as possible. This year, that meant prioritizing transitional housing for young people, something HUD has endorsed as a best practice.
"If we continue to include domestic violence shelter services when that isn't a priority to HUD … as a community, our national application is less competitive," Malveaux said.
Transitions staff say they understand the move to focus on permanent housing for all homeless people. But Rice-Sauer said the emphasis on chronically homeless people allows women to fall through the cracks.
"It unduly affects women," she said, especially women with children. Homeless women are often worried about losing custody of their children and tend to focus on staying off the street as a result. That means they're more likely to stay in an abusive relationship or double up by living with another family.
Women also avoid staying outside because they're at risk for assault and abuse, she said. All of that means they're less likely to qualify for services targeted at chronically homeless people.
Domestic violence survivors also have unique needs, including access to a secure building and supportive services to help women and their children move past the trauma of living in a violent household.
"Trauma can cause a lot of chaotic thinking patterns within the brain," said Mary Tracey, Transitions' development director. Having a temporary apartment with lots of support from staff can help people get their life back on track.
Women can stay in the center's apartments for two years, though Transitions staff said they don't kick people out. Rice-Sauer said they plan to close down units gradually as tenants move out and run at a deficit until that happens. Transitions is also exploring leasing the extra units to another social program, though they would no longer be specifically targeted towards domestic violence survivors. They've also laid off a case manager and reduced other staff hours as a result of the cut, she said.
Sheila Morley, the city's program manager for community, housing and human services, said the city wants to help better fund domestic violence services in 2017, but its hands are often tied by restrictions in grant funding. The city received about $3.8 million from HUD's Continuum of Care program this year, all restricted to specific projects mostly focused on permanent housing. Other state and federal funding for 2016 and the first half of 2017 was about $6.8 million, most of which is tied to specific programs. The city's discretionary funding for human services, including homeless services, was about $860,000 for an 18 month period including this year, Morley said.
The city has also committed to providing emergency funding for the House of Charity, a men's shelter and drop-in center for homeless people, and funding it as a 24/7 emergency shelter starting next year.
"We've made huge strides in being able to serve people," Morley said. "It has included painful decisions about allocating dollars. That's really what we're challenged with."
Jonathan Mallahan, Spokane's director of community and neighborhood services, said the city would look for alternative sources of funding to avoid cuts.
"We don't want to see these services go away," he said.
Councilwoman Karen Stratton, a council liaison to the city's community, housing and human services board, said the board is meeting with City Council members June 9 to discuss funding. Domestic violence services are a council priority, she said, but a specific solution hasn't been worked out.
"It's one of those issues that kind of keeps you awake at night because there's such a need in all those areas," she said.
At the Transitional Living Center, Trina said her daughters have been able to sleep through the night for the first time since leaving Seattle. They're worried about doing well in elementary school, not running into their abusive dad, she said. And they've even won awards for their performance in school.
Meanwhile, Trina is looking for work and planning to start massage school in the fall, using an educational scholarship through Transitions. She said having her own apartment with support has helped her start a new life.
"The environment here is really calming. They're a really good group of women," she said.
This story has been updated to correct the amount of time the city's budget for social services covers.
Local journalism is essential.
Give directly to The Spokesman-Review's Northwest Passages community forums series -- which helps to offset the costs of several reporter and editor positions at the newspaper -- by using the easy options below. Gifts processed in this system are not tax deductible, but are predominately used to help meet the local financial requirements needed to receive national matching-grant funds.
Subscribe now to get breaking news alerts in your email inbox
Get breaking news delivered to your inbox as it happens.
---