Sports > Outdoors
North Cascades Institute leading outdoor education for 30 years
Sat., May 28, 2016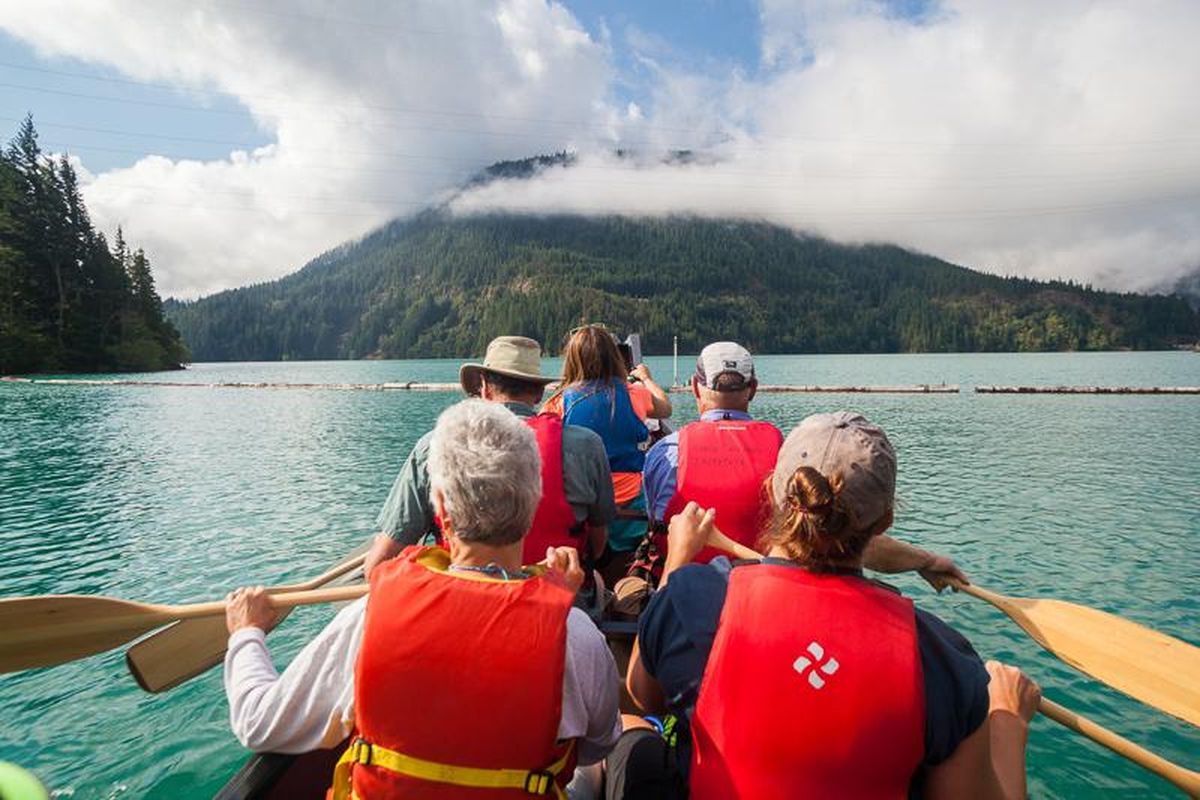 A group paddles a canoe on Diablo Lake in a course offered through the North Cascades Institute. (Ethan Welty)
In the mid 1980s, Saul Weisberg, now the executive director of the North Cascades Institute, was a climbing ranger in North Cascades National Park and finishing up a graduate degree in biology.
It was the time of timber wars and fights over spotted owls. There was a lot of tension around public lands.
Weisberg and his friends wanted to find a way to counteract that tension. They wanted to bring people out to really experience the park and learn about it.
"We had this idea that education was one of the tools that should be used to promote conservation, by taking people outside and giving them experiences in wild places," Weisberg said. "We just assumed that they would fall in love with it the way we did."
So Weisberg and his friends started a series of adult field seminars.
They worked out of the national park. The park superintendent made a deal with them. He told them to come into the office in Sedro-Woolley and find the desk of someone who was gone for the day. That gave them a desk and an electric typewriter.
"We just felt like, 'Wow, what a score!' " Weisberg said.
They hauled their stuff from desk to desk in a box.
The first classes were in the summer of 1986.
"They took off like crazy," he said.
Weisberg stopped being a climbing ranger and focused on education.
Soon, they realized that to really have an impact, they needed to start working with kids. So they added a program for kids called Mountain School, which is now 26 years old. Mountain School brings students to the North Cascades with their teachers for three days of hands-on activities to learn about the natural history of the North Cascades.
Weisberg is still leading the North Cascades Institute. The program will celebrate its 30th anniversary this summer, around the same time the National Park Service celebrates its 100th anniversary.
The institute has grown while maintaining its core offerings. A graduate program has been added, in partnership with Western Washington University. While they once worked out of a cardboard box on borrowed desks, the institute now has a space in Sedro-Woolley and a beautiful learning center on Diablo Lake in North Cascades National Park.
Weisberg still teaches, too. This summer he'll offer a popular course called "Beats on the Peak: Lookout Poets and Backcountry Tales on Ross Lake." The course includes at trip to Desolation Peak where beat poet Jack Kerouac spent a summer in 1956.
"I think when we started the institute we didn't really know what we were doing," Weisberg said. "But we really wanted to bring people together who loved this place and wanted to learn more about it and help take care of it. These 30 years have gone by really fast. And when I think back on it, it seems like that's really happening."
Weisberg said that as the institute looks back, it's also looking forward and working on its strategic plan for the next several years.
"I think two things are really going to rise," he said. "We've been focusing on diversity for a while, but I think we're really going to broaden that. We're going to be talking about inclusion and social justice issues, not that that's going to be our focus, but a lot of environmental issues relate to social justice."
Local journalism is essential.
Give directly to The Spokesman-Review's Northwest Passages community forums series -- which helps to offset the costs of several reporter and editor positions at the newspaper -- by using the easy options below. Gifts processed in this system are not tax deductible, but are predominately used to help meet the local financial requirements needed to receive national matching-grant funds.
Subscribe to the sports newsletter
Get the day's top sports headlines and breaking news delivered to your inbox by subscribing here.
---