Sports > Seattle Mariners
Grip on Sports: WSU's Luke Falk will make a decision on the NFL some day, but probably not today
Tue., Nov. 1, 2016 A GRIP ON SPORTS • We have some breaking news here. Sources are telling me Luke Falk will attempt to play in the NFL at some point. Read on.
••••••••••
• Will Falk, Washington State's prolific junior quarterback, leave after the season and enter the NFL draft? He may. It's his right. Or he may not. That's also his choice to make. But is there a chance he's made a final decision either way?
One hundred percent not. He's too smart for that.
Every action Luke Falk takes on a football field shows a young man who thinks, who examines options, who makes intelligent decisions. None of those attributes would lead him to make a final decision before Nov. 1 of his junior season.
Should he or family members be examining his options already? Why not? Gathering as much information as possible before making a life-altering decision is the smart way to go, no matter who is making it or what the decision is. But having a decision etched in stone before it's possible to gain all that information isn't.
And we can all agree Falk is smart.
All of this came to a head yesterday due to a tweet sent out by Bleacher Report's NFL draft guy, Matt Miller, which read: "Sources tell @nfldraftscout Washington St. QB Luke Falk is expected to declare early for the 2017 NFL draft".
Let's examine that for a second. Nowhere does the tweet actually say Falk has made up his mind to declare for the draft.
What Miller is saying is sources expect him to declare. Not that he will.
Heck, I could have been one of his sources. See, I believe Falk will enter the draft. I expect it. However, to be fair, I have no personal knowledge of, or interaction with, his decision-making process. I am, though, a source – if need be. And I also fit the other part. I expect Falk will declare.
Then again, I expected Gabe Marks to declare early after last season. It only made sense – to me and lots of others.
But to Marks it didn't. And that's all that matters. Same with Falk.
There are many good reasons for him to leave at the end of this season. Some of them were outlined in the animation accompanying Miller's tweet.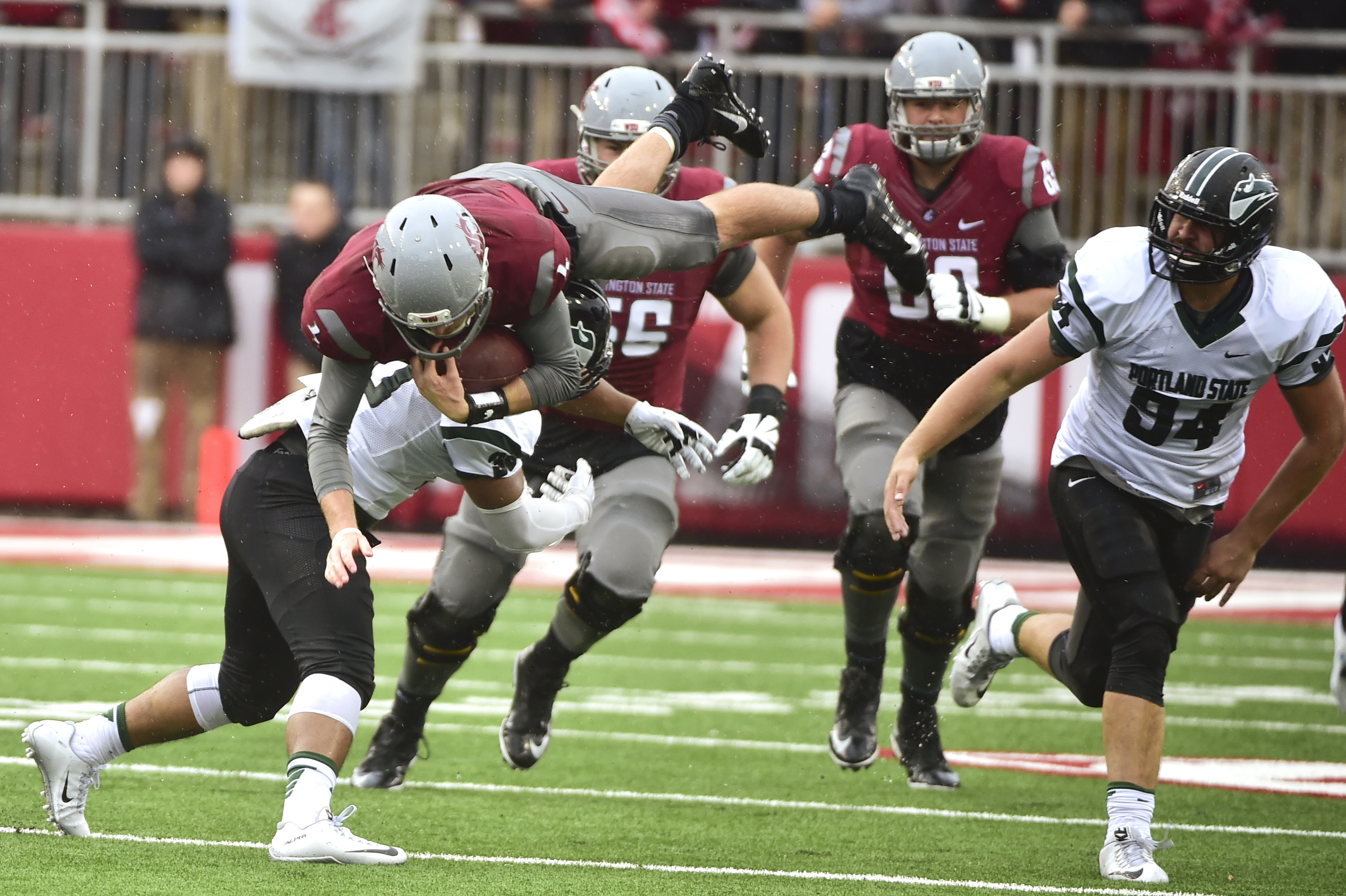 They might be enough. They might not. Maybe the tipping point is the abuse Falk's body is taking. Maybe it will be a class he wants to finish before he leaves. Maybe it will be someone at Washington State he doesn't want to leave behind.
I don't know. You don't know. Matt Miller doesn't know.
But sources expect Falk to declare for the draft. I'm 100 percent sure that's true.
•••
• WSU: Falk took to the podium yesterday to deny he's made a decision concerning the draft and he did it pretty darn emphatically. Jacob Thorpe was there at media day and posted a video of Falk's comments as well as putting together this story. … The Robert Barber situation just gets more and more interesting, though I'm not sure that's the right word. There was a press conference yesterday in Seattle featuring a Cougar football legend, a Washington state senator and others, calling for the school to reinstate the defensive lineman (pictured) while it examines its student conduct board. Jacob has a story about the presser. There is also additional coverage in the Seattle Times, which also covers Falk's situation and Mike Leach's thoughts from Monday. … Arizona comes to Pullman on Saturday afternoon and Jacob has his first look as well as news on next Saturday's kickoff time against California. A hint: It's not early again. … Speaking of the Wildcats, their quarterbacks have been struggling. No matter. The matchup with WSU will be a good one anyway.
Elsewhere in Pac-12 football, Oregon's quarterback didn't struggle against Arizona State, which earned him some recognition around the league. The Ducks travel to USC this Saturday night. … The week kicks off in Boulder, with a Thursday night matchup between upstart Colorado and pass-happy UCLA. … Oregon State, fresh off a come-from-ahead loss to Washington State, travels to Stanford, who ran over Arizona. … California will try to post the upset of the Pac-12 season when it hosts fourth-ranked Washington. It's a trap game for the Huskies, what with a tough win over Utah in the rearview mirror and a visit next week from USC. … Utah and Arizona State have the byes.
• Gonzaga: The WCC held its basketball media event in the Bay Area yesterday and the Bulldogs returned to their rightful place atop both polls. Jim Meehan has stories on the men and the women being picked by the coaches to win their respective races. … BYU is looking up at the Zags in both polls. … The preseason Associated Press poll also came out yesterday.
• EWU: What else can anyone say about Cooper Kupp? He's the best FCS player in the nation, and quite possibly the most awarded. … Around the Big Sky in football,
• Preps: The 4A girls soccer playoffs aren't going the way the Greater Spokane League envisioned. Jim Allen has a story on the postseason thus far.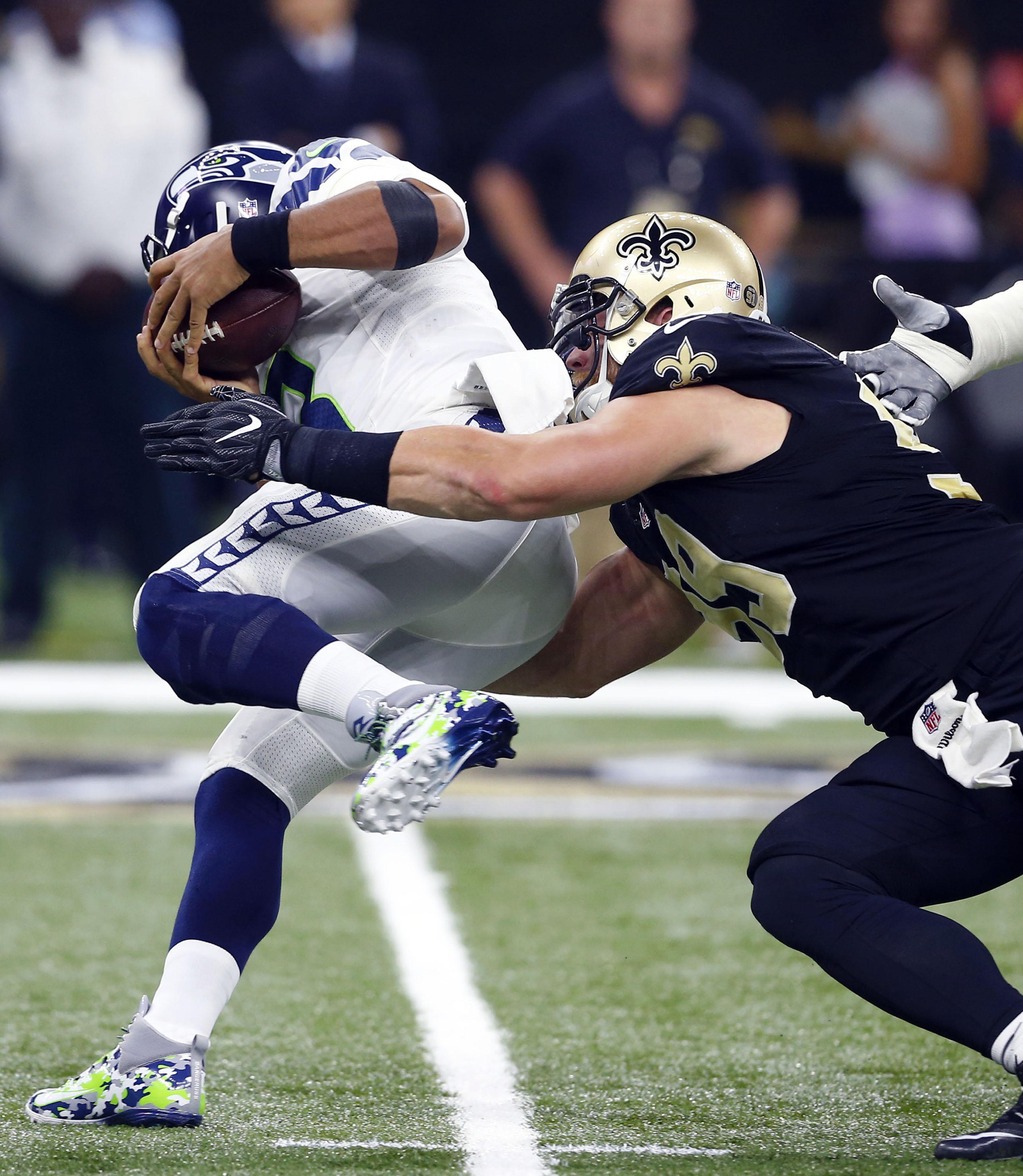 • Seahawks: Let's be honest. The Hawks' offense stinks right now. The offensive line needs to be fixed. The quarterback is more like Festus than Usain Bolt and the running backs aren't finding any room. What can be done? … The defense, though still in the top class of the league, has its own problems. Most notable is Michael Bennett's injury, which will be surgically repaired tomorrow. … And yet the Hawks almost won Sunday and still are atop the NFC West. … Ricardo Lockette is discovering the rest of his life.
• Mariners: While others battle for the World Series title, the M's tout their prospects. Good for them.
•••
• No sources on this, but I expect Jake Arrieta will start and win tonight's Game Six against the Indians and then come out of the bullpen tomorrow night to lock down Game Seven and the World Series. After that, he will retire to a penthouse apartment in the Willis Tower, where he will be worshipped daily by the Cub faithful until he passes on. Until later …
Subscribe to the sports newsletter
Get the day's top sports headlines and breaking news delivered to your inbox by subscribing here.
---
Subscribe and login to the Spokesman-Review to read and comment on this story