News > Spokane
Hayden man arrested on gun charge lived in same house as Bo Kirk's alleged killer
Tue., Nov. 1, 2016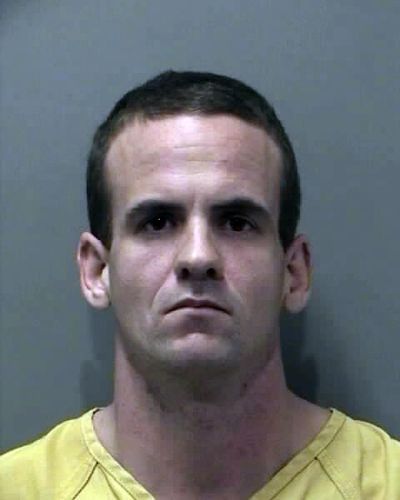 A Hayden man in federal custody on a weapons violation lives at the home searched by police Friday in connection with the killing of a North Idaho X-ray technician, records show.
Justin Roy Booth, 36, was arrested Friday and is being held on a charge of being a felon in possession of a gun. He is being held in the Bonner County Jail, where federal inmates in North Idaho are kept.
Booth, who lives at 1319 E. Miles Ave., was questioned Friday by FBI Special Agent Edward Jacobson and Sgt. Ken Lallatin with the Kootenai County Sheriff's Office, and subsequently was arrested.
Lallatin is the detective who on Friday arrested David E. Hutto, 44, on a charge of second-degree murder in the shooting death of William "Bo" Kirk. The county prosecutor's office alleges Hutto killed Kirk in an apparent road-rage incident.
Detectives on Friday also searched the Miles Avenue residence where they said Hutto had been living. They spent several hours there processing and collecting evidence, the sheriff's office said.
Hutto was arrested that evening at a Burger King restaurant in Coeur d'Alene. He is being held in the Kootenai County Jail on $2 million bail.
Public records show that Booth has lived at the Miles Avenue residence since March 2015. Booth's attorney did not immediately return a call seeking comment Tuesday, and the U.S. Attorney's office and FBI have declined to comment on his arrest or his connection with Hutto.
In his police interview Friday, Booth said he operates a small-engine repair shop and fixes lawnmowers, motorcycles and mopeds, according to a federal court affidavit released Tuesday.
On Oct. 15, a person whose name was redacted from the affidavit offered to give Booth a .38-caliber revolver in exchange for two mopeds Booth had at his residence, the document states.
"Booth agreed to the trade and took the revolver into his possession," states the affidavit signed by the FBI's Jacobson. "Booth described the firearm as chrome in color with a hole in the side beneath the handle. During the interview Booth admitted to possessing the firearm."
During Friday's search of Booth's home, a Taurus .38 Special revolver was found, Jacobson's affidavit states. Jacobson said he examined the gun and noted it was chrome in color and had a hole in the side.
None of the records indicate that was the handgun Hutto allegedly used to kill Kirk after Kirk went missing Oct. 22 following his work shift at Northwest Specialty Hospital in Post Falls. Kirk's body was found Oct. 25 near Hayden Creek in the Coeur d'Alene National Forest. He had been kidnapped, bound and shot as a result of a random road rage incident, a prosecutor said Monday at Hutto's first court appearance.
Because Booth has a prior conviction in Kootenai County for robbery, burglary and other felonies, and is on felony parole for those crimes, he violated the terms of his release from prison by allegedly possessing the firearm, according to the affidavit.
Booth also may have violated federal law for having a gun made in Brazil and illegally imported to the U.S., according to court papers.
In arguing for Booth being kept in jail, the U.S. Attorney's office noted he was being charged with a felony, but not a crime of violence, and that they believed he is a serious flight risk.
The federal criminal complaint against Booth was redacted to conceal the identity of a minor who is not the subject of the charge, records state. The redactions include the name of the person who traded the gun for Booth's mopeds.
In 2010, when he was 30, Booth was sentenced in 1st District Court to three years in prison for robbery, burglary, eluding a police officer and two counts of grand theft.
Local journalism is essential.
Give directly to The Spokesman-Review's Northwest Passages community forums series -- which helps to offset the costs of several reporter and editor positions at the newspaper -- by using the easy options below. Gifts processed in this system are not tax deductible, but are predominately used to help meet the local financial requirements needed to receive national matching-grant funds.
Subscribe now to get breaking news alerts in your email inbox
Get breaking news delivered to your inbox as it happens.
---