Spokane Public Library's new Level Up coworking space complements long list of business resources available through the library system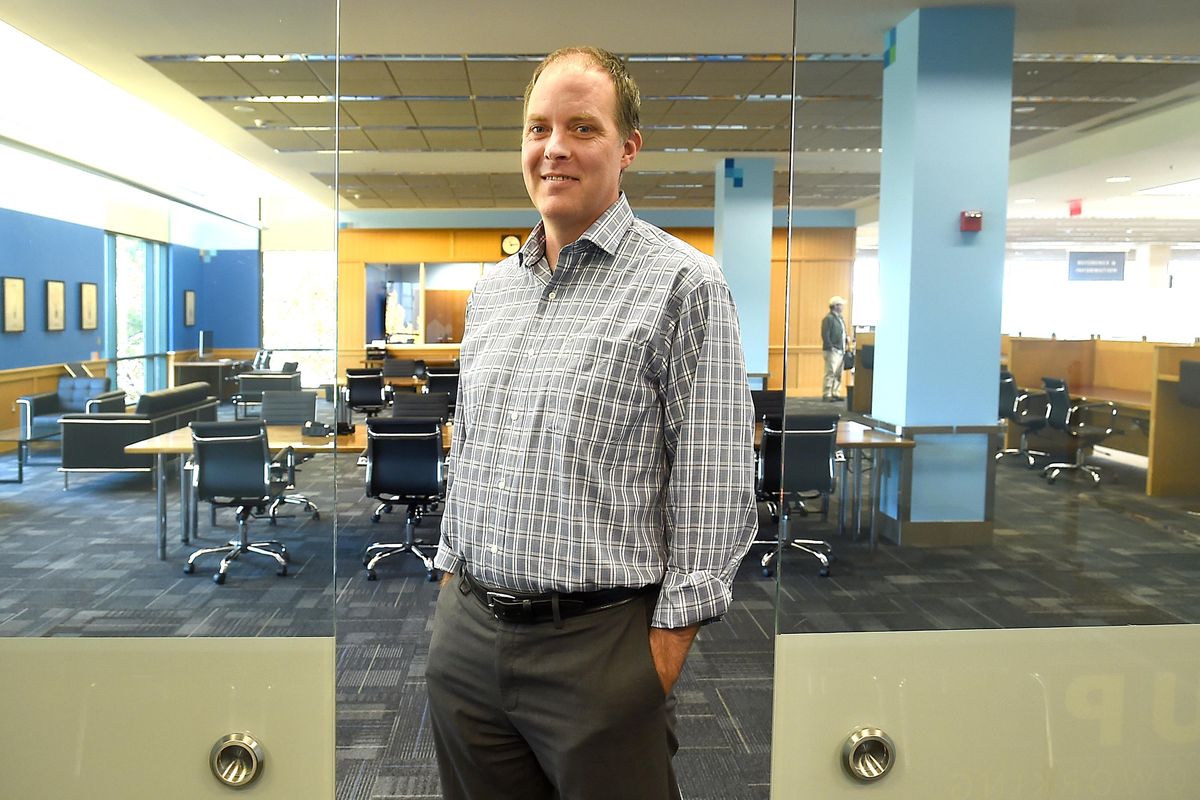 To the best of Mark Pond's knowledge, there are two public libraries in the U.S. with full access to the latest financial market information and news from Bloomberg. One is the New York Public Library. The other is in downtown Spokane.
Pond, Spokane Public Library's business reference librarian, is the ambassador for a new library effort to provide more resources to entrepreneurs. This week, the downtown branch is opening Level Up, a new coworking space with free access to a Bloomberg terminal and two Macs featuring a full suite of Adobe creative software.
"The origin of public libraries was trying to find information that was valuable and making sure the public has access to it," he said. Early libraries bought encyclopedias that were too expensive for the average household to afford. Pond says the digital resources on offer at Level Up continue that tradition.
"It's definitely the same idea: finding what's valuable and making sure Spokane has access to it," he said.
At the Bloomberg terminal, people can browse much more than stock information. The software also has access to a dizzying array of news from around the world, profiles on financial markets in every country and real-time maps that can display custom information, like the location of all in-service oil tankers around the world.
The annual subscription cost, $25,000 is steep, but Pond hopes that cost may eventually be shared with universities or other groups that are looking to use the software regularly.
Level Up is open to anyone working on some sort of project, but its focus is helping would-be entrepreneurs get off the ground.
Pond maintains a collection of resources at spokanebusiness.org that can help people research market information, find potential customers and develop a business plan. Those include demographic data, industry profiles, a directory of foundations for grant writers and online courses from Lynda on topics like programming and digital illustration.
With Level Up, Pond will have a dedicated space to work with people who are starting to come up with a plan or need help doing research. People can also work independently, taking advantage of the in-house information and software.
The space has a large room with long tables in the center. Each group of two chairs has three power outlets and two USB ports, making it easy to charge a multitude of devices.
By the windows overlooking the Monroe Street and Spokane Falls Boulevard intersection, there are a few clusters of lower tables with chairs around them. Two desks on either side house the Macs.
One end of the space has a conference room with sliding glass doors. The other side has a classroom with front-facing desks. Both rooms can be reserved, and Pond envisions people teaching classes for the public and hosting workshops for their businesses inside.
"We didn't really have an educational space," he said.
Spokane is already home to several coworking spaces, including Central, part of Greater Spokane Incorporated's Startup Spokane project. April Needham, the Central manager, said she has about 30 members, many of whom already have established companies. When people need help getting a business started, Pond is often a better place to start, she said.
"We do refer a lot of people to him for use of the tools," she said.
Steve Trabun, Avista's regional business manager, said Level Up will give the city a more robust support system for small business.
Pond "can look at the market, competition, all sorts to demographic information that can either validate what a person's doing or say, 'Hey, you maybe want to think about this,'" Trabun said. "He provides a lot of that early research that individuals would need to help them with their business planning."
Level Up was born last year after the library began discussing what to do with the second-floor space vacated by the Mobius Science Center. They briefly considered a "makerspace" with 3D printers and scanners, but decided other spaces in Spokane already filled that need.
Remodeling the space and buying furniture and computers cost about $90,000, Pond said, including the cost of the Bloomberg subscription. The cost was made cheaper by the library's facilities department, which made its own tables. The library foundation provided about $14,000 in private money, Pond said.
---