News > Spokane
Washington Sen. Andy Hill, Redmond Republican who led budget committee, dies of lung cancer at age 54
Tue., Nov. 1, 2016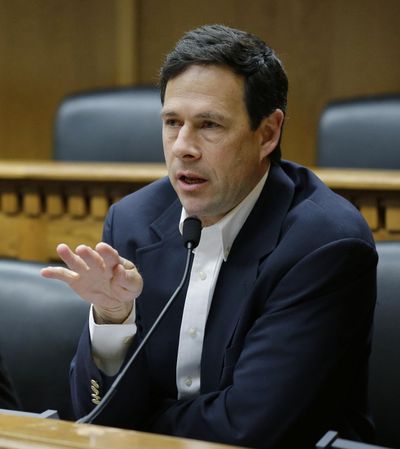 OLYMPIA – Sen. Andy Hill, the key budget writer for the Washington state Senate, has died of lung cancer. He was 54.
Hill died Monday surrounded by his family, according to a statement released Tuesday by his colleague, fellow Republican Sen. Joe Fain.
A former program manager at Microsoft, Hill was elected in 2010 to represent the 45th legislative district, which includes his hometown of Redmond. Hill, who became chairman of the Senate Ways and Means Committee in 2013, was currently serving a second term following his re-election in 2014.
"He spoke often about how much he loved the people and communities he represented and how honored he was to serve them," Fain wrote. "He knew that we are faced with difficult and often partisan challenges, but he was always uplifted by the work of those who crossed party lines to solve problems."
Hill, who never smoked, was first diagnosed in 2009. The cancer ultimately spread to his lymph nodes and his other lung even after chemotherapy and radiation. After participating in a clinical trial at the University of Colorado Cancer Center, Hill had been cancer-free since early 2010. However, in June, he announced that he was battling a recurrence, and began chemotherapy and additional treatment.
Republican Senate Majority Leader Mark Schoesler said that Hill was "one of the finest public servants the state of Washington ever knew."
"After his first recovery from cancer, he used his second chance at life to make Washington a better place to live," Schoesler wrote.
Sen. Mike Padden, R-Spokane Valley, described Hill as a very smart, very talented, hardworking guy who had probably the toughest job in the Legislature, crafting a budget and then negotiating with the Democratic House and governor. "We're going to miss him a lot," Padden said.
Democratic Gov. Jay Inslee called Hill "a dedicated legislator who served with distinction."
"He was a strong champion for education and a compassionate advocate for people with disabilities," Inslee wrote in a statement. "His voice in Olympia will be missed."
A memorial service will be held in Redmond on Nov. 11. Fain asked that in lieu of flowers, donations be made in Hill's name to Cancer Pathways, Global Resource for Advancing Cancer Education (GRACE), or to Dr. Jed Gorden's outreach to underserved communities through Swedish Medical Center.
Hill is survived by his wife, Molly, and his three children, Katie, Allie and Charlie.
Spokesman-Review reporter Jim Camden contributed to this report.
Local journalism is essential.
Give directly to The Spokesman-Review's Northwest Passages community forums series -- which helps to offset the costs of several reporter and editor positions at the newspaper -- by using the easy options below. Gifts processed in this system are not tax deductible, but are predominately used to help meet the local financial requirements needed to receive national matching-grant funds.
Subscribe to the Coronavirus newsletter
Get the day's latest Coronavirus news delivered to your inbox by subscribing to our newsletter.
---