Sports
Mike Leach's compliment rubs OSU coach the wrong way
Wed., Nov. 2, 2016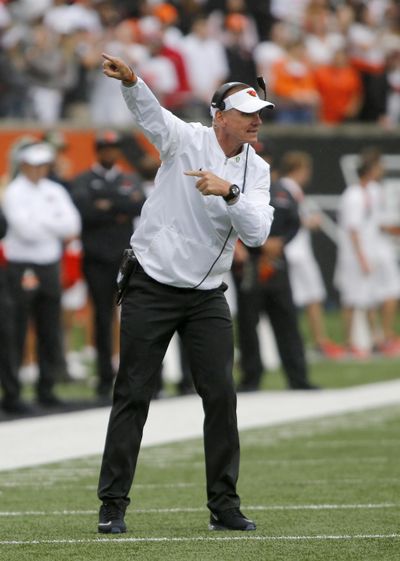 PULLMAN – When Mike Leach said Oregon State was "an explosive team" and "every bit as talented as we are" during Washington State's weekly Monday press conference, it seemed like the sort of innocuous compliment coaches routinely give each other's teams over the course of a season.
Maybe Leach was also doing a little bit of post-game expectations management considering his team had at one point trailed the Beavers 21-0.
But OSU coach Gary Andersen did not take too kindly to the compliment, telling Portland radio host John Canzano he thought Leach might be stumping for some postseason awards.
"I couldn't tell if he was trying to start a campaign for Coach of the Year or trying to compliment Oregon State," Andersen told Canzano.
He seemed to take particular exception to the idea that the team's were evenly stacked considering the injury issues that have plagued OSU, particularly along the offensive line and at quarterback.
He noted that his team was playing with its third-string quarterback, and said that if he ever were to beat Leach's team in a similar situation he would say, "Hey, they're just as talented as us. Now, go vote for me for Coach of the Year."
When informed of Andersen's comments, Leach denied that he was stumping for a Coach of the Year award.
"I was stumping for finding a way to beat our opponent," Leach said.
Now, as to whether or not Leach is correct about the team's having comparable levels of talent, the recruiting rankings suggest the teams are pretty close.
Using the Scout.com recruiting rankings for the last five classes, WSU's have ranked on average No. 48.4 nationally, while OSU's have ranked 50th. While recruiting rankings are obviously imperfect, OSU's upperclassmen were actually more highly regarded high school players than those at WSU.
The Beavers had higher rated classes in 2012, 2013 and 2014.
Now, OSU more recently went through a coaching change and those always come with some player turnover, so perhaps the stars of those OSU classes are no longer around (and like Andersen pointed out, many may be injured).
But it appears the teams also have comparable levels of NFL talent. CBS Sports lists four WSU players as having the potential to be drafted or signed as undrafted free agents in 2017, and six OSU players.
That does include offensive lineman Sean Harlow, who is the highest-regarded prospect on either team but did not play against the Cougars because of an injury.
Local journalism is essential.
Give directly to The Spokesman-Review's Northwest Passages community forums series -- which helps to offset the costs of several reporter and editor positions at the newspaper -- by using the easy options below. Gifts processed in this system are not tax deductible, but are predominately used to help meet the local financial requirements needed to receive national matching-grant funds.
Subscribe to the sports newsletter
Get the day's top sports headlines and breaking news delivered to your inbox by subscribing here.
---