Sports
Attorney seeks judge to end Robert Barber's WSU suspension
Wed., Nov. 2, 2016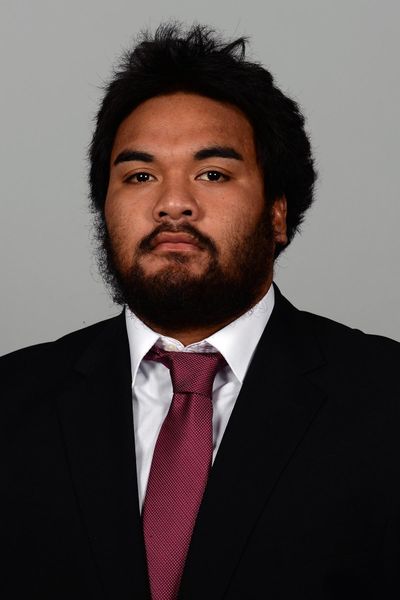 An attorney on Thursday will formally ask a judge to end the suspension of Washington State University defensive lineman Robert Barber until that judge can review the process that essentially ended his football career at Washington State.
Attorney Steve Graham filed the petition Wednesday with WSU President Kirk Schulz, listing a litany of problems Graham claims occurred during the review by the University Conduct Board that he called a "mean-spirited effort to ruin Mr. Barber's life."
Graham said he will file the same petition on Thursday in Whitman County Superior Court seeking a judge to put a stay on Barber's suspension, which would allow him to attend school until the matter can be reviewed.
"I'm going to try to get a court date for the motion to stay as soon as I can," Graham said. "I'm trying to get it heard by the middle of the month."
In the petition, Graham claims that the Conduct Board openly joked in the hearing about Barber needing a "holding cell"; the professor who directed the hearing, Lisa McIntyre, refused to ask all of the questions Barber submitted; and she then improperly did not preserve the records of the proceeding.
"We don't think the hearing chairperson (McIntyre) really treated him fairly or came in with an open mind. You have to listen to the audio recording to understand the approach that Dr. McIntyre took," Graham said. "We are going to do what we can to try to get the judge to look at this and see it from our side."
Barber and Toso "T.J." Fehoko were arrested on Sept. 16 on charges of felony assault stemming from a July 23 fight at a house party that started after someone began throwing fireworks into a crowd. As a result of the fight, one man suffered a concussion and another suffered a broken jaw.
Witnesses identified WSU football players as the persons who started the melee. All the players left prior to Pullman police officers arriving. Investigators later interviewed 61 people, including 22 football players, before charging Barber and Fehoko.
Police investigators also requested misdemeanor charges be filed against WSU students Pedro Diaz, 19, and Dylan Rollins, 19, for disorderly conduct for their alleged roles in provoking physical altercations. Rollins was punched by Dylan Axelson, a football player, but investigators concluded that Axelson acted in self-defense.
The Whitman County prosecutor's office has not yet made charging decisions against Barber or Fehoko, who has been expelled from school.
Graham recently represented another WSU student who was investigated for a rape charge that later was dropped by Whitman County prosecutors.
"The school tried to expel him anyway," Graham said. "We rushed to court and the judge allowed him to finish the semester. The judge said the school didn't follow the same procedures. It was kind of the similar issue."
In that case, the judge ordered a new Conduct Board hearing, but WSU has until Nov. 11 to appeal that decision, Graham said.
"In Robert Barber's hearing, the evidence of bias is evident from the record," Graham wrote in his petition.
He noted that the stated purpose of school discipline is supposed to be educational for students. But the board noted in its order that "it is the specific intention of the Conduct Board that you not be allowed to graduate from this university.
"This doesn't serve the purpose of educating Mr. Barber," Graham wrote, "and doesn't even do anything to protect the safety of other students. Rather it is (an) openly mean-spirited effort to ruin Mr. Barber's life."
Barber apparently was only one class shy of graduating with a degree in criminal justice and cultural ethnic studies. Three days after the conduct board decided to expel him on Sept. 13, Barber was arrested on the charge of felony assault.
The expulsion was appealed, and the University Appeal Board on Oct. 17 reduced it to a suspension. President Schulz ordered that suspension to last until July 2017.
However, Schulz said on Oct. 28 that while he supported the student conduct process, he also announced that the university would hire attorney Marc Lyons to begin a 60-day review of Conduct Board processes.
As for the Barber case, Graham wouldn't comment about who hired him to represent the football player. Asked whether the WSU athletic department had a role in the case, Graham said: "Really it's just been me and Mr. Barber."
Graham said he didn't know whether the legal action would allow Barber to continue playing for No. 25 Washington State, which plays Arizona on Saturday at Martin Stadium.
"I think that's between him and coach (Mike) Leach," Graham said. "I can't pretend like I follow sports as closely as some people. But I'm getting the idea that (Barber) is quite talented."
Local journalism is essential.
Give directly to The Spokesman-Review's Northwest Passages community forums series -- which helps to offset the costs of several reporter and editor positions at the newspaper -- by using the easy options below. Gifts processed in this system are not tax deductible, but are predominately used to help meet the local financial requirements needed to receive national matching-grant funds.
Subscribe to the sports newsletter
Get the day's top sports headlines and breaking news delivered to your inbox by subscribing here.
---