Sports
Area Division-I women's basketball preview: Hristova heads list of big Cougars with renewed emphasis on rebounding
Thu., Nov. 3, 2016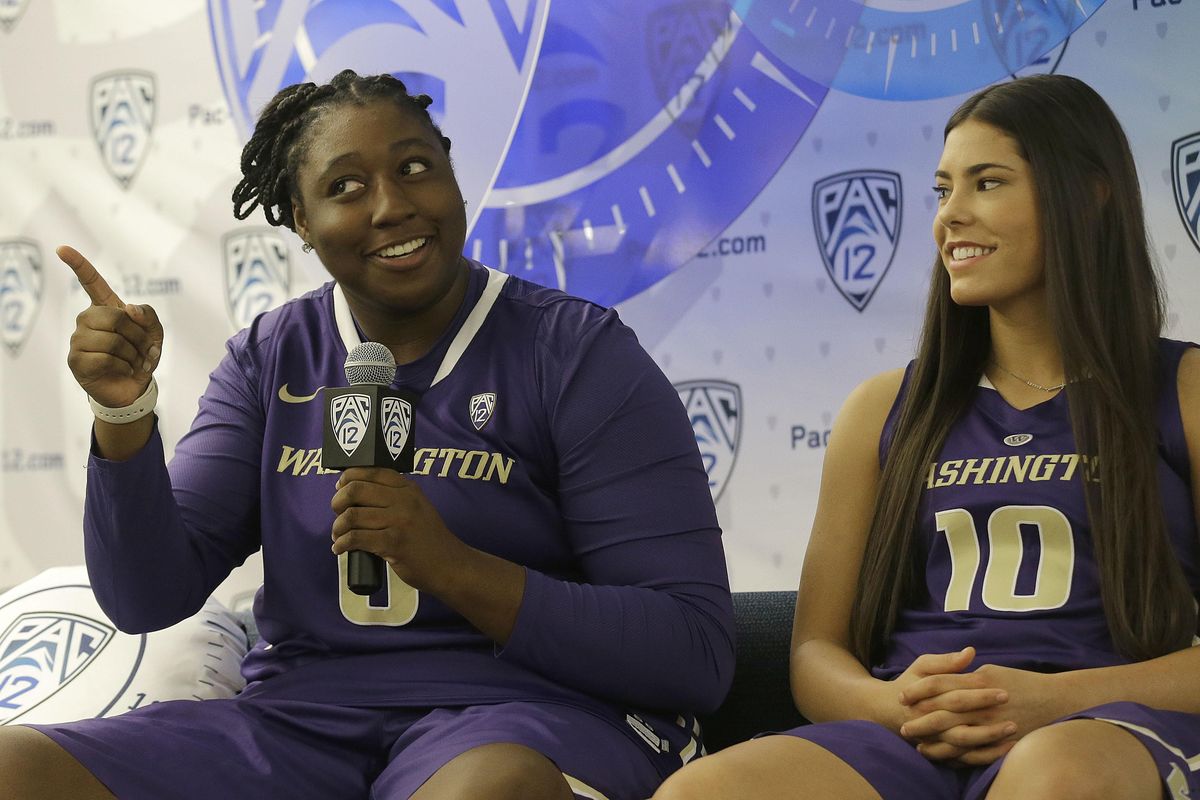 Washington's Chantel Osahor, left, and Kelsey Plum return for their senior seasons after leading the Huskies to the women's Final Four last season. (Jeff Chiu / Associated Press)
In more ways than one, the Washington State women's basketball team is looking to rebound this season. A ninth-place finish in the Pac-12 was the product of many things, but getting outrebounded by an average of six a game was the biggest.
"If one or two rebounds go our way, it's a different ballgame," WSU coach June Daugherty said as the Cougars prepare for the new season. "That's been a big focus for us, and I'm excited to see that process – at the end of the day you have to have that passion on the glass."
You also need experience, which should be a big strength as the Cougars hope to improve on last year's 14-16 season (5-13 Pac-12). Daugherty returns four starters, including All-Pac-12 forward Borislava Hristova.
Last year as a freshman, the 6-foot Bulgarian forward averaged 16.3 points – twice as many as any other Cougar – while setting freshman records for scoring, field goals made (200) and free-throw percentage (.881).
"She had a great season, and now we're hoping for more of the defensive element," Daugherty said of Hristova, one of four Cougars to get offseason experience in European tournaments during the summer.
WSU should have one of the taller frontcourts in the Pac-12, as Daugherty returns 6-4 post Maria Kostourkova (5.5 ppg along with a team-high 4.3 boards) and 6-3 forward Louise Brown.
With 26 starts last year, junior Caila Hailey brings experience to the backcourt, but the Cougars must replace graduated point guard Dawnyelle Awa. Candidates include Greek national team player Pinelopi Pavlopoulou, Krystle McKenzie and freshman Chanelle Molina, the first five-star recruit in WSU history.
"She's crafty with the basketball and a very athletic, quick kid," Daugherty said of Molina.
The early schedule is challenging, with November home games against Saint Mary's, San Francisco and Oklahoma State to open the season. The Cougars travel to Spokane on Dec. 8 to play Gonzaga.
Gonzaga
The Bulldogs are already off and running this year.
With a deep, talented and experienced group of guards, coach Lisa Fortier expects a faster pace on offense and more pressure on defense.
"At the end of the day we're just going to work our tails off," said Fortier, whose second year was marred by injuries to post Emma Wolfram and All-West Coast Conference guard Elle Tinkle.
The Bulldogs still managed to finish 19-14 overall and 10-8 in the WCC, but are poised for better things if everyone stays healthy this year.
The biggest challenge for the coaches may be sorting a talented backcourt bolstered by Tinkle and returnees Emma Stach, Laura Stockton and Zhané Templeton – plus highly regarded transfers Chandler Smith and Makenlee Williams.
"It's going to sort itself out, but that might mean more well-spread minutes and cycle them in different ways," said Fortier, whose team opens the season Friday against NAIA team Corban.
The backcourt offers another bonus: an average height of 6 feet. "That gives us a little more length on the wings," Fortier said
"I hope that that's going to get us some different transition looks and that's an identity I'm really comfortable with," Fortier said.
The key returnee is 6-3 forward Jill Barta, who started only seven games as a redshirt freshman yet averaged a team-high 14 points along with 5.8 rebounds.
"I hope she picks up where she left off," Fortier said. "Her biggest challenge is to round out her game and being a team defender."
Senior Kiara Kudron, a 6-2 forward, should play an even bigger role after averaging seven points and seven boards last year.
Wolfram hopes to bring her 6-5 frame and outside shooting back to the floor after missing last year with a knee injury.
Eastern Washington
Despite losing the leading scorer in school history in Hailey Hodgins, the Eagles have the ingredients to chase a third straight 20-win season.
"I feel like we are a bigger, faster and stronger team then we were a year ago," said coach Wendy Schuller, who returns four starters from a team that went 20-12 overall and 13-5 in the Big Sky Conference.
Eastern's frontcourt looks formidable. Hodgins' sister, Delaney, is the top returning scorer (15.7 ppg) and also averaged 6.1 rebounds. Post Ashli Payne (11.2 ppg, 8.6 rpg) and Central Valley product Mariah Cunningham averaged four points while playing 20 minutes a game.
Point guard Tisha Phillips (10.9 points, 4.2 assists) will be the glue that holds the offense together.
"I'm very thankful for the role I have on this team," expressed the senior. "I've come a long way since my freshman year, and I want to help get our younger players to that level."
Payne, Phillips and Delaney Hodgins accounted for 52 percent of the Eagles' scoring last year.
The Eagles have several talented upperclassmen in the backcourt, including Violet Kapri Morrow, Aqeelah Williams, Simone Starks, Bayley Rexing and Andie Easley.
In the Big Sky preseason polls, Eastern was picked fourth by the media and fifth by the coaches.
Idaho
The Vandals' impressive postseason run last year means high expectations despite losing two starters to graduation.
After finishing third in the Big Sky in the regular season, the Vandals swept through the conference tournament in Reno to reach the NCAA Tournament and finish 24-10.
Idaho finished with a 24-10 record, and went 13-5 in the Big Sky. The Vandals won the tournament as the league's No. 3 seed, advancing to the NCAA Tournament for the third time in four years.
Leading scorer Christina Salvatore and post Ali Forde have graduated, but that didn't stop coaches and media from picking the Vandals to win the conference.
"It is great to acknowledged, but it is all based on what we did last year," coach Jon Newlee said. "I think it is a mark of respect for our program. But our players are going to have to play like we are picked last."
Idaho could have the league's best frontcourt with Geraldine McCorkell (11.6 points, 5.3 rebounds last year) and Mikayla Ferenz (10.5 ppg, 6.5 rpg).
As a freshman last year, guard Taylor Pierce shot 88 3-pointers last year, second-most in school history.
The Vandals also are counting on the return of post Brooke Reilly, a Mt. Spokane product who was part of Idaho's last Western Athletic Conference title but missed last year because of injury.
Washington
The Huskies made a surprise run in the NCAA Tournament last season, reaching the Final Four, and return three starters including All-American guard Kelsey Plum.
Joining Plum will be Lexington Region MVP Chatel Osahor and Katie Collier.
This season the Huskies are picked third in the Pac-12 preseason coaches poll behind UCLA and Stanford. They are ranked No. 15 in the Top 25 coaches poll.
They will have to make up for the loss of second-leading scorer and rebounder Talia Walton. She hit a team-high 86 3-pointers, including eight in her final collegiate game, which set a Final Four record.
Plum, a four-time captain, averaged 25.9 points per game last season, fourth in the nation.
"The game continues to evolve because she's never satisfied," said fourth-year coach Mike Neighbors. "She's motivated every day to be her best, not worrying about being the best, but to be her best."
As a junior, Plum broke Washington's all-time scoring record and led the nation in free throws made (266), free throws attempted (299) and minutes played (1,414). She already owns the Pac-12 career free-throw record (676) and her 2,418 career points ranks fourth all-time in the conference.
Osahor was Washington's leading rebounder (11.3) and third-leading scorer (10.1) last season. Collier was the fourth-leading scorer last season (6.0) and third in rebounds (5.5).
Local journalism is essential.
Give directly to The Spokesman-Review's Northwest Passages community forums series -- which helps to offset the costs of several reporter and editor positions at the newspaper -- by using the easy options below. Gifts processed in this system are not tax deductible, but are predominately used to help meet the local financial requirements needed to receive national matching-grant funds.
Subscribe to the sports newsletter
Get the day's top sports headlines and breaking news delivered to your inbox by subscribing here.
---