Gonzaga freshman players advancing through learning curve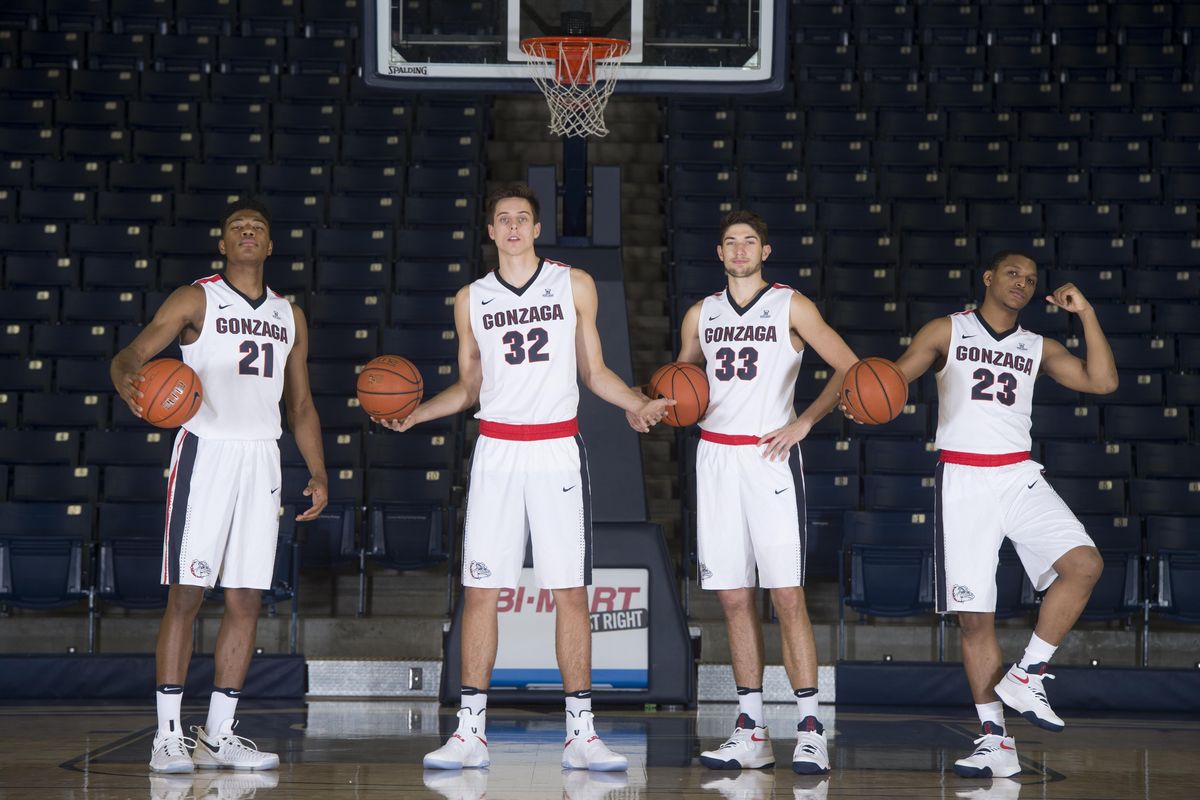 Zach Collins is one of the most decorated recruits ever in Gonzaga's program.
He was pivotal to Bishop Gorman High's run of Nevada state championships. He was a McDonald's All-American, the first to come to GU straight from the prep ranks.
The 7-foot Collins is athletic and skilled.
Even with those credentials he wasn't exempt from freshmen orientation. He's learning Gonzaga's offensive and defensive systems and dealing with older, bigger and stronger players on a daily basis.
Collins is thankful he arrived in late June to get a head start.
"Made all the difference in the world," he said. "I was in the gym every day, I only had classes three days a week. I had the whole summer to get the ideas in my head."
Collins' classmates Killian Tillie, Rui Hachimura, Zach Norvell and Jacob Larsen, who suffered a season-ending knee injury, are experiencing the freshmen learning curve.
"At the beginning it was a little bit hard to adapt to classes and basketball," said Tillie, a 6-10 forward from France who arrived on campus in late August. "It was also hard to adjust to basketball because of the physical aspect but now I know the system.
"Classes were hard, with my English level at the beginning, but now it's getting better, too."
Tillie is competing for time at the "4." He has size, mobility, great instincts and a soft touch on floaters, assistant coach Tommy Lloyd said.
Teammates are quick to praise Hachimura, an athletic 6-8 forward from Japan who isn't as proficient speaking English as Tillie or Larsen (from Denmark).
"I don't know how Rui does it," guard Jordan Mathews said. "He still has the language barrier and we have so many different types of terminology. I can only imagine what it's like for him."
"He's never had to play at this level of intensity and competition," Lloyd said. "He was always so dominant over there, the game came to him. He's having to learn how to be one of five on the floor."
Norvell, a 6-5 guard from Chicago, isn't fully healthy after meniscus surgery roughly three months ago. Norvell, an accomplished 3-point shooter who was nominated for the McDonald's All-American game, is among several candidates at the wing position.
"He had a great summer (before surgery)," Lloyd said. "We'll watch him closely to see what progress he makes."
Larsen had surgery earlier this week. The 6-11 center has great potential, Lloyd said.
Collins is grasping the intricacies within GU's schemes. When plays broke down in high school, he said, "You just hoop and kind of find a way to score. In this offense, there's five or six different options out of one play."
Defense is about effort and pride, said Collins, adding, "Rotations and team defense was a big adjustment from high school. You have to move a lot faster and think a lot faster."
And how has it been going against 7-1, 300-pound Przemek Karnowski and Johnathan Williams, a 6-9, 228-pound redshirt junior?
"Shem is a grown man, JW is a big, strong guy," Collins said. "I wasn't seeing a lot of success when I got here. I just wasn't used to the physicality. Those guys know how to play physical without fouling. In summer, sometimes I didn't want to go against those guys. Now I want to go against them. I'm seeing how much I've improved."
Collins is right on schedule, Lloyd said. "We know he needs to contribute a lot right away so we put a lot on his plate and he seems to be handling it."
The coaches haven't been shy about asking the 230-pound Collins to put more on his dinner plate, too.
"I see my coaches throughout the day and every single conversation I've had they ask, 'Are you going to go eat? Have you eaten?' They've been stressing putting on pounds.
"I've changed my diet, incorporated a lot more meals in the day, and eating at the right times, before and after workouts."
All part of freshmen orientation.
---