Sports > Gonzaga basketball
John Blanchette: Transfers are everywhere, but it's really not such a bad thing
Thu., Nov. 3, 2016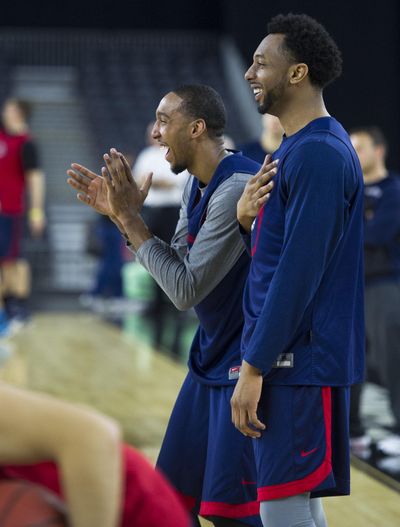 TRANSFER EPIDEMIC!
Surely it deserves all caps and an exclamation point, just like the routine alarmism which attends the reporting of each new front by the TV weather clarions, who sometime this winter will marshal the resources of their station's STORMTEAM and bring us "SNOWMAGEDDON 2017!"
And just as the dirty white berms will turn downtown arterials into cheerless tunnels, the streets of college basketball – or so hand-wringing coaches would have us believe – are choked with itinerant players, schlepping their sneaks from school to school in search of happier circumstances or more jump shots.
Oh, the humanity.
Now, is there traffic? Sure.
ESPN's Jeff Goodman dutifully tracks it each year, and the numbers are, uh, numbing. During and after the 2015 season, more than 700 players left their NCAA Division I schools to relocate. The 2016 total has come up just short of that benchmark – including more than a hundred "graduate transfers," who have taken advantage of NCAA legislation allowing an athlete who's earned his undergraduate degree but still has eligibility remaining to transfer to another school and play immediately.
Just in our own corner of college basketball, the comings and goings are many and significant. Gonzaga will have four players on the active roster this season who began their college careers at other four-year schools and three of them – Nigel Williams-Goss (Washington), Johnathan Williams III (Missouri) and Jordan Mathews (Cal) are likely to be in the starting lineup.
There are three more at Eastern Washington, including Newport's Jacob Wiley, who has made stops at Montana and Lewis-Clark State and figures to have a big impact as a grad transfer.
Down the highway at Washington State, the flow ran the other way. Four players decided to finish their eligibility elsewhere – or were nudged to do so.
Wow. Sure sounds like an epidemic, right?
Well, yes, in the sense that it's prevalent – and in the case of grad transfers, spreading. But in the sense that it's some contagious societal killer? Hardly.
It's the marketplace of talent. In many cases, it's teenagers coming to their senses – and, yes, sometimes coaches acknowledging a recruiting mistake, or re-evaluating their approach.
And it's nothing new.
From 2008-2013, there was a good bit of undergraduate roster churn at Gonzaga – 14 players in six years leaving with eligibility remaining. The reasons couldn't have been more varied. Austin Daye declared for the draft. Mathis Monninghoff turned pro in his native Germany. Bol Kong bombed out of school. Demetri Goodson complained that he'd been under-regarded as a player – yet turned to football at Baylor, a choice that took him to the NFL and suggested his true calling.
Injured players looked for a fresh start, bench players looked for more playing time, others looked to get closer to home.
It's hard to argue that any of those decisions were ill-considered; many of those players were recruited more with an eye toward depth rather than an anticipation they'd be stars. The two who wound up in Top 25 programs – Grant Gibbs and Ryan Spangler – found somewhat bigger roles than they likely would have here, considering how GU recruiting evolved. And the Zag machine hummed along regardless.
But things have changed. Only three players with eligibility left have transferred out in the last four years – and seven have arrived. That suggests a change in approach – or maybe just better reception.
"There is a track record now," said Gonzaga assistant coach Tommy Lloyd, "so it's easier for kids to see examples in the past of what we've done."
He's talking both about the recent successes of Byron Wesley, Kyle Wiltjer and Eric McClellan – of whom head coach Mark Few said, "We delivered on what they wanted" – but also the redshirt year work that launched Kelly Olynyk to the NBA.
And Lloyd had another theory.
"Maybe it's our recruiting pitch," he said. "We're not really high-pressure salesmen. Maybe it hurts us with high school kids, but the second time around I think maybe it helps us. They're looking for honesty and they know more what they're looking for."
Which is the crux of this mischaracterized "epidemic" anyway.
Lots of coaches have decried the transfer numbers – Tim Floyd, Tony Bennett, Bo Ryan among them. Kneejerk mouthpiece Dick Vitale makes sure it gets hot-take airtime with no context. Even Few has noted what he sees as a tendency away from dues-paying and toward having it now by this generation of players.
But basketball eligibility is a finite commodity. Why shouldn't the player assess his options and get the most out of it?
Of this year's 700 transfers, more than 300 are actually moving to Division II or junior college programs. That reflects a desire to play rather than watch from the bench, plus some humility and admirable self-reflection.
But in all transfer cases, there's this: free will. That's what deserves to be in all caps, with an exclamation point.
Local journalism is essential.
Give directly to The Spokesman-Review's Northwest Passages community forums series -- which helps to offset the costs of several reporter and editor positions at the newspaper -- by using the easy options below. Gifts processed in this system are not tax deductible, but are predominately used to help meet the local financial requirements needed to receive national matching-grant funds.
Follow along with the Zags
Subscribe to our Gonzaga Basketball newsletter to stay up with the latest news.
---
Subscribe and log in to the Spokesman-Review to read and comment on this story