News > Features
'Bedtime' poems: Kenn Nesbitt celebrates launch of new poetry anthology, 'One Minute Till Bedtime'
Fri., Nov. 4, 2016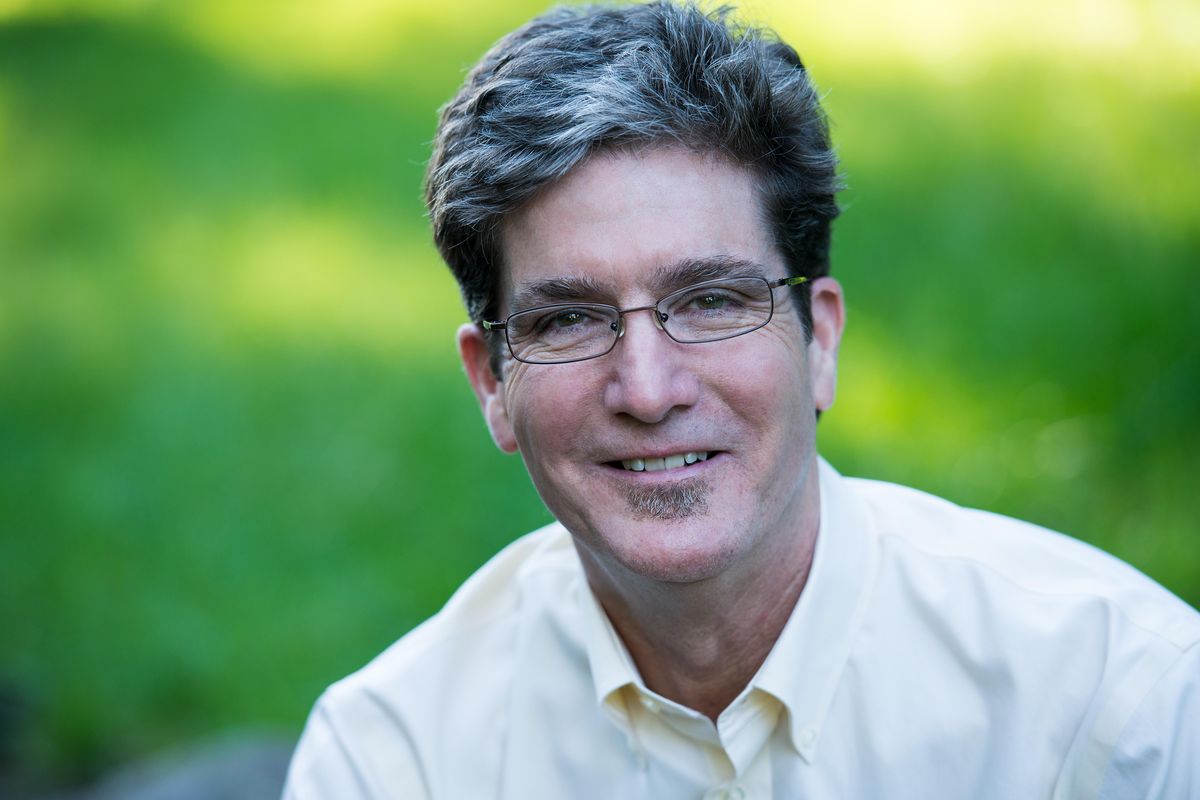 Spokane resident and former children's poet laureate Kenn Nesbitt edited the anthology "One Minute Till Bedtime." (Amanda Jayne)
Kenn Nesbitt has a new collection of poetry out, but this one's a little different from his previous releases.
To start, "One Minute Till Bedtime: 60-Second Poems to Send You Off to Sleep" marks the first time the Spokane resident and former U.S. children's poet laureate has edited an anthology.
And second, for a writer known for his humorous verse, the tone is more subdued and heart-warming.
"My poems, generally, are all about getting kids to laugh, because I want to give kids something they can't not read," he said. "They read it, they laugh, they have to turn the page and read another one."
"This book, although there are humorous poems in it, the object is not to get kids to laugh, the object is to get kids to settle down and really enjoy book time and bedtime."
The collection features 144 new poems by an "all-star cast of poets," Nesbitt said. Among the 132 writers featured in the book are Lemony Snicket, Judith Viorst, Nancy Willard, Nikki Grimes and all four previous children's poets laureate: Jack Prelutsky, Mary Ann Hoberman, J. Patrick Lewis and Nesbitt. (Unfortunately, he said, Jacquelyn Woodson wasn't picked as the current children's laureate until after the book was finished.)
Nesbitt will celebrate the launch of "One Minute Till Bedtime" at Auntie's Bookstore on Saturday. He'll be joined by two local writers with poems in the collection: Chris Cook and Verla Kay.
The book received starred reviews from Publishers Weekly, School Library Journal and Kirkus, which called it "A dreamy collection of bedtime poems and witty illustrations that's anything but sleepy."
The poems are divided into seven sections, with the first in each section by Nesbitt. They're illustrated by Christoph Niemann, an artist known for his New Yorker covers and his own children's books.
Nesbitt said that when making his selections, he was looking for verse that was reminiscent of bedtime stories, nursery rhymes and fairy tales.
"The idea here is that you've got a full week of 20- to 30-minute bedtime readings," he said.
The first poem, "Whew!" by Nesbitt, gets to the point of the book. After a litany of the evening's activities and chores – dinner, clearing dishes, trash, brushing teeth, saying prayers, etc. – the poem ends with: All that's done; / at last I'm freed. / Finally, / it's time to read.
The idea for the book grew out of a website Nesbitt created while children's poet laureate: poetryminute.org. He wanted to provide short poems for every day of the school year, thinking that it could help teachers turn their students into avid readers. He has another website, www.poetry4kids.com, where he regularly posts new poems and has games and other information for parents and children.
"The great thing about poetry for children, is that you don't have to do a lot of reading in order to get a big positive emotional reward," he said. "You can read just a few lines or a single page and get a smile out of it, it actually makes you feel good."
"On top of that, there's the mouth feel, the deliciousness of language in terms of rhyme and repetition and rhythm that make poems fun to say over and over again."
With "One Minute Till Bedtime" released, Nesbitt said doesn't have a new book in the works, though he's always writing. He is thinking about sequels to "Bedtime," however. Among his ideas: "One Minute Till Christmas" or "One Minute Till Recess."
Local journalism is essential.
Give directly to The Spokesman-Review's Northwest Passages community forums series -- which helps to offset the costs of several reporter and editor positions at the newspaper -- by using the easy options below. Gifts processed in this system are not tax deductible, but are predominately used to help meet the local financial requirements needed to receive national matching-grant funds.
Subscribe now to get breaking news alerts in your email inbox
Get breaking news delivered to your inbox as it happens.
---