Sports
Forum at WSU brings threats by state Sen. Michael Baumgartner amid impassioned defense of football player Robert Barber
Nov. 4, 2016 Updated Fri., Nov. 4, 2016 at 2:22 p.m.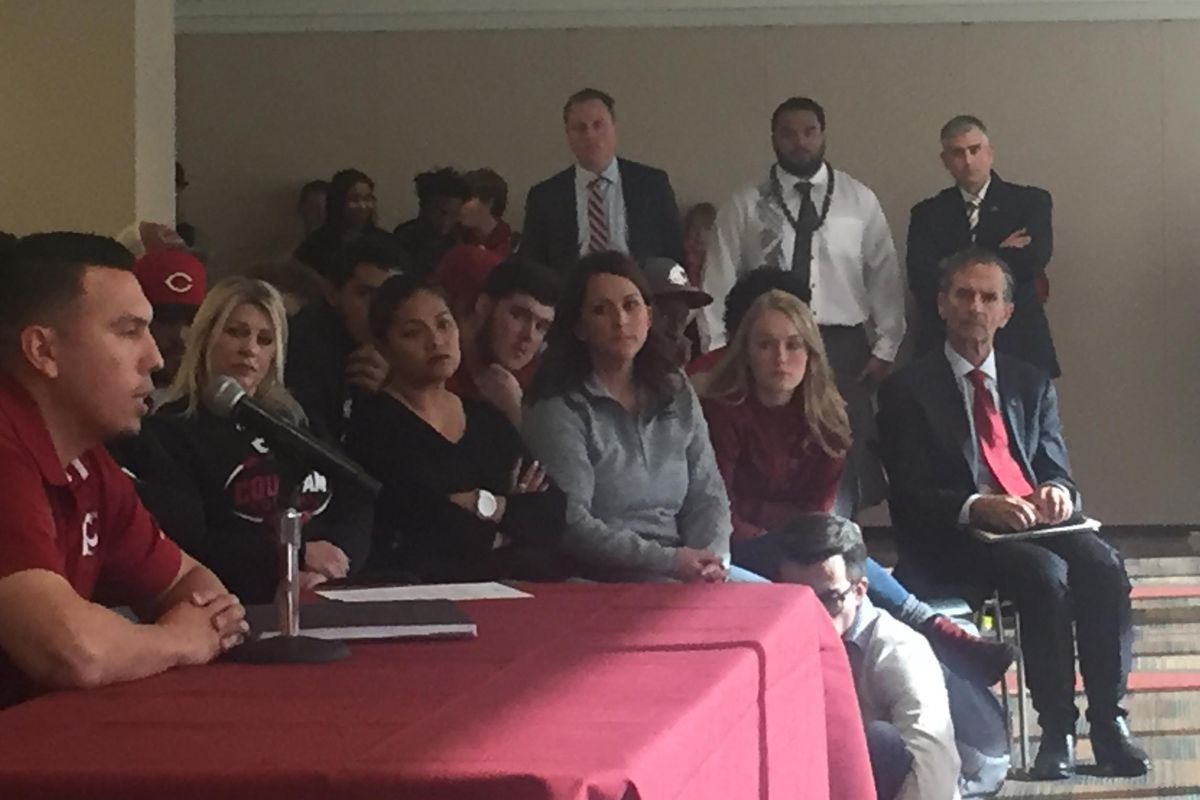 Senator Mike Baumgartner, right, and suspended football player Robert Barber (white shirt and tie) stand in the back as supporters talk to the WSU board of regents on Friday, Nov. 4, 2016 at the Compton Union Building in Pullman. (Jacob Thorpe / The Spokesman-Review)
PULLMAN – State Sen. Michael Baumgartner stormed out of a public forum Friday at Washington State University, yelling to the school president and regents, "If you don't fix this, I goddamn will."
Baumgartner's heated remarks were in contrast to what had up to that point been a largely civil gathering of about 100 people, most of whom had come to support suspended football player Robert Barber and ask school officials that he be immediately reinstated.
Washington State University President Kirk Schulz and the school's board of regents declined to do that for Barber and all other "non-extreme" suspensions from this semester, prompting Baumgartner's outburst.
Barber has been suspended from WSU until July for his role in a summer fight off campus. The suspension means that his college football career is likely over.
He was arrested on suspicion of felony assault, but he hasn't been charged with a crime.
The meeting saw periods of constructive understanding between Barber's camp and the regents and also some tense moments. Regent Ron Sims became defensive when Gabe Marks, a wide receiver on the football team, asked him if he was paying attention. Sims spent 13 years as King County executive before his appointment as deputy secretary of the U.S. Department of Housing and Urban Development. He resigned his HUD post after two years.
Baumgartner reminded the regents that they are appointed by the state Senate, and noted multiple times the difficulty of getting dollars for higher education. He later clarified that he was not making a funding threat.
Advocates for Barber admonished the board for not allowing him to stay on campus and continue playing football, and had contentious disagreements with board members over whether the regents have the authority to do so.
"There is a very straightforward solution, which is everybody gets to go back to class," said Baumgartner, vice chairman of the Senate Higher Education Committee. Baumgartner cited a law (House Bill 1541) passed during the last legislative session that prohibits expulsions in K-12 because of the cost to the public and the disproportionate impact on minorities.
"What we are requesting of the regents is simply to listen to what the Legislature has said," Baumgartner said. "The public interest is keeping people in the classroom."
Schulz began the meeting with an opening statement during which he said the school has put together a plan that will allow Barber to graduate with a criminal justice degree at the end of the semester by completing his coursework online. A primary concern of those advocating for Barber had been the difficulty for Barber, who is from American Samoa, to remain in Pullman without a scholarship until his suspension ends in July.
Schulz said he could not suspend the operations of the student conduct board until a 60-day external review of its processes is completed. That review started this week.
"The board deals with a multitude of incidents on campus, including allegations of sexual assault and other significant Title IX incidents," Schulz said. "We simply cannot stop dealing with these issues during the review period."
After storming out, Baumgartner returned later with Barber. Following the open forum, Baumgartner and Barber's lawyer, Steve Graham, conducted an impromptu news conference to further their pleas to reinstate Barber.
Additionally, Jill Osur and Tracy Cracraft – the founders of CougFam, which connects families of WSU football players – spoke on Barber's behalf. Osur took exception with the way the school has portrayed Barber in recently filed legal documents, saying that his character has been tarnished by a description influenced by "his size and his race."
Osur accused the Student Conduct Board of seeing itself as a punitive body, rather than an educational one.
"Washington State is in the business of educating and graduating students," Osur said. "It's not in the business of running a parallel criminal justice system through the Student Conduct Board."
Osur had multiple disagreements with Chairwoman Lura J. Powell over whether the regents had the authority to immediately revoke the suspensions of students while the external review is completed.
Cracraft and Osur each said they believe their children, who are white, would be treated differently than Barber during the student conduct process because of their race.
Josie Salave'a, the wife of assistant football coach Joe Salave'a, said the Polynesian community is "demoralized" and feels they have been targeted.
Marks admonished the Student Conduct Board that suspended Barber, saying that athletes often are harassed by other students who know that the athletes cannot retaliate because they are held to higher standards and face more dire consequences, such as the loss of an athletic scholarship.
"I would lose sleep if I'd made a decision like this about somebody's life. About a kid's life," Marks said.
Sophomore Stella Anderson, who spoke in defense of Barber at the open forum, was present at the off-campus party. She was willing to testify that Barber was not an instigator during the fight.
A Student Conduct Board representative met with Anderson once when she tried to provide testimony, according to Anderson. When she returned for a follow-up meeting, she waited half an hour for the representative, who contacted her later to apologize but never tried to set up another meeting.
Alex Rodriguez, who suffered a broken jaw in the fight, was the only person at the meeting who spoke in defense of the Student Conduct Board. He expressed regret that the incident happened, but defended Jackson Raney, the other victim in the fight.
"I've never seen him actually physically hit somebody, target somebody, tackle somebody, fight anybody," Rodriguez said. "I wouldn't be friends with someone like that."
But Anderson told a different tale. She said Rodriguez hit someone in front of her, then told her he was trying to draw attention away from Raney.
"The way I saw it happening was those two guys instigated everything," Anderson said.
Local journalism is essential.
Give directly to The Spokesman-Review's Northwest Passages community forums series -- which helps to offset the costs of several reporter and editor positions at the newspaper -- by using the easy options below. Gifts processed in this system are not tax deductible, but are predominately used to help meet the local financial requirements needed to receive national matching-grant funds.
Subscribe to the sports newsletter
Get the day's top sports headlines and breaking news delivered to your inbox by subscribing here.
---