Spokane students use video game skills in robotic surgery tryout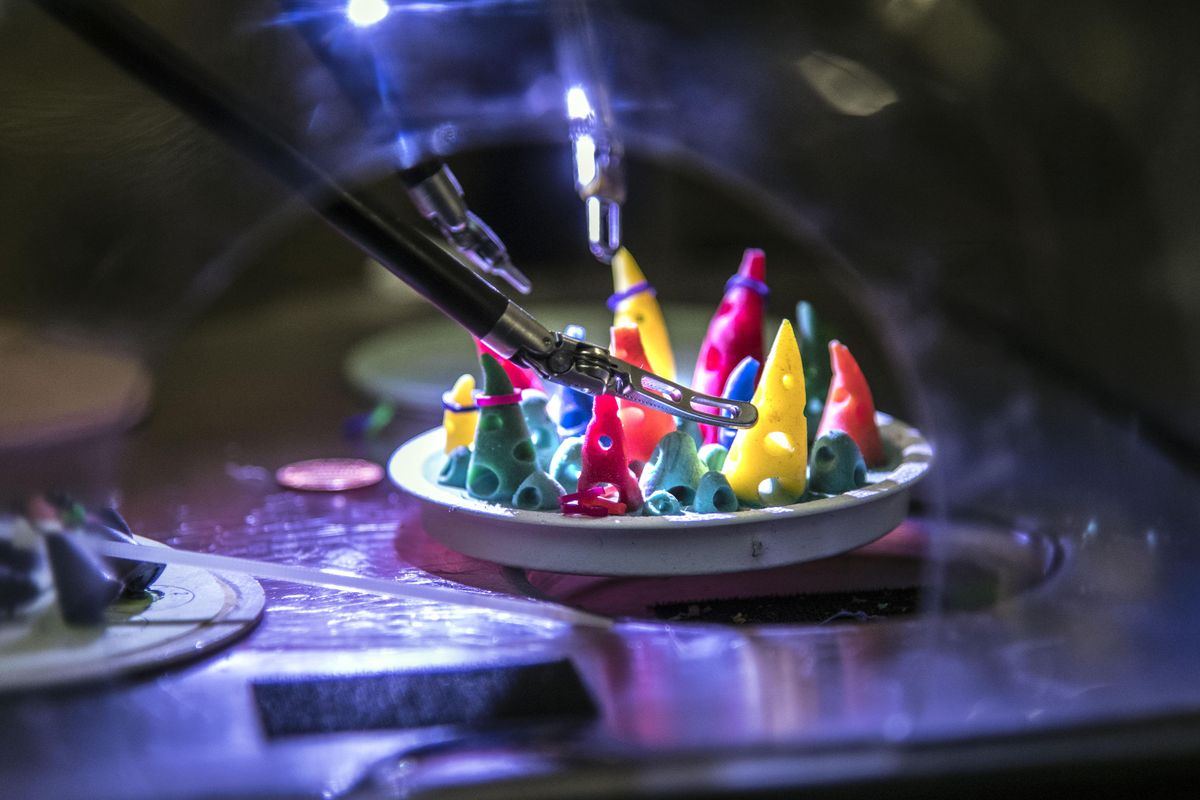 Paul Ausems sat down, pressed his face against the goggles, stared into the screen and grabbed ahold of the controls.
Years of playing first-person shooter video games trained him for this moment; his hand-eye coordination was sharp, his focus intense.
He began by directing the robotic arms to grab tiny virtual colorful rings and put them on outcroppings of virtual colorful tissue. His pace was good, and he barely made a mistake.
As the final seconds of the demonstration ticked away, the numbers appeared on the screen: 89 – a high score for the day.
"Bro!" Ausems shouted as he jumped into the air.
As he ran out to the middle of the room, he began shouting "Hire me, you don't even need a surgeon. I'm chief surgeon!"
Ausems, a 16-year-old junior from Lewis and Clark High School, along with about 300 other high school and community college students in STEM-focused programs, had been invited to spend a few hours on WSU's Spokane campus Thursday and Friday to demo robotic-assisted surgical machines.
The $2 million pieces of equipment, which are developed by da Vinci Surgery – a medical technology company that claims to have over 3,700 of them in hospitals across the United States – are increasingly being used in surgery rooms to shorten a patient's recovery time, says Chase Brevoort, a company representative of da Vinci Surgery.
Instead of having to cut a large enough section of skin for a doctor to work around, they can instead poke a few holes large enough for the robot's arms and control them across the room using a three-dimensional camera.
So far, the most popular applications for the robots are in gynecological, urological and general surgery, Brevoort said.
Rockwood Health Systems hosted the event to introduce local students to robotic surgery.
Most of the students who made the trip to try the machines are in four-year biomedical sciences programs at Lewis and Clark High School – curriculum developed in part by Project Lead the Way, a national STEM-focused nonprofit.
Ian Davis, a 17-year-old junior at Lewis and Clark, has wanted to be a surgeon since he was 7. His grandfather is a doctor, so he thought it best to stay in the family business. He scored a 78 during his first go at the test – the best score before Ausems came along.
"It's very responsive," he said approvingly. "I like its mobility."
Before Friday, Ausems was more interested in biology or chemistry – not surgery.
But after recording the high score he may have changed his mind.
"I'm definitely rethinking it now," he said.
---