Sports
No. 25 Washington State dominates Arizona
UPDATED: Sat., Nov. 5, 2016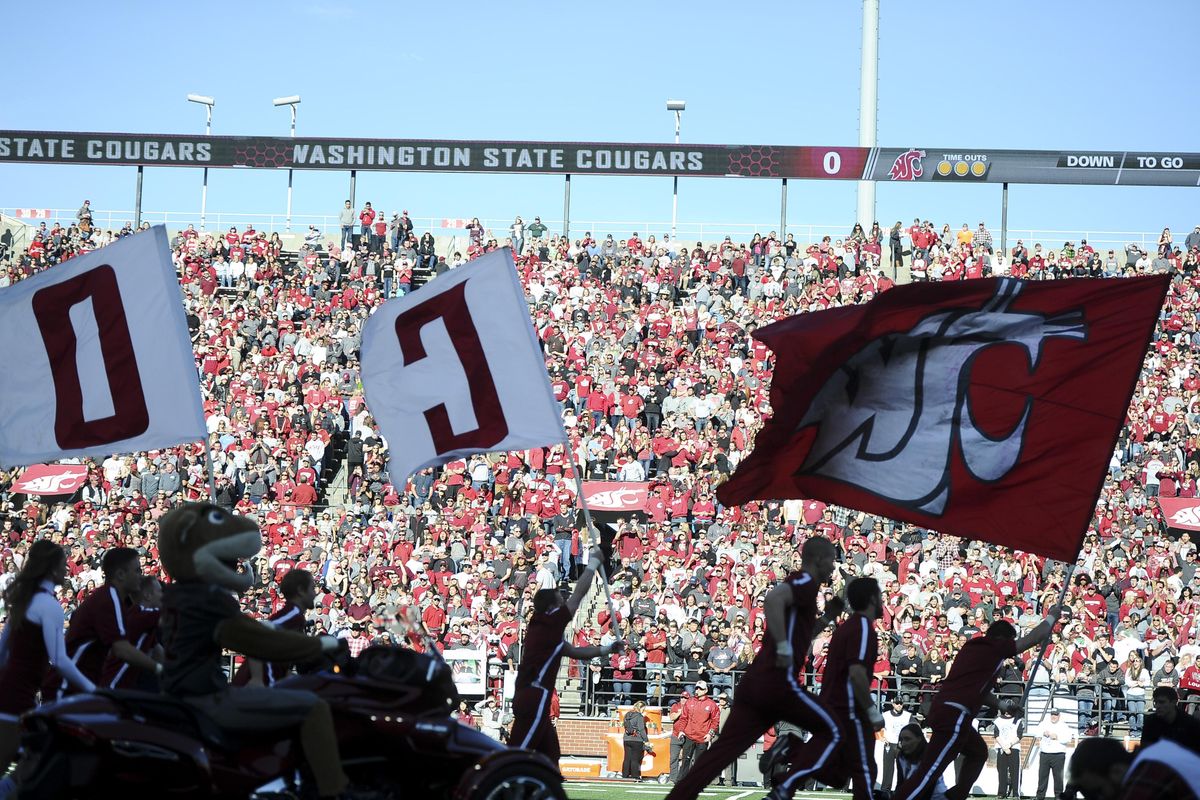 WSU takes the field to face Arizona during the first half of a college football game on Saturday, Oct 15, 2016, at Martin Stadium in Pullman, Wash. (Tyler Tjomsland / The Spokesman-Review)
PULLMAN – Mike Leach finally acknowledged that victory was in hand when he pulled starting quarterback Luke Falk with 1 1/2 minutes remaining in the third quarter of No. 25 Washington State's 69-7 victory over visiting Arizona.
He must have been extra cautious after watching his team mount a 21-point comeback against Oregon State last weekend. Wildcats coach Rich Rodriguez knew it was over with 6:24 left in the first half.
That's when Rodriguez sent out his punt team facing fourth-and-5 from the WSU 48-yard line. The Cougars (7-2, 6-0 Pac-12) led 31-0 at that point, and by giving WSU the ball back on its side of the field needing only 5 yards for a first down, Rodriguez was effectively conceding the game.
Not that WSU let up at all because of it. The Cougars scored on 11 of their 13 drives, and one of those ended in the victory formation.
The Cougars have won seven consecutive games and remain atop the Pac-12 North Division standings. WSU had not scored so many points since 1997, and never in a conference game.
"I thought we played together the whole game, and I was proud of our guys for doing that," Leach said. "We've done it in spurts – and significant spurts throughout the year – but I thought we played a whole game."
Leach probably just left Falk in that long because he did not want to mess with perfection, or what was pretty close to it. Falk finished with more touchdown passes than incompletions, connecting on 32 of 35 pass attempts for 311 yards and four scores. During one stretch he completed 21 passes in a row.
Falk's completion percentage of 91.4 percent is a WSU single-game record, breaking the 87 percent of Alex Brink against Oregon in 2006.
In the second game of Tyler Hilinski's career in which he attempted a pass, the redshirt freshman was nearly as dominant as Falk. Hilinski completed 15 of 17 passes for 163 yards and a pair of scores. His first career touchdown pass came on a 71-yarder to River Cracraft, who was wide open behind the Wildcats' defense.
It took just one play to become apparent that things were not going UA's way on Saturday. Wildcats (2-7, 0-6) quarterback Brandon Dawkins threw a deep pass to Nate Phillips, who caught the ball and ran 75 yards to the end zone.
But an ineligible player was downfield and his only impact on the play was to draw a flag that negated the Wildcats' early strike. It turned out to be UA's only chance to score before it trailed by a steep margin.
The Wildcats could not end that initial drive without incident, as Josh Pollack's short punt was fielded by Jamal Morrow, who returned it 38 yards.
Though Morrow fumbled, the Cougars recovered at the UA 25-yard line, and the offense came away with a field goal.
"For us, the only thing we can do right now is try and mess up someone else's season," said Rodriguez, whose team cannot get to six wins and bowl eligibility.
Shalom Luani set the early tone for the Cougars, intercepting Brandon Dawkins' pass on the second play of the ensuing drive and returning it 19 yards to 8-yard line. The Cougars needed one play to score: an 8-yard shovel pass from Falk to James Williams.
The Wildcats finally got a scoring chance near the end of the fourth quarter, but Isaac Dotson forced a fumble and Peyton Pelluer recovered it. The Cougars followed with a 93-yard touchdown drive.
"When they get into the red zone our motto is, 'Watch this defense.' Check us out, watch what we can do and they're never in until they're in," Dotson said. "So, anywhere on the field a takeaway is huge, but especially down there, I think."
Rodriguez yanked Dawkins from the game after the interception, but backup Anu Solomon fared little better. Solomon, who quarterbacked the Wildcats to a 59-37 victory that last time he was in Pullman, was switched back out for Dawkins in the middle of the second quarter with UA still scoreless. Dawkins left later in the quarter with an apparent injury.
Perhaps inspired by his Williams' early success, Gerard Wicks took control on WSU's next drive. The running back ripped off runs of 19 and 11 yards to set up the WSU offense on the 1-yard line, then finished the job by plunging into the end zone on his third consecutive carry.
Falk threw for touchdowns on the next two drives, short passes to Gabe Marks and Tavares Martin of 2 and 7 yards, respectively.
The Cougars scored on each of their first seven drives. The Wildcats finally scored on their seventh drive, which needed just two plays as Solomon threw a 47-yard touchdown pass to Cam Denson following a 28-yard run by Dawkins.
The WSU running back trio made an outsized impact on the game in the running game, passing game and special teams, thanks to Morrow's return. Morrow also added a 53-yard reception and finished with 155 all-purpose yards. Williams rushed for 72 yards on 12 carries and a second score, and had nine catches for 45 yards. Meanwhile, Wicks finished with 44 yards on seven carries.
Martin had nine catches for 66 yards and two touchdown receptions. Marks had five catches for 68 yards and a touchdown.
Local journalism is essential.
Give directly to The Spokesman-Review's Northwest Passages community forums series -- which helps to offset the costs of several reporter and editor positions at the newspaper -- by using the easy options below. Gifts processed in this system are not tax deductible, but are predominately used to help meet the local financial requirements needed to receive national matching-grant funds.
Subscribe to the sports newsletter
Get the day's top sports headlines and breaking news delivered to your inbox by subscribing here.
---