Election stress sending people to Spokane therapists' couches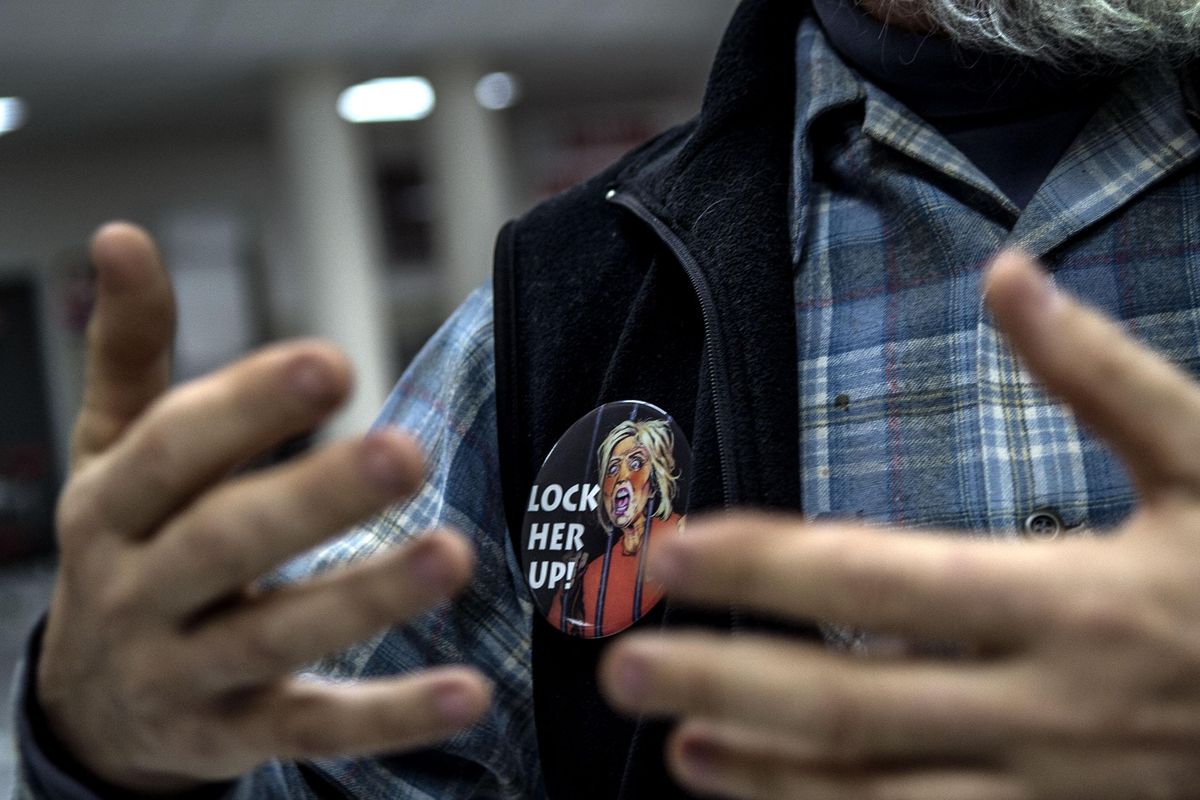 Kurt Wilson has a grim prediction for this year's presidential election.
"What's happening now is the most pivotal political race in the history of the USA," he said. "No matter who gets elected, there will be riots."
Wilson owns Survival Enterprises in Coeur d'Alene, and he believes a Hillary Clinton victory would be part of the Democratic Party's centurylong effort to establish "complete control of the population."
Suzanne Thompson is equally concerned, but for a different reason.
"This is really the first time I've been really worried about the direction of our country," she said. Thompson doesn't like Donald Trump and has had to reconcile the fact that some of her friends, people she loves, are supporting him.
"I look at people who are my friends in kind of a new light. It's hard to see someone who could support and vote for that kind of a person," she said.
This presidential election is unusually stressful for both Democrats and Republicans, according to a survey published by the American Psychological Association.
"You're screwed if this person is elected. You're screwed if this person is elected," said Spokane therapist Nikki Easterling. "People are in this impossible paradox. There is no optimism, which is really important for well-being."
Michelle Estelle is a licensed clinical psychologist and has been practicing for 20 years. She has never seen an election affect people like the 2016 presidential race, she said.
"This is very, very different," she said. "They talk about losing friends over it. They have rifts within families."
Estelle said roughly half of her patients spend part of their session talking about the election. She had one patient whose father told her, "If you don't vote for Donald Trump, we can't have a relationship." The woman agreed to vote for Trump, Estelle said.
According to the APA survey, 52 percent of U.S. adults said the election is a "very or somewhat significant source of stress." Republicans and Democrats reported equal levels of stress.
Maryland psychologist Mary Alvord worked on the APA survey and said overconsumption of media may contribute to increased stress levels. But stress is also just a byproduct of what some are calling the nastiest election ever. According to a New York Times/CBS News Poll released Thursday, "an overwhelming majority of voters are disgusted by the state of American politics."
"There is so much in this election that is unprecedented," Alvord said. "The stress is the aggression we have been seeing."
A sense of impending doom
The American Psychological Association survey was conducted in August. Alvord guesses stress levels have only increased since then.
"The closer it gets, the more stressed I'm getting," said former Army medic Brandon Russell, of Liberty Lake. "I just feel more tense."
Russell said the thought of Clinton becoming president scares him.
"I don't want her to win," he said. "I absolutely don't want her to win."
George Rickert, of Sandpoint, feels the same way about Trump.
"If Donald Trump wins, I will be stressed out," Rickert said. "I think he's crazy."
Easterling, the therapist in Spokane, said she is exhausted. Over the past five weeks she's been overwhelmed with patients.
During a normal year she starts to see more stress and anxiety in patients as the days get shorter and darker. This year, the anxiety started months ago.
"I just feel wrung out, as many of my colleagues do," Easterling said. She thinks to herself, "Wow, this is insane. We just have to get to the end of this."
Part of the problem is that many people think neither candidate is a good choice, which can lead to hopelessness.
"We don't know what's going to happen, but there is fear everywhere," she said.
Since October, Easterling has had four new patients come to her after attempting suicide. She's never had that many in such a short amount of time.
"Something has definitely changed," she said. "The election … feels like a piece of it, only because there is a sense of impending doom."
One of Easterling's patients, a mother of school-age children, is so concerned about the election that she said she won't send her kids to school on Tuesday because she's worried about election-related violence.
"It's so unstable," Easterling said of the political discourse. "So all of this feeds into our well-being. Are we safe? Are we not safe?"
Social media plays into fears, stress
Assistant Fire Chief Brian Schaeffer, of the Spokane Fire Department, said there has been an increase in suicide attempts, although he doesn't think there is any correlation with the election. Instead, Schaeffer thinks it may be linked to overconsumption of social media and the ready accessibility of news.
"Everything is sensationalized and it's in your face now," he said.
Schaeffer's view is supported by the American Psychological Association survey. According to the survey, 54 percent of adults who use social media say "the election is a very or somewhat significant source of stress" compared to 45 percent of adults who don't use social media.
Alvord, the psychologist involved in the APA study, said it is not clear whether the stress is caused by social media use or by the election cycle. But the nature of a 24-hour news cycle, combined with readers' ignorance, can skew perceptions.
"The headlines often create more anxiety," she said. "Then you read it and it's not quite that dramatic."
She encouraged people to stay informed, but to set limits on how much media they consume.
Marybeth Markham is a therapist in Spokane who works primarily with transgender people. She's had four or five people start therapy explicitly because of election-related stress, she said.
Although the cause of the stress might be different, Markham said she tells her patients to approach it the same way as any other stressful situation.
"To me it's no different than any other event in life that we have no control over," she said. "Our one vote is so important. But we are not the only one casting the ballot."
She encourages her patients to do what they can and get involved when they can, but ultimately they have to step back.
Religion also figures in the mix
Estelle, the Spokane clinical psychologist, has a practice with a faith-based focus; for many of her patients, considering who to vote for is about more than just politics, it's about morality.
"I have people who can't vote for anybody because they are morally wrecked by both camps," she said. "It seems to be causing them more pain than usual when they are not finding their candidate."
Some people, conversely, say religion helps them not worry about the election. On Wednesday, Rachel Denney was sitting at a coffee shop in Sandpoint studying the Bible.
"Personally I'm not stressed about it, because God is in control," she said.
Doug Paterson said the choice for president is clear: He believes Trump is the only person who would uphold the Constitution of the United States. When asked how he'd feel on Nov. 9 if Hillary Clinton won, Paterson said, "God has used some amazingly crude sinners to accomplish his will."
Jim CastroLang, the Spokane County Democrats chairman, said he jokes about leaving the country if Trump wins. But at the end of the day he trusts the system.
"I frankly don't worry at that level," he said. "Because I really have some confidence in our democratic process."
---