Sports > Outdoors
Washington group marks half century of hiking, maintaining public routes
Sun., Nov. 6, 2016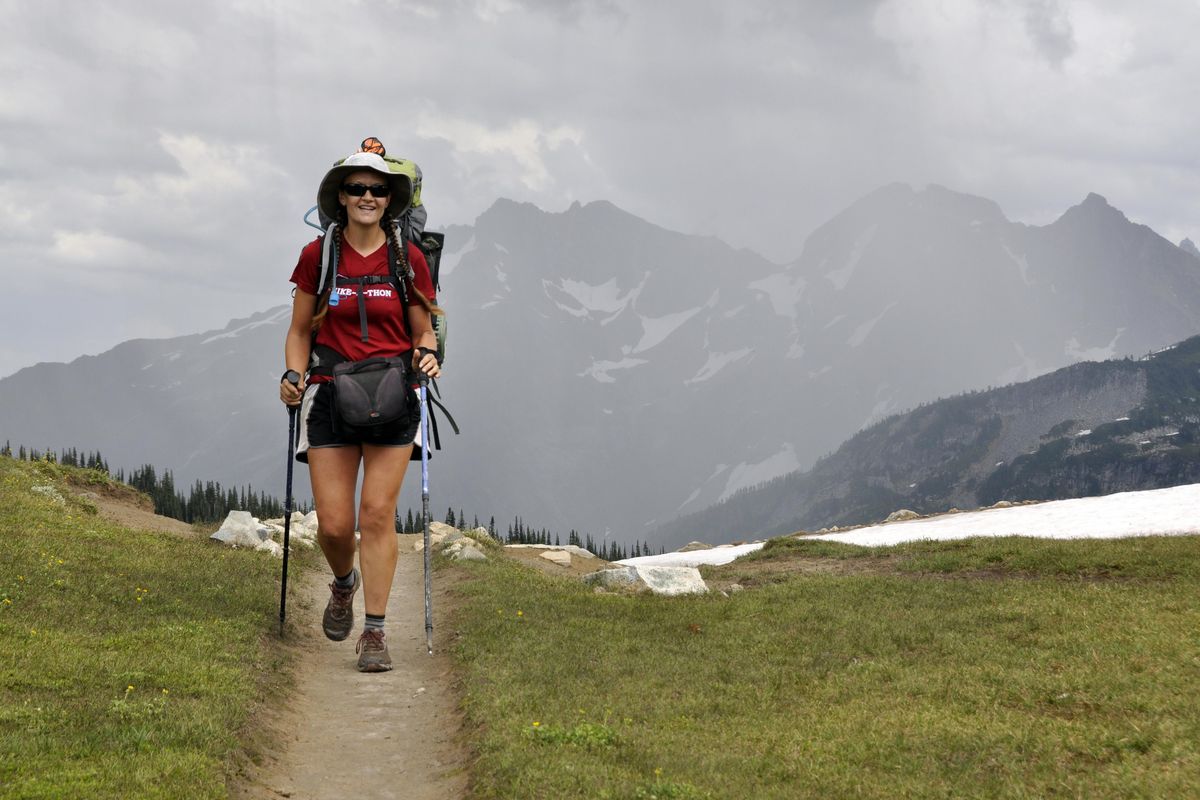 Holly Weiler of the Spokane Mountaineers hikes at Cloudy Pass during a backpacking trek in the Glacier Peak Wilderness. (Rich Landers / The Spokesman-Review)
On a chilly September morning, a few hundred feet off the popular but deteriorating Talapus Lake Trail near Snoqualmie Pass, Jon Nishimura wielded his shovel and a smile.
Few things make him as happy as building and repairing trails.
"I just love it," the Mountlake Terrace resident said during one of his more than 500 outings as a Washington Trails Association volunteer. "I just feel good about myself when I'm able to do something for somebody else. It may not seem like a lot, but it makes a big difference."
It is precisely this sentiment that has made the association one of the most important things to happen to Washington trails in the past half century. Powered by more than 4,400 volunteers, the organization advocates for trails and helps cash-strapped local, state and federal agencies maintain and build trails.
"People in our region and our state love the outdoors and want to give back," said Rebecca Lavigne, the association's interim executive director. "… Really, no other state has an organization like the WTA."
This month, the group is celebrating its 50th anniversary. Whether they know it or not, most hikers have seen and benefited from the organization's work.
The nonprofit contributes 140,000 hours of volunteer trail work each year. But as some are fond of saying, if they do their job right the trail will look like it's been there for 100 years.
"Before we became involved we had no idea there were these angels out here on the trails," said Ardeth Gregg, a volunteer whose husband, Joe, is on the group's board of directors. "You don't think about it as you hike. It's an amazing blessing that they take care of so many trails."
As much as they have to celebrate this month, association members also realize their next 50 years might be even more challenging.
"We just celebrated the National Park Service's centennial, and there was a lot of talk about the lack of maintenance," Lavigne said. "It's going to take everybody who cares about those places to speak up for them. If our elected officials don't hear from us they (public lands) are at risk for the future. That is our biggest issue."
From magazine to movement
In 1966, guidebook author Louise Marshall started publishing a magazine called Signpost to give people a forum for sharing stories about their hikes and trail conditions.
Fifty years later, the association is still doing this via its website, wta.org, and the magazine, now called Washington Trails. National Park and U.S. Forest Service rangers even use the trail reports from the website to inform visitors.
It didn't take long for the group to become something more substantial than an information source.
"Really, I think it was because of the people," Lavigne said. "There was a need to band together to protect public lands, and that led to (the WTA) becoming a voice for advocacy and policy work."
In the 1960s, outdoors advocates were clamoring to protect public lands. The Wilderness Act was signed in 1964, but by the end of the decade there were only four wilderness areas in Washington. Today there are 31. The association was among the many groups that lobbied for protecting public lands.
In the 1990s, the association evolved again.
"I think the WTA had a tremendous impact because the Forest Service has lost almost all its funding, and they just didn't have enough people to do all the work," said Ed Vervoort, a Seattle resident who has volunteered for the organization for more than a decade.
The idea to organize volunteer work crews came from then-executive director Greg Ball.
"He said volunteers can do trail work, and they can do it safely and have fun," Lavigne said. "It would build a large group that was invested in trails, and it would build (the WTA into) a bigger and stronger organization."
Watershed moment
On Nov. 6, 2006, the skies opened over Mount Rainier, forever changing the national park and the association.
Eighteen inches of rain fell in 36 hours. An entire campground washed away. The Carbon River Road needed to be closed permanently to vehicle traffic. Trails were rendered impassable. In total, the flooding caused $36 million in damage and closed the park for six months.
Other popular outdoor recreation areas were also impacted by flooding.
"A huge amount of people wanted to get outside, and suddenly they couldn't do it anymore," Lavigne said. "And agencies didn't have the funding to do it on their own. The WTA was one of a number of nonprofit and private businesses that stepped up to help. We recruited a lot of new volunteers. They saw we were doing important work and wanted to help."
In the decade since the flood, Lavigne said the number of association volunteers has doubled.
A partnership was formed with Mount Rainier National Park during the flood cleanup, and the group has worked in the park ever since.
In July, Mount Rainier volunteer coordinator Kevin Bacher said outside assistance is vital to the park. "You take that away, and all of a sudden there is no way we could keep up."
Out of the woods
On Sept. 3, Adam and Conrad Gregg, 15-year-old twins from Sammamish, Washington, spent the day helping a crew build a half-mile reroute of the Talapus Lake Trail.
They've each participated in more than 12 work parties and, as teens, they sometimes stick out. While most of the other crew members on this morning were two or three times their age, the twins feel at home on the trail.
"It's a really good way to be outdoors and do something for the community, because so many people hike around here," Adam Gregg said.
Appealing to youth is a priority for the association. Lavigne said a quarter of its volunteer base comes from youth programs.
"We want every child in Washington to have an opportunity to connect with the outdoors," Lavigne said. "We know we as an organization can't do that, but we can leverage our expertise to train others who can help reach that goal."
In recent years, the organization has made an effort to do more projects close to population centers. WTA crews have worked on trails in Tacoma's Swan Creek Park and Olympia's Priest Point Park.
This, Lavigne hopes, will help give trail access to people who might have difficulties traveling to other locations.
"We want the outdoors to be relevant 50 years from now," Lavigne said. "We know people care, so we want to go where the people are at."
The next 50 years
The association's goals aren't changing as it looks to its next 50 years.
"We are looking for a future where public lands are widely valued, accessible to everybody and adequately funded," Lavigne said.
The group has a staff of 33 employees and approximately 15 seasonal crew leaders, hardly enough people to make that dream come true without a lot of help.
"It is going to take all of us to speak up for those places," Lavigne said. "We want to build a movement to fund our agencies that protect our public lands.
"… We say we value the outdoors, but it's not matched by how we invest in the outdoors. That is where we as hikers and citizens have a responsibility to step up."
Local journalism is essential.
Give directly to The Spokesman-Review's Northwest Passages community forums series -- which helps to offset the costs of several reporter and editor positions at the newspaper -- by using the easy options below. Gifts processed in this system are not tax deductible, but are predominately used to help meet the local financial requirements needed to receive national matching-grant funds.
Subscribe to the sports newsletter
Get the day's top sports headlines and breaking news delivered to your inbox by subscribing here.
---