News > Spokane
Sheriff's Office: Wanted man thanks deputy, calls dog 'a bad (expletive)'
Mon., Nov. 7, 2016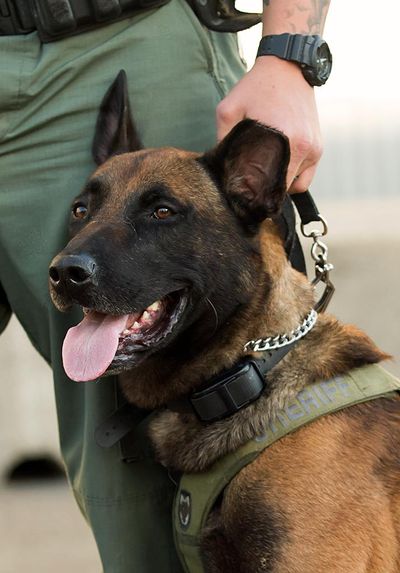 The Spokane County Sheriff's Office says a wanted man thanked a deputy for using "great restraint" with the dog that found him hiding in the trunk of an abandoned car.
The wanted man, Timothy J. Lafontaine, 35, also said Deputy Tyler Kullman did a "phenomenal job" of finding him and called the dog, a German shepherd named Khan, "a bad (expletive)," according to a Sheriff's Office news release.
Deputies learned Sunday morning that Lafontaine was high and possibly armed with a knife at a trailer home in the 6900 block of South Craig Road in Cheney, the news release said. The state Department of Corrections also had a warrant out for his arrest.
Lafontaine fled before deputies arrived, so Kullman and Khan were called in to help search for him. They shouted orders and checked the crawlspace under the trailer, then scoured the surrounding area.
Khan's ears "perked up" when he traced Lafontaine's scent to an abandoned car near a treeline. The dog then jumped through the open driver's side window and "contacted" Lafontaine, who was hiding in the trunk under a pile of clothes and other items, the news release said.
Lafontaine complied after being bitten, and deputies found a plastic bag of white powder that tested positive for methamphetamine, the news release said. Lafontaine received medical attention and was booked into the Spokane County Jail on charges of drug possession and obstructing law enforcement.
According to the news release, Lafontaine told Deputy Kullman, "God bless you and your dog. Your dog is a bad (expletive)."
Local journalism is essential.
Give directly to The Spokesman-Review's Northwest Passages community forums series -- which helps to offset the costs of several reporter and editor positions at the newspaper -- by using the easy options below. Gifts processed in this system are not tax deductible, but are predominately used to help meet the local financial requirements needed to receive national matching-grant funds.
Subscribe now to get breaking news alerts in your email inbox
Get breaking news delivered to your inbox as it happens.
---