News > Spokane
Spokane Fire Chief Bobby Williams to retire in January after 28 years at helm
Mon., Nov. 7, 2016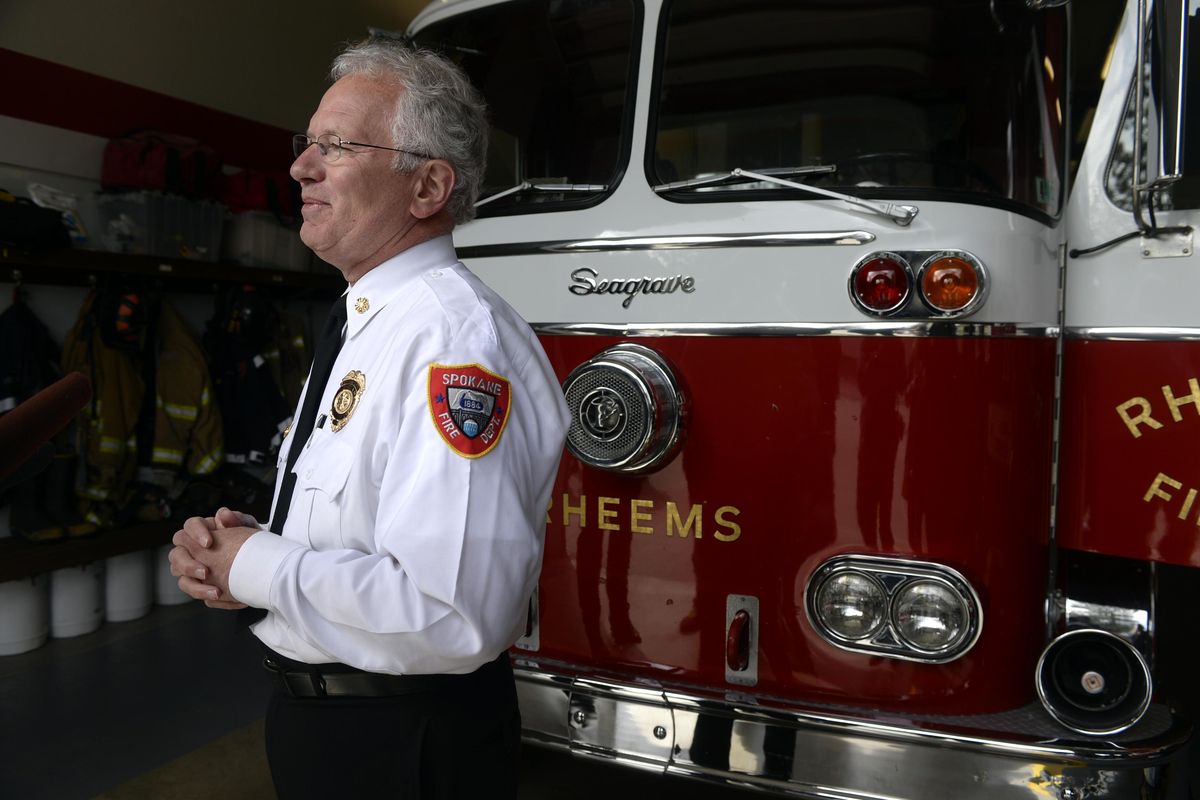 Spokane Fire Chief Bobby Williams talks to the media about the 1965 Seagrave firetruck he once used to help his Fire Explorers learn about the fire service Monday, April 28, 2014, at Spokane Fire Station 11. (Jesse Tinsley / The Spokesman-Review)
Bobby Williams has been a firefighter long enough to remember his gloves freezing to an engine's tailboard, a method of transport that was phased out in the 1980s because of safety issues.
"I look forward to being able to walk away from the attachment at the hip," said Williams, who will end a 28-year tenure as chief of the Spokane Fire Department and a nearly 50-year career as a firefighter early next year. "I've been attached by some kind of paging device. I've had to say prayers every night for folks to go home safely, because you always worry about the people under your watch."
Williams has worked as chief under nine different mayors since coming to Spokane from Billings in 1988. He announced his retirement Monday in a joint news release with Mayor David Condon. Brian Schaeffer, the assistant fire chief under Williams for the past 10 years, will serve as interim chief until the conclusion of a planned national search to name Williams' permanent replacement, Condon said in an interview.
"I'll be sitting down with the City Council, to see what they're looking for," Condon said. "We'll put together a process over the next couple of months, then hit it hard at the beginning of the new year. We'll be looking very hard for someone that's an innovator."
Williams, the longest-tenured fire chief in Spokane history, said he's tried to fill that innovation role since taking the job in 1988. He replaced Paul Olsen, who had worked in the department for 37 years. Under Williams' tenure, the department rebuilt 13 of its 16 fire stations, modernized its communication systems and replaced its aging fleet of engines with dedicated outlays from the annual 1 percent property tax increase allowed under state law.
"When I got here, I will tell you, I think the citizens had ignored the fire department," Williams said. "And I don't mean that in a bad way. I just don't think they'd given them the attention they should. Our infrastructure was in bad shape. Our apparatus was in bad shape. Our safety gear was in bad shape."
Condon praised Williams' ability not only to oversee day-to-day operations of the fire department but also forge relationships with regional public safety and health organizations to collaborate on medical calls and improve service. Williams will remain on the job and help transition the department to new leadership over the coming weeks, the mayor said. His retirement is effective Jan. 22.
"The continuity is so critical," Condon said. "That's why I think this transition phase is so paramount."
Williams' time on the job has not been without controversy. Just two years into his tenure, the firefighters union gave the chief a vote of no confidence. Williams said he believes that was due to trying to make many changes quickly as an outsider, coming to the department after stints in Billings, New Mexico, Oklahoma and Virginia.
"The very first staff meeting I had, I told everyone, 'You tell me you're ready for change, I will tell you that in the next two years we'll have a major crisis in this organization, because you say you're ready for change and I don't think you are,' " Williams said.
Williams also said one of the toughest days of his time in Spokane was handing out pink slips to 29 firefighters in 2004 due to budget constraints. The city recently received a roughly $9 million grant from the Federal Emergency Management Agency that will allow staffing to return to pre-layoff levels, with an expected 50 new hires brought into the department early next year.
City Councilwoman Amber Waldref said Monday she supported a national search for Williams' replacement, and that she believed the city needed a fire chief with the financial expertise to seek permanent funding efforts for the new hires allowed for under the federal grant.
"My personal opinion is that police and fire chiefs are important enough to have a search process," Waldref said.
John Goodman, an 18-year veteran of the Spokane Fire Department who is finishing up his first year as president of the firefighters union, Local 29, said Williams was a responsive chief to union concerns. Any tension he experienced was due to the nature of the relationship between unions and administrators, Goodman said.
"Of course there's going to be some differences of opinion, differences of ideology," Goodman said. "That's the thing, I think that there was respect on both sides of the room."
Most firefighters in Spokane have never known any chief other than Williams, Goodman said. Because of that, members will be keenly interested in participating in the process to name Williams' replacement, he added.
"We want buy-in from everybody," Goodman said. "We want the next guy to have the best opportunities to succeed."
The recent uncertainty surrounding who would serve as Spokane's police chief did not affect the timing of his retirement decision, Williams said. He'd hinted to employees as early as 2009 he'd be looking to retire as soon as his sons had finished school, and with his youngest recently receiving a bachelor's degree, Williams said the time is right now.
"I think this organization is in great hands with Brian," Williams said of Schaeffer, the assistant chief who will serve as interim head of the department.
Williams said Schaeffer would receive his endorsement, if the longtime assistant decides to apply for the permanent job.
Schaeffer, who was out of town on city business Monday, could not be reached for comment.
Williams said he has no plans to leave Spokane, at least on a permanent basis. The chief is looking forward to a vacation in Italy with his wife in May and more time to follow his long-dormant passion of playing golf.
"I'm not going to be here every day," Williams said of his final few months at Fire Station 1 downtown. "But I'll probably be here more days than I should."
Local journalism is essential.
Give directly to The Spokesman-Review's Northwest Passages community forums series -- which helps to offset the costs of several reporter and editor positions at the newspaper -- by using the easy options below. Gifts processed in this system are not tax deductible, but are predominately used to help meet the local financial requirements needed to receive national matching-grant funds.
Subscribe now to get breaking news alerts in your email inbox
Get breaking news delivered to your inbox as it happens.
---