News > Spokane
Fear and loathing as local Democrats watch Trump take battleground states
Tue., Nov. 8, 2016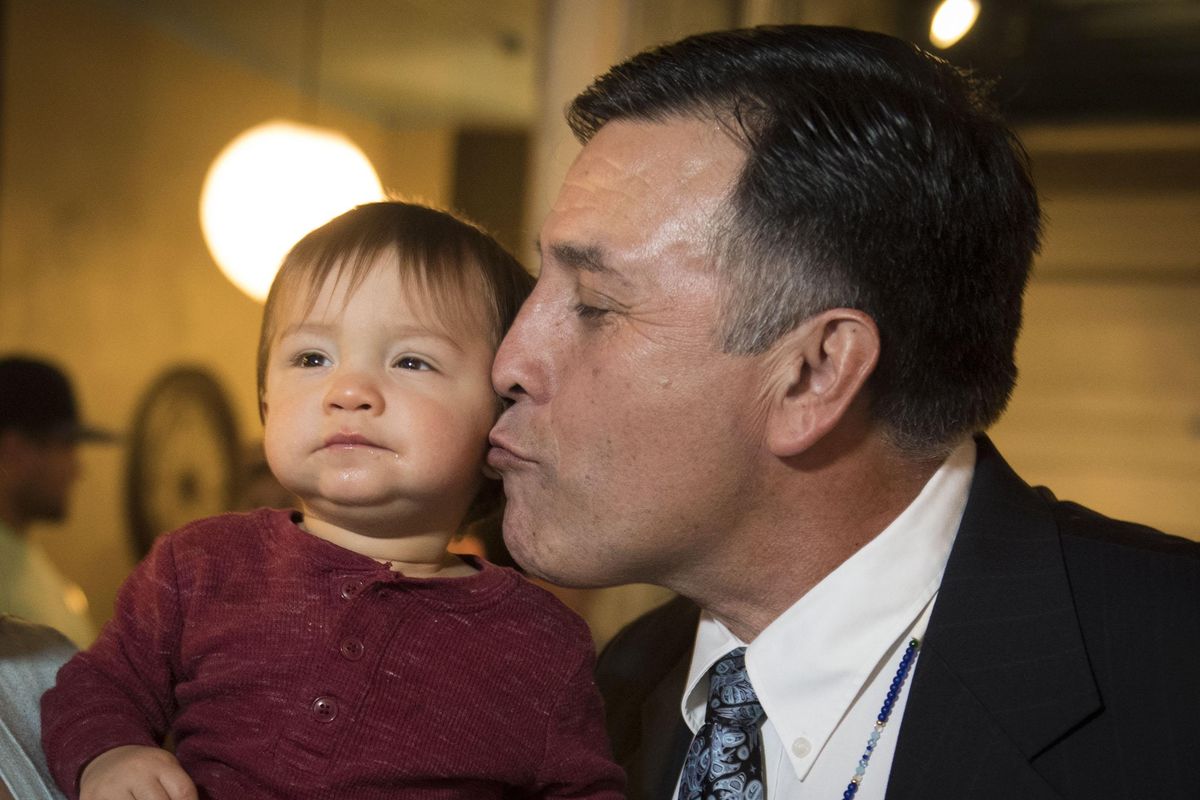 Candidate for the U.S. 5th District Rep. Joe Pakootas, D, kisses his grandson Fyball Peone, 11 months, during his election night party at Stellas Cafe and Bar, Tues. Nov. 8, 2016. (Colin Mulvany / The Spokesman-Review)
As a sea of red states blipped onto three giant projector screens, the crowded ballroom of Spokane's Lincoln Center became a sea of grimacing faces.
Local Democrats at the election viewing party gaped as Donald Trump snagged victories in battleground states. Their disappointment grew as Republicans maintained their grasp on Congress and likely defeated both Democratic candidates for the Spokane County Commission.
Few mentioned Trump by name, but mentions of his performance elicited some murmured expletives.
"Trump is a misogynist, a racist, and it worries me that right now he's ahead," Spokane City Council President Ben Stuckart said. "I don't know what that says about America."
The crowd of several hundred found some solace in the 3rd Legislative District, where incumbent Democrats easily topped challengers.
State Sen. Andy Billig, who defended his seat with nearly 70 percent of the vote, said Republicans "spent an unprecedented amount of money" on negative campaign ads, a move that he believes backfired in some races.
Rep. Marcus Riccelli won his race by a roughly equal margin. But he said the other election results pose major questions about the stability of the country.
"I think we have some big value discussions that need to be conducted," Riccelli said. "We need to have constructive discourse."
Scott Stucker, the Spokane Valley graphic designer who posed a nominal challenge to Republican state Rep. Matt Shea, said the idea of a President Trump makes him nervous.
"If Trump wins, I'm going to ask Trudeau if he'll adopt us," Stucker said, referring to the Canadian prime minister, Justin Trudeau.
The crowd dwindled after several hours, but the lines at the pop-up cocktail bars didn't get much shorter.
Local journalism is essential.
Give directly to The Spokesman-Review's Northwest Passages community forums series -- which helps to offset the costs of several reporter and editor positions at the newspaper -- by using the easy options below. Gifts processed in this system are not tax deductible, but are predominately used to help meet the local financial requirements needed to receive national matching-grant funds.
Subscribe now to get breaking news alerts in your email inbox
Get breaking news delivered to your inbox as it happens.
---