News > Spokane
From Liberty Lake to Cheney, cities across county passed STA transit tax
Wed., Nov. 9, 2016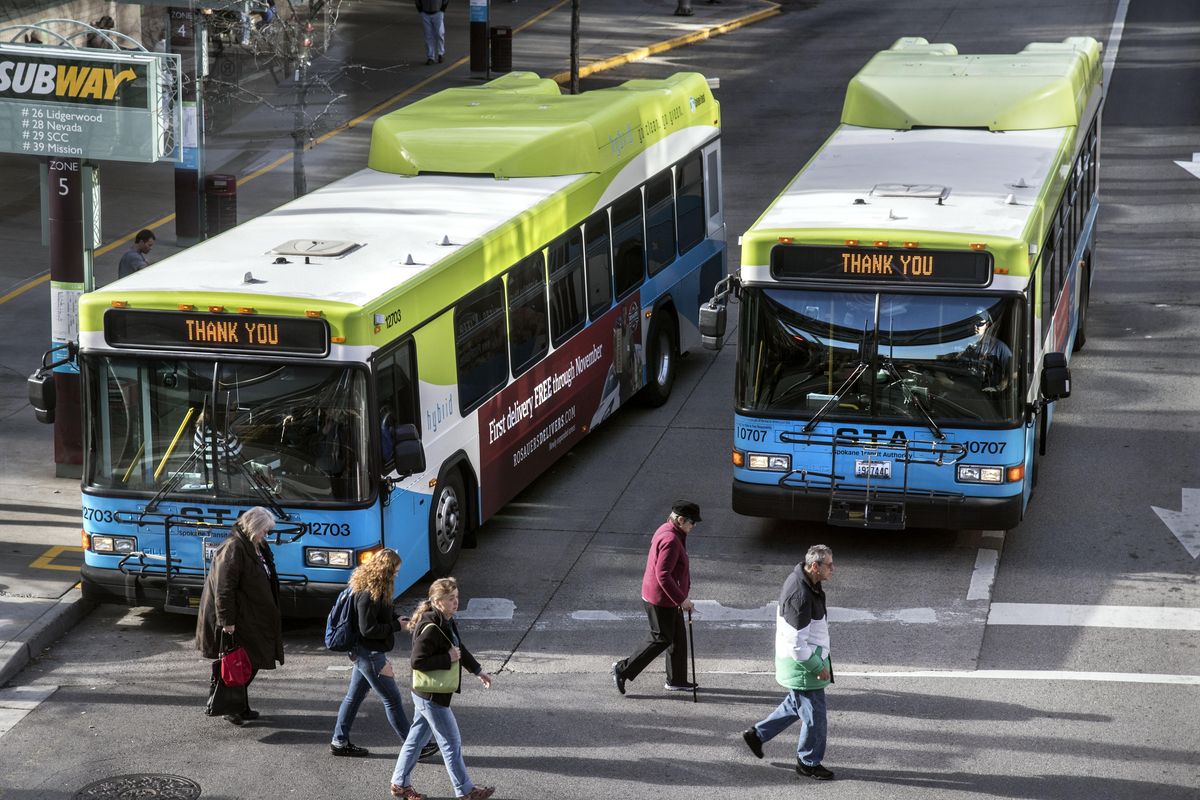 STA buses display a thank-you on their reader sign, Wednesday, Nov. 9, 2016, after Proposition 1 was passed on Tueday evening. DAN PELLE danp@spokesman.com (Dan Pelle / The Spokesman-Review)
Voters' resounding approval of new sales taxes for mass transit puts Spokane on a route for better bus service.
The $200 million-plus investment in Spokane Transit Authority, called STA Proposition 1, received support from 55 percent of Spokane County voters and won a majority in all six cities served by buses as well as Fairchild Air Force Base.
It was a convincing turnabout from the narrow defeat of a similar measure in 2015.
Opposition was confined to suburban areas in the unincorporated parts of the county as well as parts of the cities of Spokane Valley and Liberty Lake.
"We are grateful and appreciative in the vote of confidence, and we can't wait to get started," said Susan Meyer, the chief executive of STA.
The vote mirrored a national trend. It was among a wave of transit measures winning favor with voters on Tuesday.
In King County, a proposal to spend $54 billion for Sound Transit won by a similar margin.
Traffic tieups in the heart of the urban Puget Sound region led to voter support there, experts said.
Meyer said that transit measures in Indianapolis, Los Angeles, Atlanta and central Ohio were also being approved by voters.
Altogether, there were 33 transit measures that passed Tuesday committing nearly $200 billion to public projects.
In the more conservative precincts of Spokane Valley, the yes vote was under 51 percent.
Ed Pace, a Spokane Valley city councilman and member of the STA board, had voiced concerns about raising taxes for transit in the runup to Tuesday's vote.
He said Wednesday that the transit sales tax may have the effect of blunting other efforts to fund transportation locally.
But after Tuesday's results, he said he is committed to implementing the STA plan, known as "Moving Forward."
"The people voted for it," he said.
The fact that sales tax is being used to fund transit will shelter low-income residents from higher property taxes, Pace said.
Proposition 1 will increase the local sales tax by a tenth of a penny on the dollar next April and then by another tenth in April 2019.
Both taxes will run through 2028.
STA has pledged to implement improvements over 10 years.
The agency will not be going to financial markets, but instead use a pay-as-you-go method with each year's tax collections being used to fund projects over the coming decade. That will save on financing costs, leaving more money for projects, Meyer said.
In 2017, the agency will implement later weekend bus service. The last buses leaving downtown on Saturdays will be at 11 p.m. The last Saturday night bus now going up North Division Street leaves at 9:50 p.m.
The 2017 improvements will increase service to the Airway Heights area and North Nevada Street on weekends and extend service along the developing area of Indiana Avenue east of Sullivan Road.
The cost of the initial improvements is set at $1.3 million in 2017. The new sales tax should bring in $5.2 million.
STA's board plans to bank the money and use it to make larger investments in subsequent years in a Central City Line, new or expanded park-and-ride services, new buses and new crosstown linkages.
The proposed Central City Line will use electric buses to carry riders from Browne's Addition through downtown and the University District to Spokane Community College. Urban development is likely to arrive along the route, experts have said.
The line may draw 500,000 riders a year, according to estimates.
Construction plans rely on a $54 million federal transit grant to go along with $18 million in state and local matching funds. Meyer said that STA has been assured by federal transit staffers that Spokane's grant application will be viewed favorably for what will be a competitive grant award.
President-elect Donald Trump early Wednesday said he will support a national investment in transportation infrastructure, a strong sign that federal transit funding will remain in place.
After voters narrowly rejected a similar transit measure in 2015, STA board members, including Pace, went back to the drawing board to refine the 2016 measure.
Spokane County Commissioner Al French, chair of the STA board, said that the fine-tuning drew conservative support.
Employers have wanted transportation choices for their employees, and downtown interests increasingly see the value of a strong transit system, French has said.
He also said the millennial generation is increasingly using transit.
Transit has been essential for persons with disabilities, those with low incomes and seniors who no longer drive.
"It's really a wonderful thing that Spokane is doing," said Brian Behler, CEO at Skils'kin, which serves people with disabilities.
He said of his clients: "A robust transit system provides them an opportunity to integrate into the community."
STA's main source of funding is the local sales tax, which has earned voter support in the past. The current transit collection in Spokane is 0.6 percent on taxable retail sales over the 248-square-mile transit benefit area.
Local journalism is essential.
Give directly to The Spokesman-Review's Northwest Passages community forums series -- which helps to offset the costs of several reporter and editor positions at the newspaper -- by using the easy options below. Gifts processed in this system are not tax deductible, but are predominately used to help meet the local financial requirements needed to receive national matching-grant funds.
Subscribe now to get breaking news alerts in your email inbox
Get breaking news delivered to your inbox as it happens.
---