News > Spokane
McMorris Rodgers sets sights on House leadership, praises Trump's call for unity
Wed., Nov. 9, 2016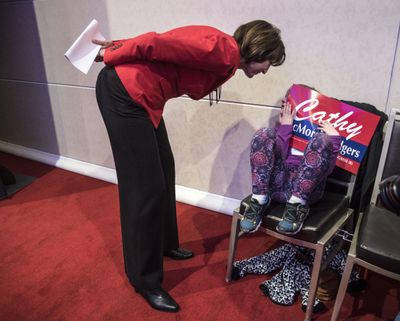 Following her comfortable victory among Eastern Washington voters to retain a seat in Congress, Rep. Cathy McMorris Rodgers said she hopes to remain in the House Republican leadership.
McMorris Rodgers is again seeking appointment from her peers as chairwoman of the House Republican Conference, a position she's held since 2013. The fourth-ranking GOP member said Wednesday she was pleased by the promise of President-elect Donald Trump to "bind the wounds of division" in America, and in her first pitch to Republican lawmakers to remain conference chair, the congresswoman promised to "reinvent government."
"I was encouraged to hear his call for unity," said McMorris Rodgers of Trump. The congresswoman maintained a tepid alliance with the GOP nominee throughout the campaign, a relationship that became a focal point for Joe Pakootas, her Democratic opponent, in the final weeks of the election.
McMorris Rodgers won all the counties in her district, though her share of the vote totals fell in Spokane and Whitman counties compared to two years ago.
The northern counties of Stevens, Ferry and Pend Oreille all cast a greater share of ballots for McMorris Rodgers than two years ago, and the congresswoman was elected to her sixth term easily with 58 percent of ballots cast. That's down slightly from her 60 percent share in her first contest with Pakootas.
If she's chosen again to lead the House Republican Conference, McMorris Rodgers will serve a third term in that capacity, making her the longest-tenured conference chair since New York Rep. Jack French held the role from 1981 to 1989. The chair is tasked with setting legislative priorities for the party and facilitating the election of party leaders. In recent years, it's been a springboard for even more prominent roles in the GOP; past conference chairmen include former Vice President Dick Cheney, former Speaker of the House John Boehner and current Vice President-elect Mike Pence.
McMorris Rodgers would not talk specifics on the status of party leadership in the House of Representatives. Paul Ryan has said he'll once again seek the speaker role, despite his unwillingness to campaign for Trump and an ensuing war of words with the president-elect. Ryan praised Trump's win Wednesday as an "incredible political feat."
"We're just starting to have those conversations," McMorris Rodgers said of the future of House leadership.
The congresswoman mimicked the promises of several other Republican lawmakers Wednesday on the future of health care, promising to work quickly to revise or get rid of provisions of the Affordable Care Act, a constant target for GOP lawmakers on Capitol Hill. In debates with Pakootas, McMorris Rodgers said she supported some provisions of the law, including coverage for pre-existing conditions and allowing children to remain on their parents' health care plan until they're 26.
"I think we will take action quickly," McMorris Rodgers said. "I think it's important that we lead on reforms that are going to ensure that people have access to quality and affordable health care."
Local journalism is essential.
Give directly to The Spokesman-Review's Northwest Passages community forums series -- which helps to offset the costs of several reporter and editor positions at the newspaper -- by using the easy options below. Gifts processed in this system are not tax deductible, but are predominately used to help meet the local financial requirements needed to receive national matching-grant funds.
Subscribe now to get breaking news alerts in your email inbox
Get breaking news delivered to your inbox as it happens.
---