Sports
Vandals kicker Austin Rehkow works to make family proud
Wed., Nov. 9, 2016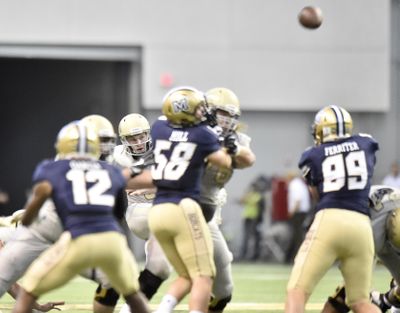 MOSCOW, Idaho – Three letters are inscribed on the orange band that Austin Rehkow never takes off his left wrist. Three letters, nothing more.
They are initials – "CTR" – and they have a double meaning for the decorated Idaho kicker and punter.
Cameron Tyler Rehkow. Choose the Right.
Rehkow, a devout Mormon, often finds himself looking down at the bright wristband during games. Which this season usually means before or after a successful field goal or punt.
On Oct. 8, Rehkow coolly wrapped a 27-yard field goal inside the left upright as time expired to lift the Vandals to a 34-31 win at Louisiana-Monroe. Later that evening, he shot a quick text message to his youngest brother in Spokane Valley.
"I did that for you," it read.
Cameron Rehkow, 11, was diagnosed with leukemia in April. He and Austin, the oldest of four boys in the Rehkow family, are extremely close. So the text, along with all the other support Austin has provided, meant a lot to Cameron.
"Stuff like that, what do you say to that?" said Freddie Rehkow, the boys' dad. "That's just a big brother being an excellent role model for his little brother."
Austin is in the final stretch of one of the finest football careers in University of Idaho history, and a big motivation for him this fall has been trying to bring sunshine into Cameron's life. He's connected on 18 consecutive field goals for the 5-4 Vandals and last week made the longest kick, a 50-yarder, in his four years at Idaho.
All the while, he's watched from a distance as his brother has endured four-times-a-week chemo sessions and become close to completing the most grueling phase of his treatment.
"Everything that I do, I want to be able to make my family proud," Austin said. "And ever since I learned that about Cameron, I mean it's been hard to swallow, just kind of seeing him go through it. But I know he looks up to me because I'm the oldest too."
Austin stayed quiet about Cameron's cancer until recently. His dad said he didn't want coaches or teammates making a big deal about it. Trent Cowan, a senior tight end and holder for Rehkow on field goals, hasn't heard him talk about it much.
"Forever nobody even knew down there (in Moscow)," said Freddie, a teacher and coach at Central Valley High School.
As more fundraisers started and more people learned about Cameron, Austin opened up about his brother's battle. He and his family have been blown away by the support from UI and many others who heeded calls for uplifting messages when Cameron was at "really, really low low," Freddie said.
The University of Washington athletic department has sent at least 50 get-well cards. D.J. Swearinger, a safety for the Arizona Cardinals, wrote Cameron's name on his cleats for a "Monday Night Football" game last month.
Cameron is a huge Idaho fan because of his brother. One of his most prized possessions is Vandals hat that he wore to the only CV football game he could make it to, back in September.
"Coach (Paul) Petrino's been awesome about it, letting me go home when I need to," Austin said. "We took one of the (team) helmets to him just this past bye weekend and he loved it, which is awesome."
Austin understands that when he plays well, Cameron's spirits are lifted. Thankfully, he's in the midst of the best stretch of his career.
Rehkow has made 21 of 23 field goals this year, and he's consistently landing punts inside the 10- or 20-yard line. The Walter Camp All-America punter as freshman and sophomore is again a semifinalist for the Lou Groza Award, given to the nation's top kicker.
He also handles UI kickoffs, as he's done throughout his UI tenure.
"We've just been really lucky to have him," Petrino said. "Having a guy that can do all three things is big, you know. It's going to be awful sad when we don't have him."
Cowan said Rehkow is one of the Vandals' most valuable players. He helps the defense with deep or well-placed punts. He's been automatic of late with field goals, dramatically improving his accuracy the last two years. He's strong on kickoffs.
"He's worth so many wins," Cowan said. "I mean, I don't want to say we take him for granted, but we probably do. But you can't take for granted what he does."
Despite his personal success, Rehkow cares most that his team is on the precipice of the postseason. The Vandals play at Texas State on Saturday at 1 p.m. and a win will make them bowl eligible for the first time since 2009.
"I mean, it's been seven years," Rehkow said. "We're one win away here. But to be able to say that we went to a bowl game, to say we won a bowl game, I think that would be more satisfying than any of the individual stuff, just knowing how hard this team has worked."
Local journalism is essential.
Give directly to The Spokesman-Review's Northwest Passages community forums series -- which helps to offset the costs of several reporter and editor positions at the newspaper -- by using the easy options below. Gifts processed in this system are not tax deductible, but are predominately used to help meet the local financial requirements needed to receive national matching-grant funds.
Subscribe to the sports newsletter
Get the day's top sports headlines and breaking news delivered to your inbox by subscribing here.
---
Subscribe and log in to the Spokesman-Review to read and comment on this story