News > Spokane
Brought together in battle, Vietnam veterans reunite decades later in North Idaho to hunt elk and long-suppressed memories
Thu., Nov. 10, 2016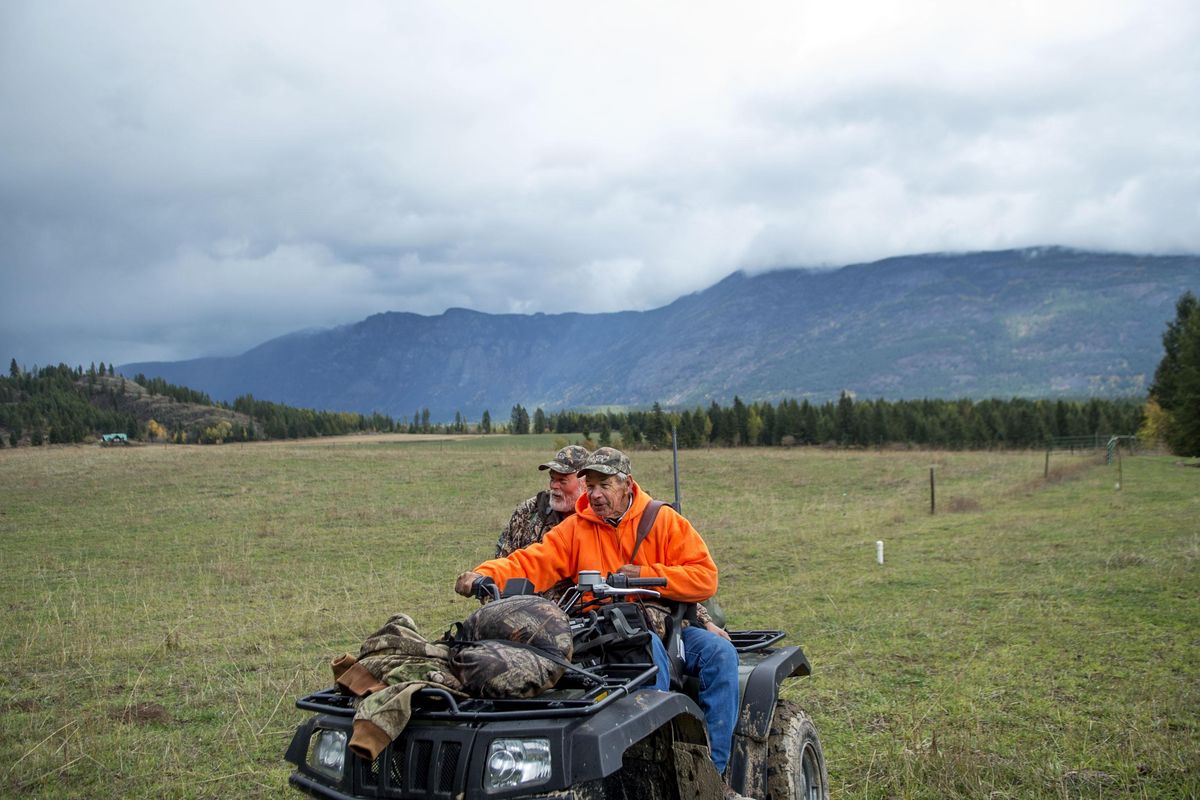 Vietnam veterans Dennis Ponsness, left, of Porthill, Idaho, and Dennis Place, of Saratoga, Florida, share an ATV ride to a hunting location in Porthill on Friday, Oct. 14, 2016. Ponsness was the helicopter pilot who lifted Place to safety after being shot during the war. (Kathy Plonka / The Spokesman-Review)
PORTHILL, Idaho _ Dennis Place's mind often wandered to thoughts of the medevac pilot who whisked him and four other wounded soldiers out of the jungle.
Was his life good? Did he have a family? Did he know that he saved lives, especially Place's, on that January day in 1969 southwest of Hue, Vietnam?
So Place, a cattle rancher near Sarasota, Florida, finally called.
It was March 12, 2015, when the phone rang in Dennis Ponsness' Boundary County home less than a mile from the Canadian border. That call led to Place and Ponsness meeting face-to-face in February at a pilots' reunion in Alabama, which in turn sparked Ponsness's invitation to hunt elk this fall in North Idaho.
"I couldn't remember anything," said Ponsness, who was the U.S. Army command pilot of the Huey that lifted Place to safety and medical care. "We did things, but we never knew who we medevaced."
Ponsness' face turned red, his eyes watered. He patted Place on the shoulder, and left the room.
Place looked again, as he has for years, at a pile of photos from Vietnam. One old black-and-white was taken the day before the ambush that forever changed his life.
In the photo, U.S. Army Lt. Place – 22 and handsome in his fatigues – helps a radio operator from a hovering Huey that was dropping them on a ridgeline patrol after reports of Viet Cong action. Place jumped next to join the other men from his infantry platoon. Chief Warrant Officer 2 Ponsness pilots the aircraft. They were all soldiers in "D" Troop, 1st Squadron, 1st Cavalry Regiment.
The next day, Ponsness returned to retrieve the five wounded men, Place with a stomach wound after a bullet ripped through his gut and grazed his spine. Another man died in the attack. Place had the radio in his hand when he was hit.
To this day he recalls the details vividly.
"Do I remember?" he said with a laugh of disbelief. "Every day I remember it. I remember being hit and laying on my back.
"Then I remember being loaded and lying on the floor (of the helicopter). There was an awful lot of blood on the floor. I kept trying to figure out who was lying next to me but I couldn't."
He let out a booming laugh, elbowing Ponsness.
"He's my Uber," Place said.
'He's reality'
After 47 years – years of rarely discussing his war experience – the memories are raw for Ponsness. Together with Place, the emotions were fresh and powerful, sometimes leaving the men speechless, other times evoking laughter and jokes and even a few tears.
Place spent a week last month with Ponsness and his wife, Pam. The men drove side-by-side, scouting elk. They spent hours sitting in a hunting blind near Ponsness' property, where he raised cattle and built a successful business supplying maggots for fishing bait and plant pollination.
They weren't so much hunting game – letting four elk pass by – as they were hunting memories. They tried to reconcile how two young men could meet by chance then reunite nearly 50 years later as grandfathers who live successful, happy lives that nevertheless are tarnished with the memory of war.
After the initial phone call, Ponsness said the memories returned.
"He's reality," Ponsness said, looking at Place. "We really did save people."
'I didn't ever talk about it'
Ponsness and Place were acquaintances from the same unit, but not friends. Ponsness had trained at Fort Hood with many of the soldiers in his unit and been with them since deployment. Place was fairly new to the unit, filling in as infantry platoon leader after the previous lieutenant was wounded. Today, the two men embrace their emerging friendship, having someone to talk with who understands, and never judges.
"I didn't ever talk about it," Ponsness said. "Nobody wanted to know about Vietnam. I flew into McChord (Air Force Base) and took off my uniform. Anyone who came back was just a baby killer. I just didn't talk about it."
Not with his first wife. Not with his children. Nobody, except perhaps some drunken, late-night calls to an Army buddy in Texas. Ponsness said that he, too, got the occasional calls of despair from platoon mates.
Place talked about the war a little more, forced into conversation by his injuries. His wound left his legs mostly paralyzed; he walks with the help of leg braces, using his hips and knees.
Ponsness flew the injured Place to the hospital at the Phu Bai Combat Base, where Place spent nine days before being transported to a hospital ship. Ponsness visited the ship when time and circumstances allowed. From there, Place spent 11 months at Valley Forge General Hospital, an Army hospital near his hometown in Pennsylvania.
This is where Place began wondering about that Huey pilot who saved his life.
"I just wanted to thank him," Place said, looking at Ponsness's face. "It's 11 long months and a lot of lonely nights."
Much in common
The two men are total opposites. Ponsness is quiet, thick and strong. Place is lanky and the conversation never stops. Yet the two have so much in common, other than their Vietnam connection, that it's almost eerie.
Since boyhood they both wanted to raise cattle, which became a reality for both men in 1992. They both owned gas stations shortly after they returned from the war. Ponsness worked at the Chevron station in Coeur d'Alene and then bought the Bonners Ferry Chevron in 1972. They are both sober.
Ponsness was raised in Rathdrum, married at 18 and stormed out of a math class at North Idaho College when the instructor began spouting anti-war rhetoric. The Marines office was closed for lunch. The Navy wouldn't take a married man, so he enlisted in the Army without discussing it with his new wife. He left days later.
Place was raised in Pennsylvania and knew his draft lottery number was a winner, so he enlisted before he was drafted. Shortly after leaving the hospital, Place bought a service station and met his wife, Sally. They married in 1971 and moved to Florida three years later, where his body feels better and the sun is good for his mind.
The elk hunting rendezvous went so well that the Ponsnesses are packing their RV and driving to Florida in January to fish with Place – and of course to do more visiting, more reminiscing, more healing.
"When you get old, you have time to do these things," Place said. "I always wanted to know where he got to. I had that picture…."
Even after 47 years and finally meeting that pilot, Place still wonders about that day – the ambush, the details.
"What could I have done different?" he asked. "But it was just the luck of the draw. If I let it bother me, I wouldn't be doing what I do."
Local journalism is essential.
Give directly to The Spokesman-Review's Northwest Passages community forums series -- which helps to offset the costs of several reporter and editor positions at the newspaper -- by using the easy options below. Gifts processed in this system are not tax deductible, but are predominately used to help meet the local financial requirements needed to receive national matching-grant funds.
Subscribe now to get breaking news alerts in your email inbox
Get breaking news delivered to your inbox as it happens.
---