News > Spokane
Heavy rains lead to wild mushrooms popping up across the Inland Northwest
Fri., Nov. 11, 2016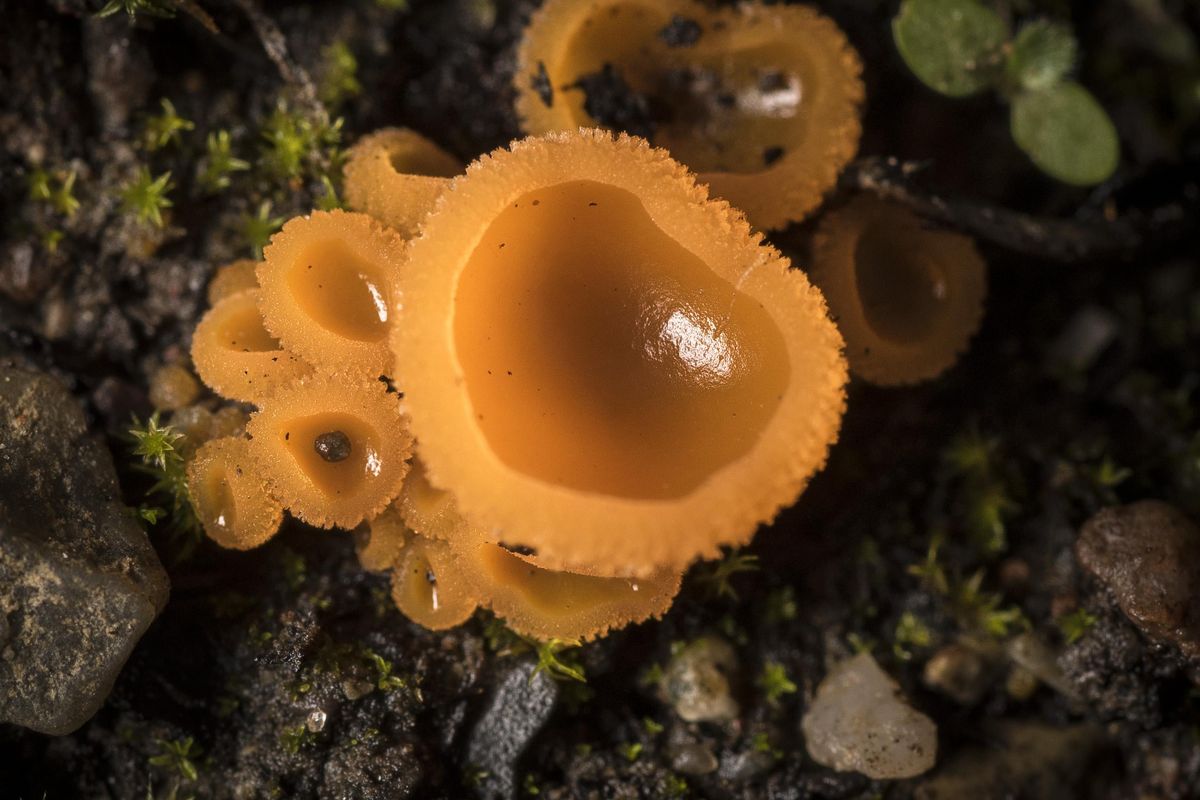 After record heavy October rainfall a variety of mushroom and fungi have sprouted up on Lela and Jim Yates property near Cheney, Wash. (Colin Mulvany / The Spokesman-Review)
As the Inland Northwest experienced one of its wettest months on record in October, the microorganisms underneath our feet quietly worked on setting records of their own.
In lawns, backyards and forest walkways, perceptive onlookers can see a curious site if they dare to look: mushrooms, sprouting up everywhere.
"Last time I remember a season like this was about 15 to 18 years ago," said Tim Gerlitz, an educator at the North Idaho Mushroom Club. "This is an excellent season this year."
Traditionally, fall weather in the Inland Northwest follows a pattern of little rainfall and cold temperatures rolling in around mid-October.
This means a short period of time – usually a few weeks, enthusiasts say – for the delicate fungi to grow and fruit before the frost kills them off.
But as many people have noticed, this year is much different. In October, Spokane saw 6.22 inches of rainfall, which shattered the previous record of 5.85 inches set in November 1897 – the next wettest month in recorded history locally. Temperatures also have remained uncharacteristically warm, especially after the rain stopped in early November.
These factors have combined to create what Gerlitz describes as a "very unusual year."
"As far as I can tell, we've only had a brief frost or two," he said. "It's been temperate and extremely wet, and because of this, we've seen species of mushroom we haven't seen in a very long time."
Retirees Lela and Jim Yates own 5 acres near Cheney, land they've called home since last spring. Jim Yates grew up in the Inland Northwest, and in all that time, he'd never seen mushrooms as plentiful as the ones currently growing on his property. They had big ones, small ones, skinny ones, black ones, white ones, green ones, and even blue ones.
"I like the tall ones," Jim Yates said, while avoiding stepping on any patches of fungi. "They look like that movie, with the tall, blue people."
Lela Yates discovered the mushrooms while going out to do yardwork once the rain broke and the sun came out. She started noticing patches of the fungi here or there, and then found dozens of patches once she went looking for them.
Scores of others in the Inland Northwest have seen the same phenomenon. Janet Crosby, who's lived on the Palouse for 21 years, has seen all sorts of mushrooms popping up on her property. She's from Oregon, so she's used to having mushrooms year-round.
"Mushrooms always kind of remind me of home, and I always thought they were boring here," she said. "But this is the most I've seen since I moved here."
Gerlitz said he's received dozens of photos submitted to his club's Facebook page from people who are finding patches of mushrooms sprouting up in their yards for the first time.
Lori Carris, a professor of science pathology at Washington State University, with a specialty in mycology, said that for the past few weeks people have been sending her photos of mushrooms they've seen in the wild or in their yards.
"One of the graduate students sent me a picture of this beautiful cauliflower mushroom that she found around one of the trails in the area," Carris said. "All the years I've been collecting, I've never seen that fruiting. For something like that to come up right next to a trail is pretty remarkable."
Gerlitz and Carris said people are asking whether the mushrooms they're finding are safe to eat. Their response: Mushrooms are difficult to identify based on a photograph alone, and many poisonous species look similar to edible mushrooms.
The destroying angel, for instance, is a small, unassuming white mushroom that looks not unlike the white button mushrooms available at supermarkets, or the wild patty-straw mushroom. It accounts for about 90 percent of deaths from poisoning in the United States, Gerlitz said, precisely because people think it's safe.
"We do have some sayings," Gerlitz said, like, "When in doubt, throw it out."
Still, Gerlitz said Eastern Washington is relatively safe, as there's only one deadly poisonous mushroom: the galerina, which looks similar to a honey mushroom. For that reason, Gerlitz tells people who are new to mushroom hunting to "stay away from small brown mushrooms in general."
As for homeowners, experts generally tell people to stay away from mushrooms growing in their lawns or backyards – what they call "urban mushrooms." There's no telling if they've absorbed any pesticides or other toxins in the ground.
To be safe, it's best to stick to store-bought mushrooms. That's what Jim and Lela Yates do.
"Jim said, 'If you want a mushroom, we'll go to the store and get them there,' " Lela Yates said. "This morning, I had portobellos, and Jim asked if I got them from outside. I didn't."
Local journalism is essential.
Give directly to The Spokesman-Review's Northwest Passages community forums series -- which helps to offset the costs of several reporter and editor positions at the newspaper -- by using the easy options below. Gifts processed in this system are not tax deductible, but are predominately used to help meet the local financial requirements needed to receive national matching-grant funds.
Subscribe now to get breaking news alerts in your email inbox
Get breaking news delivered to your inbox as it happens.
---