News > Spokane
WSU student finds gay slurs painted on his car
Fri., Nov. 11, 2016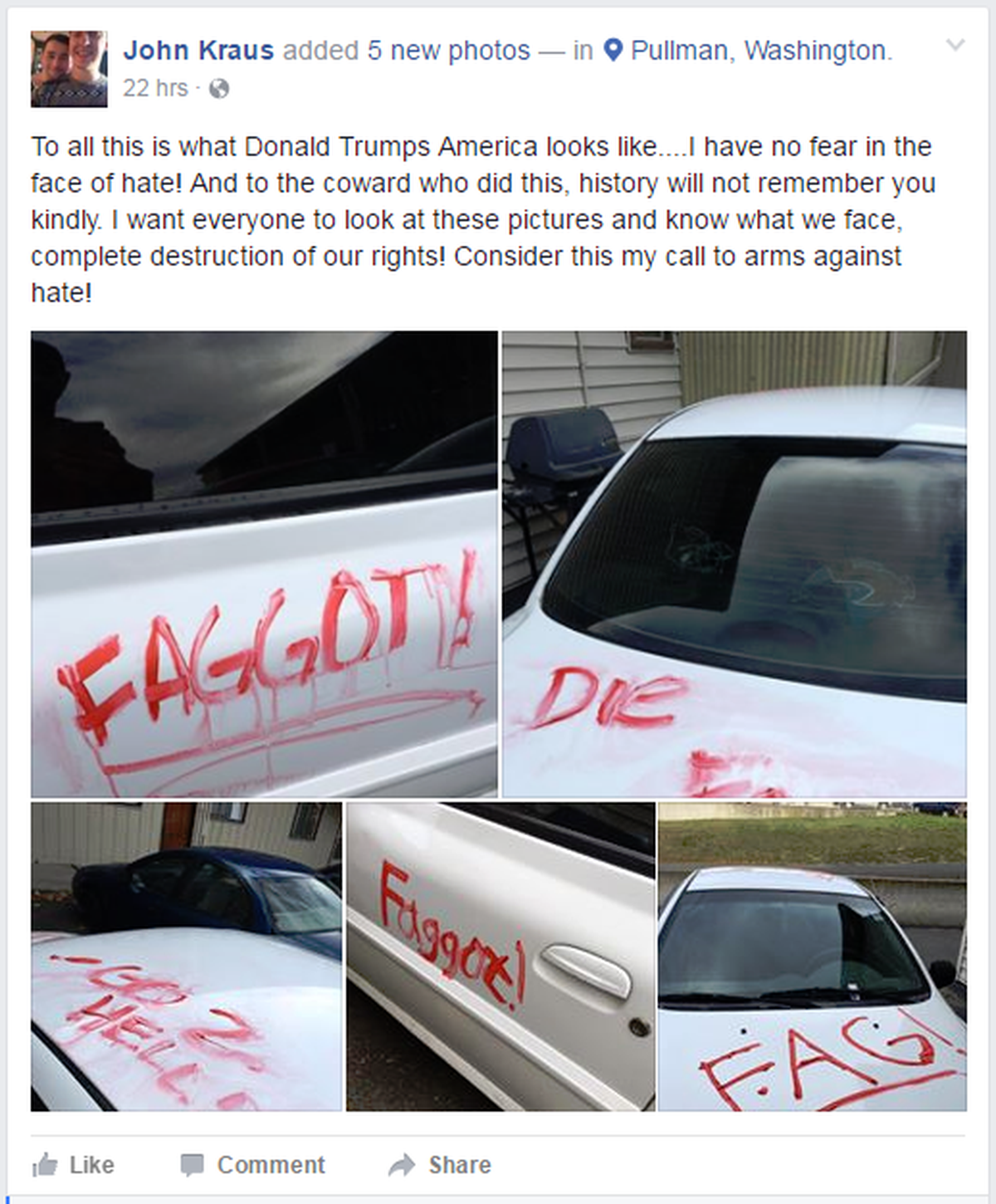 A Washington State University student woke up Thursday morning to find gay slurs painted on his car.
The slurs – including "Faggot!" "Die fag!" and "Go 2 hell!" – were brushed in red paint on the roof, hood, trunk and door panels of John Kraus' white sedan.
A passerby spotted the graffiti shortly before 8 a.m. and notified Pullman police, who contacted Kraus about a half-hour later, Detective Jake Opgenorth said. Kraus learned of the graffiti from police, Opgenorth said.
The crime is being investigated as malicious harassment and malicious mischief, but police have no leads or suspects.
In a public Facebook post, Kraus wrote, "This is what Donald Trump's America looks like. I have no fear in the face of hate! And to the coward who did this, history will not remember you kindly."
Across the country, there's been an apparent uptick in alleged hate crimes in the aftermath of the presidential election. There also have been numerous reports of school bullying incited by political rhetoric.
But police say at least some incidents have been fabricated, according to the New York Times.
In September, a student found the N-word scrawled in pencil above "Trump 2016" on a desk in WSU's Terrell Library.
"If you voted for him, you voted for this," Michael Snyder, Kraus' roommate, wrote on Facebook. "You voted against the one American ideal that's supposed to be our country's bedrock, that we're all equal."
Local journalism is essential.
Give directly to The Spokesman-Review's Northwest Passages community forums series -- which helps to offset the costs of several reporter and editor positions at the newspaper -- by using the easy options below. Gifts processed in this system are not tax deductible, but are predominately used to help meet the local financial requirements needed to receive national matching-grant funds.
Subscribe now to get breaking news alerts in your email inbox
Get breaking news delivered to your inbox as it happens.
---