Sports
Cougars in first place after easy win over Cal
Sat., Nov. 12, 2016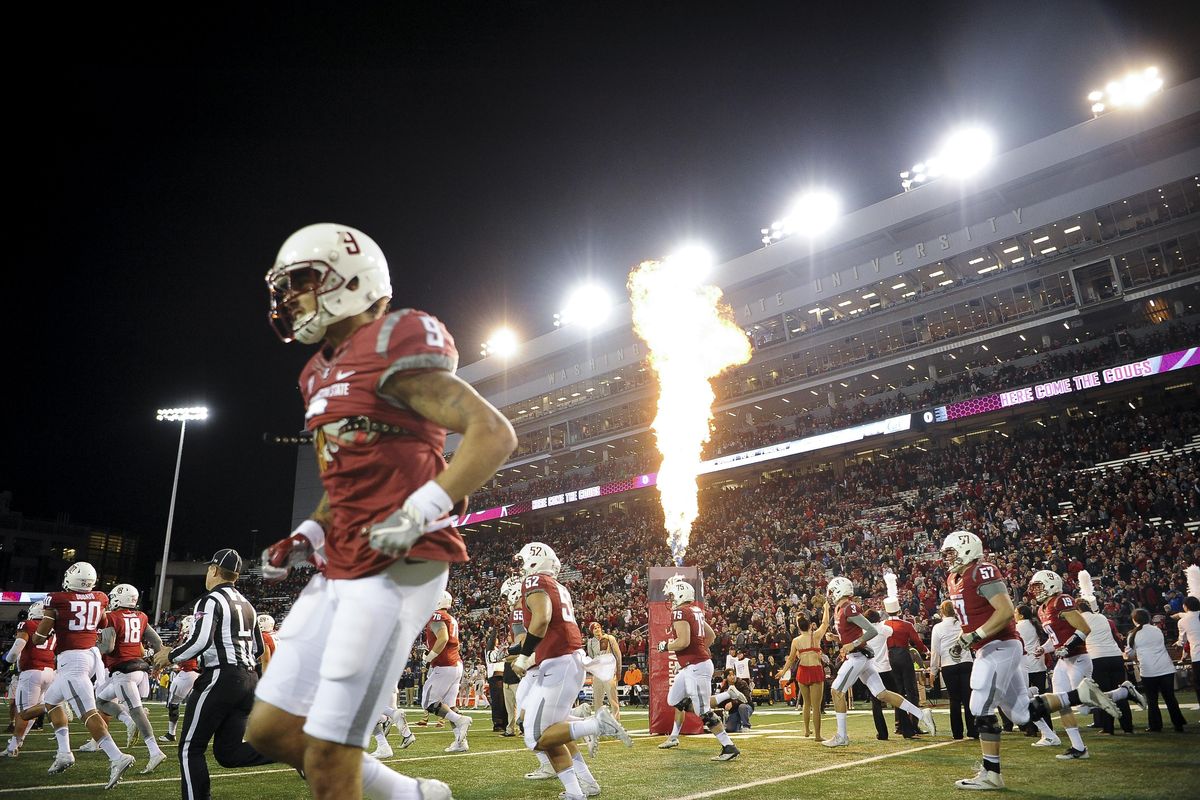 Washington State Cougars wide receiver Gabe Marks (9) takes the field to face Cal as pyrotechnics explode before the first half of a college football game on Saturday, Nov 12, 2016, at Martin Stadium in Pullman, Wash. (Tyler Tjomsland / The Spokesman-Review)
PULLMAN – On a night when No. 23 Washington State took sole possession of first place in the Pac-12, the Cougars looked every bit of a conference champion as they hummed along to a breezy 56-21 victory over visiting California.
The Cougars continue to be miles better than the conference's noncontenders. Over the last two weeks WSU has outscored Cal and Arizona by a combined score of 127-28. The Cougars had never before scored 50-plus points in back-to-back conference games.
"I think we've executed well. If we execute poorly, then I think we rally to come out the next series sharp, or maybe if we have two bad plays, if we convert we'll get back in sync," WSU coach Mike Leach said. "So I think we've done a good job recovering if we get out of sync."
How easy was this game for the Cougars, who had lost their last two matchups with the Golden Bears? WSU never trailed, and in fact it took the lead before Luke Falk threw a pass and before any of the team's three productive running backs had a chance to gash Cal's suspect defense.
The Cal offense, which ranks No. 1 in the Pac-12 in yards per game, gained just 2 yards in its first three plays and was forced to punt. The Golden Bears might as well have gone for it, since WSU returner Kaleb Fossum fielded the punt and returned in 75 yards for a touchdown.
"I think we're clicking on all three sides, and that tends to multiply things," Leach said.
No Cougar had done that since Michael Bumpus in 2005. Here are a few other notable accomplishments from the Cougars on Saturday:
Gabe Marks passed Marquess Wilson as the school's all-time receiving yardage record holder and has 3,268 in his career. He also broke Nelson Spruce's Pac-12 receptions record of 294. Marks has caught 295 passes in his career.
"That's a huge body of work that he's a part of," Leach said. "And Gabe would be the first to tell you there's a lot of teammates that contributed to that record. He's a great representative to have that record, and continues to have a very impressive career."
It was particularly appropriate that Marks set the record on a fade to the right corner of the end zone.
WSU (8-2, 7-0 Pac-12) has an eight-game winning streak for the first time since 1930.
River Cracraft had three touchdown receptions, tying his career high.
Falk threw for more than 300 yards (373 to be exact) for the 23rd time, breaking Connor Halliday's record.
The Cougars held Cal to their lowest points output of the season. Their previous low was 24 against USC on short rest two weeks ago. The same No. 20 USC team that just knocked off previously undefeated No. 4 Washington.
And because the Trojans won, the Cougars are the only team with an undefeated Pac-12 record. If WSU wins the Apple Cup, it will represent the North Division in the Pac-12 championship game with a Rose Bowl on the line.
Most promising for the Cougars: The team is playing its best football of the year in critical November games with a lot on the line.
"I think we've continued to elevate our excitement to play as the season's gone on," Leach said. "I think that's been an important element. If you can do that, that tends to get contagious among everybody."
"The best teams get better in November," center Riley Sorenson said. "And the best teams play their best ball in November."
The Cougars were not as spotless as they were in their 69-7 dismantling of Arizona last week. Falk threw an interception deep in Cal territory on the team's first offensive drive, although the Golden Bears were unable to capitalize on it with points.
While the game was billed as a matchup of two Air Raid offenses, it was the rushing attack that ignited the Cougars. WSU ran the ball seven times for 48 yards on its first scoring drive, which ended with Gerard Wicks pounding across the goal line from 2 yards out.
Wicks' 11 rushing touchdowns this season are tied for the most by a WSU junior. Wicks needs just five more rushing scores to tie Jerome Harrison's 2005 record.
Wicks also had nonscoring runs of and 59 and 32 yards. The Cougars averaged 8.2 yards per carry, gaining 248 yards on the ground.
"It definitely adds a wrinkle that we just haven't had," Sorenson said. "It's been extremely beneficial to us and it's just another weapon in the arsenal."
WSU's best method of scoring proved to be throwing the ball to Cracraft. The senior scored three consecutive touchdowns on passes of 22, 5 and 9 yards, turning a 14-7 lead into a 35-7 blowout.
A couple of his catches were of highlight-reel variety that has become a trademark for Cracraft, who has had his one-handed toe-tappers celebrated on social media throughout 2016. The game ended prematurely and sourly for the senior, who was injured in the third quarter when a Cal player rolled onto his leg.
Cracraft walked off the field, albeit gingerly and with the help of trainers. After conferring with the medical staff on the sideline, he was escorted to the locker room while walking under his own power.
Cal (4-7, 2-5) cannot achieve bowl eligibility in the traditional sense, although the proliferation of bowl games in recent years has caused the NCAA to allow some teams with 5-7 records to participate in the postseason.
Local journalism is essential.
Give directly to The Spokesman-Review's Northwest Passages community forums series -- which helps to offset the costs of several reporter and editor positions at the newspaper -- by using the easy options below. Gifts processed in this system are not tax deductible, but are predominately used to help meet the local financial requirements needed to receive national matching-grant funds.
Subscribe to the sports newsletter
Get the day's top sports headlines and breaking news delivered to your inbox by subscribing here.
---